The pads are off, and it's time for the workout portion of draft season as the league's next stars are gearing up for the NFL Combine and pro days. It's there that evaluators hope prospects match what they put on tape, and it's the stark differences that may cause a second look to determine whether something was missed during the on-field evaluation. Pro Football Focus' analysis team is working feverishly to sift through three years of production grades, adding proper context to each player and figuring out where they stand as we shape the PFF Draft Board.
As for the first round, the quarterbacks will be the story of the night. There are various opinions on the top options, as they all come with their own set of question marks. Beyond quarterback, cornerbacks may steal the show on the first two days of the draft, while the safety and tight end classes are shaping up to be as deep as we've seen in years. Here's a look at PFF's fourth mock draft for the 2017 class.
As always, this mock draft reflects what I would do as GM of each team—it is not a prediction of what each NFL team will do.
1. Cleveland Browns
Myles Garrett, Edge, Texas A&M
While the Browns are certainly in the market for a quarterback, there are enough questions about the signal callers at the top of the draft, as well as their fit in Head Coach Hue Jackson's system, that going with Garrett may be the play with the first overall pick. Cleveland can lock in the draft's best player while still looking to take a chance on a quarterback at either No. 12 overall, at the beginning of the second round, or perhaps even by trading back into the first round. Garrett has three years of outstanding production paired with all of the necessary skills to become a top-notch NFL pass-rusher. He's ranked among the top three edge defenders in the nation each of his three years, compiling an outstanding 31 sacks, 35 QB hits, and 98 hurries on his 978 rushes. Garrett may never be an elite run defender, but he's continued to improve in that area, and ranked third in the nation with an 87.8 grade in 2016. It all adds up to a game-changing, three-down player at a position of need for the Browns.
PFF scouting report: Myles Garrett, DE, Texas A&Mhttps://t.co/SjQEEQo3RZ

— PFF College (@PFF_College) February 13, 2017
2. San Francisco 49ers
Reuben Foster, LB, Alabama
Another team in need of a quarterback, the 49ers are also lacking a clean fit for new Head Coach Kyle Shanahan's system. The next-best player on the draft board is Alabama interior defensive lineman Jonathan Allen, but with San Francisco's last two first-round picks coming at a similar position, there are questions about fitting those pieces together efficiently. Instead, San Francisco goes with Allen's teammate, Foster, to add a three-down presence that will remind fans of Patrick Willis or NaVorro Bowman in their prime. Foster was the nation's top-graded linebacker, earning a 93.3 overall mark, leading the way against the run at 91.7 and ranking fifth in coverage, at 87.3. With the ability to defeat blocks in the run game and stick with running backs in coverage, Foster's three-down versatility comes at a time when the league covets it more than ever in an era of spread-heavy offenses.
3. Chicago Bears
Mitch Trubisky, QB, North Carolina
Even with only one year of starting experience under his belt, Trubisky had an impressive 2016 season, showing the arm to drive the ball outside the numbers and the pocket movement to create plays both as a passer and as a runner. The Bears will like Trubisky's ability to work through his progressions, as well as his work on third down, which ranked third in the nation in our play-by-play grading this past season. Beyond the inexperience, there's some risk in taking Trubisky, as his accuracy fluctuated and he did some of his best work in clean passing windows. That said, there is enough there for him to develop into a good starter at the next level.
4. Jacksonville Jaguars
Jonathan Allen, Defensive Interior, Alabama
Jacksonville adds yet another piece to its defense, as Allen is capable of playing defensive end on base downs while kicking inside to provide a strong all-around game in nickel and dime packages. Allen led all interior defensive linemen with 67 total QB pressures, while also leading the way with a 93.6 pass-rush grade. He played a career-high 746 snaps last season while holding up well against the run, at 86.5. Allen could be a dominant run defender on the edge and a solid one on the interior, all while using his strength and quick hands to win as a pass-rusher. Allen brings another versatile piece to the Jaguars' defensive front.
5. Tennessee Titans (from Los Angeles Rams)
Teez Tabor, CB, Florida
It's a prime opportunity for the Titans to re-shape their roster with their two first-round picks, and they start on the defensive side of the ball with Tabor. The cornerback class is loaded with talent and different styles, but Tabor may have the best ball skills in the class, as he's recorded either an interception or a pass breakup on 26.5 percent of his targets. Whether playing press man or in "off" coverage, Tabor is a playmaker on the outside, even if his aggressiveness can get him into trouble at times.
6. New York Jets
Deshaun Watson, QB, Clemson
The Jets are certainly in the market for a quarterback, and they go with Watson, who is one of the more difficult evaluations at the position. For two straight years, he went from good to great down the stretch, finishing the 2016 season with the No. 3 grade among quarterbacks, at 90.6. Inconsistent accuracy and questionable pocket instincts are valid concerns, though Watson has also showed the ability to make the necessary throws—from zipping one up the seam to throwing touch passes down the field. His ability to move the chains on the ground is only an added bonus, but for Watson, it's all about proving that he can work through his progressions while improving his work in the pocket.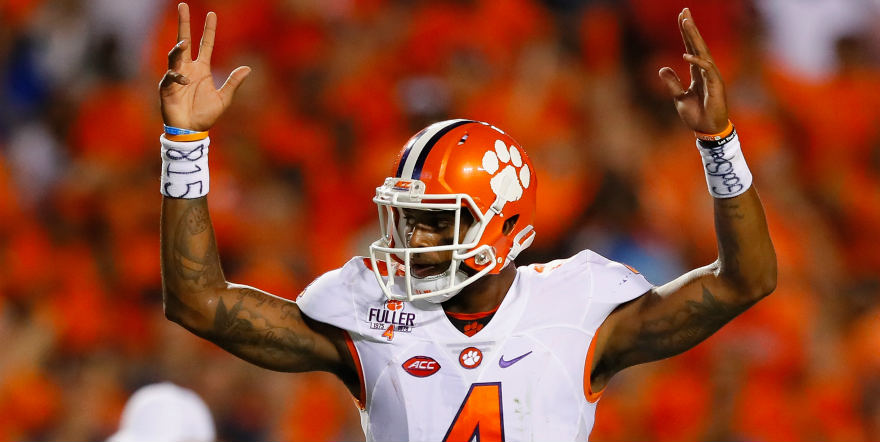 7. Los Angeles Chargers
Malik Hooker, S, Ohio State
This may be one of the more common mock-draft marriages, as former Jaguars head coach Gus Bradley takes over as defensive coordinator for the Chargers, and he prefers a Seahawks-like system that employs a true centerfielder at free safety. Hooker has shown exceptional skills in that area, as he plays with great range and has the ball skills to make the exceptional play on the back end. The question for Hooker is his tackling, as he missed one tackle out of every 6.5 attempts (135th out of 242 qualiers), but his centerfield skills can be a game-changer for a defense that plays cover-3/cover-1 (with a single-high safety) more than 50 percent of the time.
8. Carolina Panthers
Derek Barnett, Edge, Tennessee
Value and need match up well here, as the Panthers have to desperately reload on the defensive line, and Barnett is a classic 4-3 defensive end. Barnett has been one of the best players in the nation in his three years at Tennessee, coming to school as an excellent run defender and evolving into an elite pass-rusher, culminating in him winning the PFF Pass-Rusher of the Year Award in 2016. Barnett can challenge the edge as a rusher, and his three-year totals of 34 sacks, 43 QB hits, and 110 hurries on 1,126 rushes are right on par with Texas A&M's Myles Garrett. Barnett adds a much-needed three-down player to the Panthers' defense.
9. Cincinnati Bengals
Corey Davis, WR, Western Michigan
One of my favorite fits in the draft, Davis provides a perfect complement to WR A.J. Green, as he's one of the draft's best route-runners and fills a major void for the Bengals' offense, which felt the losses of departed wide receivers Marvin Jones (Lions) and Mohamed Sanu (Falcons) last season. Davis has ranked among the top receivers for three straight years, and in addition to his route-running, he's shown the ability to make plays on the ball down the field while also averaging an impressive 8.1 yards after the catch per reception over the last three seasons. Quarterback Andy Dalton had his best statistical season in 2015 when he was surrounded by playmakers—drafting Davis is a step back in that direction.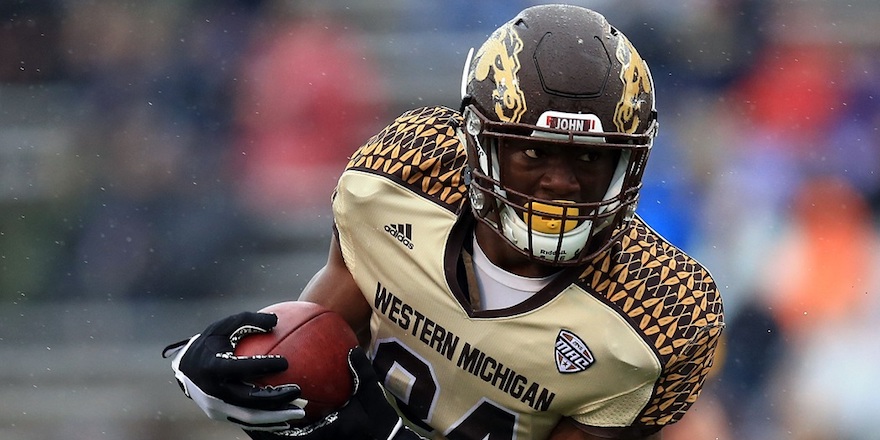 10. Buffalo Bills
Jamal Adams, S, LSU
The nation's top-graded safety in 2016 at 89.4 overall, Adams can affect the game in all phases as he provides strong run support, and he's capable of playing multiple coverages either underneath or on the back end. That kind of versatility is vital when trying to unseat the New England Patriots in the AFC East. Adams has continued to improve every year at LSU, and his ability to change the game in multiple ways is too much to pass up for the Bills.
11. New Orleans Saints
Marshon Lattimore, CB, Ohio State
The defensive overhaul continues in New Orleans, as the Saints add a much-needed cornerback on the outside. Lattimore is a physical press corner, capable of sticking with bigger receivers while also showing the movement skills to hang with better route-runners. Opposing quarterbacks recorded a passer rating of 30.2 when targeting Lattimore last season, fourth-best among cornerbacks with at least 40 targets. Lattimore can play multiple coverages while also showing up as a sound tackler and solid option in run support, and he can add another building block to the Saints' defense.
12. Cleveland Browns (from Philadelphia Eagles)
Dalvin Cook, RB, Florida State
There's still no clear option at quarterback, so the Browns continue to stack up playmakers, this time with perhaps the best big-play threat in the draft, Dalvin Cook. He has game-changing speed, as he's capable of turning the slightest crease into a big play, but he also showed just how difficult he is to tackle by forcing a nation-high 90 missed tackles while averaging 4.2 yards after contact per rush in 2016. Cook adds a big-play dimension to both the run and pass games, and he'll help ease the burden for the eventual franchise quarterback who may get targeted early in the second round.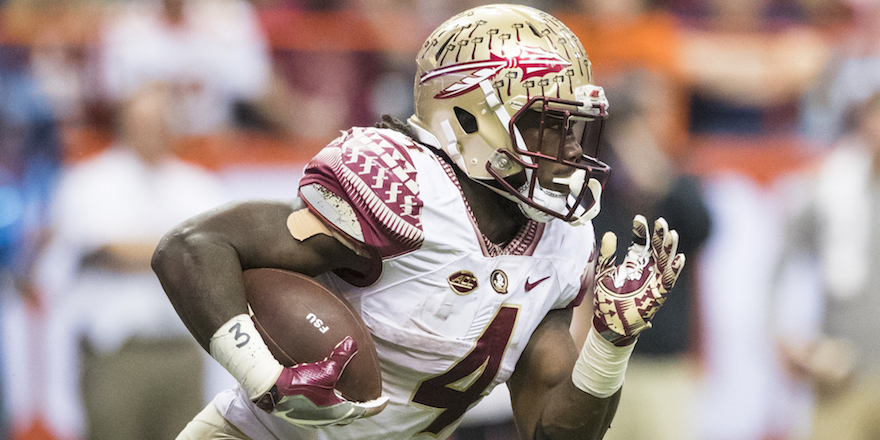 13. Arizona Cardinals
Sidney Jones, CB, Washington
The Cardinals play as much man coverage as any team in the league, and with CB Patrick Peterson entrenched on one side, there's a void for a No. 2 cornerback. Jones is excellent in press, often showing the ability to mirror vertical routes as well as the receiver runs them. Pac-12 offenses took notice of this, as he saw only 48 targets in 2016, tied for 200th in the nation. Jones also has good ball skills, as he finds ways to break up passes while avoiding downfield contact, all leading to an 86.5 PFF coverage grade that ranked eighth among Power-5 cornerbacks in 2016.
14. Philadelphia Eagles (from Minnesota Vikings)
Mike Williams, WR, Clemson
Eagles' fans have tunnel vision for either a cornerback or wide receiver, and Williams' availability provides a good match of both need and value. He has the big frame to move the chains as a possession receiver while also displaying the body control to become a downfield option. Williams ranked third among Power-5 receivers with an 85.0 overall grade last season and he adds a much-needed playmaker on the outside for QB Carson Wentz.
PFF scouting report: Mike Williams, WR, Clemsonhttps://t.co/JSLrtehVWM

— PFF College (@PFF_College) February 14, 2017
15. Indianapolis Colts
Tim Williams, Edge, Alabama
The Colts can go a number of ways in the middle of the first round, particularly with a variety of defensive options on the board, but they go with perhaps the best pure pass-rusher in the draft in Tim Williams. Williams has been a force off the edge for three years at Alabama, creating pressure on 26.1 percent of his rushes (NCAA average is 10.0 percent). While he has only 168 snaps to his name against the run over the last three years, Williams has shown the power to jack up blockers and hold his own on the edge when given the opportunity. At worst, he's a situational pass-rusher for a Colts' defense that is in desperate need of players who can affect the quarterback.
PFF Scouting Report: Tim Williams, OLB, Alabamahttps://t.co/ouWXVYXMNE

— PFF College (@PFF_College) February 13, 2017
16. Baltimore Ravens
Cordrea Tankersley, CB, Clemson
Baltimore may give a long look to the remaining pass-rushers on the board, but Tankersley adds a long, press corner to the mix as the Ravens look to upgrade in the secondary. His 6-foot-1 frame allows him to play physically at the line of scrimmage, though that physicality can also get him into trouble down the field, and he has to make that adjustment at the next level. Opposing quarterbacks recorded a passer rating of 40.0 when throwing into Tankersley's coverage the last two years, and he also demonstrated the movement skills to play multiple coverages despite his long frame.
17. Washington Redskins
Leonard Fournette, RB, LSU
It's difficult to find a fit for Fournette in the first round, especially with so much defensive talent on the board, but his downhill running style meshes nicely with what Washington is building offensively. The offensive line has continued to improve each of the last few years, and Fournette is one year removed from leading the nation with 83 missed tackles forced in 2015. If he can get back to form after an injury-plagued 2016 season, his presence will take pressure off the passing game in Washington while adding a big-play threat behind a strong run-blocking offensive line.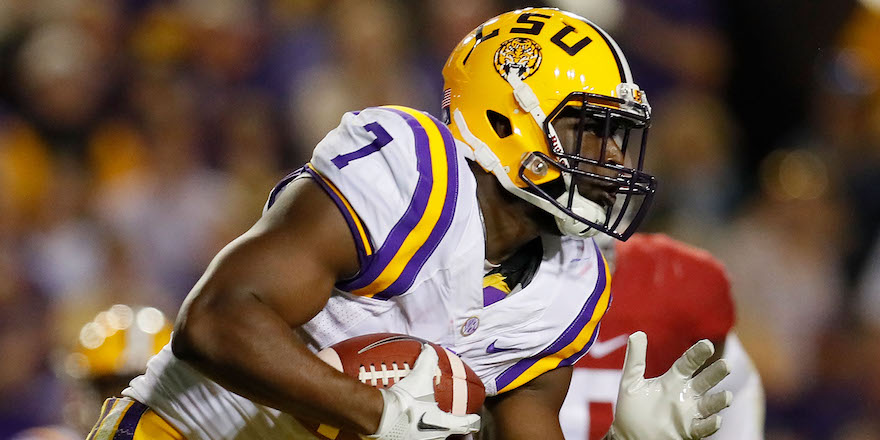 18. Tennessee Titans
Tre'Davious White, CB, LSU
I'm fascinated by the possibility of the Titans doubling up at cornerback in the first round. Not only is it a position of need, but the class is deep and the best NFL teams roll three or four players strong at the position, so it's a strategy that can re-shape the defense for years to come. After adding the playmaking Tabor earlier in the round, Tennessee stays in the SEC with White, who is capable of playing either on the outside or in the slot, and his 90.5 PFF overall grade led the nation at the position in 2016.
19. Tampa Bay Buccaneers
John Ross, WR, Washington
While WR Mike Evans had an excellent 2016 season for the Buccaneers, QB Jameis Winston needs a bigger variety of playmakers. Enter Ross, who brings a deep threat capable of getting behind the defense or taking a short pass to the house with his exceptional speed and quicks. He'll pair well with the big-bodied Evans, and it will take some of the pressure off Winston, who can look to spread the ball around better in the pass game as he heads into his third year. Ross ranked 12th in the nation with 3.04 yards per route run last season.
20. Denver Broncos
Ryan Ramczyk, OT, Wisconsin
A thin offensive tackle class may push Ramczyk higher up the board, but No. 20 is a good spot for him to land. He was excellent in his first year of FBS football, allowing only 12 QB pressures while showing the ability to make all of the necessary blocks in the running game, whether moving defenders at the line of scrimmage or getting out on the move at the second level. It all added up to an 85.0 PFF overall grade that ranked fourth in the FBS, and he'll step in at tackle for the Broncos, who have work to do along the offensive line.
21. Detroit Lions
Carl Lawson, Edge, Auburn
With a variety of edge defenders on the board, the Lions can go in a few different directions, but they grab Lawson, who is one of the better pass-rushers in the draft. He finally stayed healthy in 2016, finishing with the fifth-best pass-rushing grade in the country on the back of nine sacks, 13 hits, and 45 hurries on his 364 rushes. There are questions in the run game, as Lawson hasn't made many plays over the last two years, and he can get caught upfield. That said, he also has the quick hands and power to hold his own if coached up. Regardless, Detroit gets a pass-rush threat for a unit that ranked 28th in cumulative team pass-rush grade last season.
PFF scouting report: Carl Lawson, DE, Auburnhttps://t.co/wSjj99t3Ow

— PFF College (@PFF_College) February 13, 2017
22. Miami Dolphins
Charles Harris, Edge, Missouri
Miami needs youth up front, particularly on the edge where Harris brings the draft's best spin move and last year's 12th-best pass-rush grade, at 88.2. He's had two years of strong production up front, though similar to Lawson, there are questions about his ability to consistently play the run. At the very least, the Dolphins get another threat on the edge to complement DT Ndamukong Suh on the interior, and ease the burden on aging, yet productive, DE Cameron Wake.
23. New York Giants
Solomon Thomas, Edge, Stanford
With Jason Pierre-Paul a pending free agent, Thomas would be a nice replacement after winning PFF's Best Run Defender award in college football in 2016. Thomas' 92.0 run-defense grade led the nation, despite playing mostly on the interior for Stanford at an undersized 270 pounds. He projects better on the edge in base defense, where his ability to shoot gaps and shed blocks should be too much for tight ends to handle. As a pass-rusher, Thomas had improved the last three years, as his 86.5 pass-rush grade ranked seventh in the nation in 2016, and he'll likely do his best work rushing from the interior in sub-packages.
24. Oakland Raiders
Malik McDowell, Defensive Interior, Michigan State
While they've added key pieces to the defense in recent years, the middle of Oakland's defense is still lacking along the defensive line. McDowell can move around the defensive front, but he can be a disruptive presence along the interior, where he graded at a solid 83.2 against the run and 85.7 (12th in the nation) as a pass-rusher. McDowell has continued to improve each year in college, and while he didn't take the massive step forward we hoped for in 2016, he still has room to grow as a player at the next level.
25. Houston Texans
Patrick Mahomes, QB, Texas Tech
The more our analysts watch Mahomes, the more they like what the Texas Tech product may be able to do at the next level. So much of his game is off-the-cuff, but it's that feel for the passing game and finding open receivers that makes Mahomes intriguing for the next level. He has a strong arm capable of driving the ball down the field or making throws on the run, though he certainly has to do a better job of taking care of the football. Mahomes ranked second in the nation in both big-time throws and turnover-worthy throws, highlighting that boom-or-bust potential, but with so many questions about the future of the quarterback position in Houston, he's worth the risk at the back end of the first round.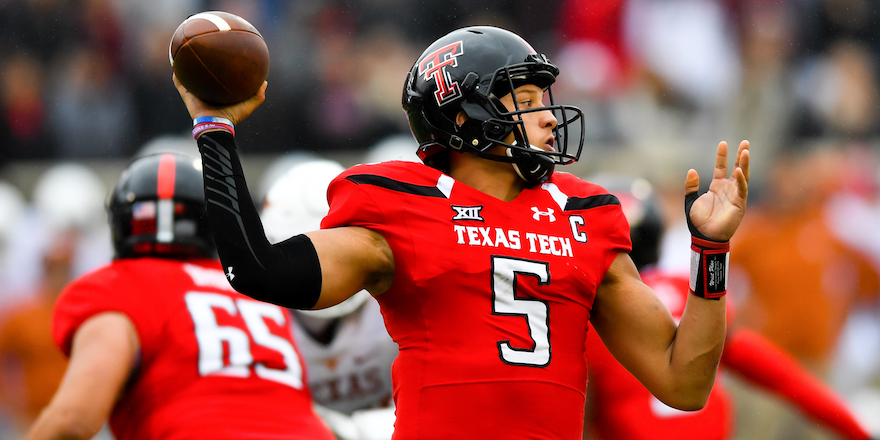 26. Seattle Seahawks
O.J. Howard, TE, Alabama
With TE Jimmy Graham heading into the last year of his contract, Howard is an intriguing option, as he was the nation's top run-blocking tight end in 2016, and has the speed to stretch the middle of the field. Howard can make the necessary blocks in Seattle's zone-blocking scheme, and he averaged 7.3 yards after the catch over the last three years, showing what he can do as a big-play threat in the passing game. The offensive line will be at the center of plenty of Seattle's draft discussions, but adding a  playmaker like Howard may be too much to pass up.
27. Kansas City Chiefs
Jourdan Lewis, CB, Michigan
No team plays as much man coverage as the Chiefs, and Lewis has the movement skills to mirror the best route-runners. He can get outmuscled by bigger receivers, but quarterbacks have a passer rating of only 45.8 when throwing his way over the last three years, and he brings the versatility to line up either outside or in the slot. Especially in a division with sharp route runners like Amari Cooper, Emmanuel Sanders, and Keenan Allen, Lewis can be an asset to complement CB Marcus Peters on the other side.
28. Dallas Cowboys
Taco Charlton, Edge, Michigan
The defensive line will get plenty of attention in Dallas this offseason, as the Cowboys' defense was strong on the back end, but provided little pressure on opposing quarterbacks. Charlton did his best work down the stretch, where he ranked fourth among edge defenders from Week 9 through the end of the season. Over the last two years, Charlton has accumulated 14 sacks, 19 QB hits, and 62 hurries on about a season's worth of snaps, and he brings the ability to rush the passer and play the run to the Dallas defensive front.
29. Green Bay Packers
Zach Cunningham, LB, Vanderbilt
Green Bay adds an athletic linebacker to the defense, as Cunningham has the range to make plays in zone coverage while attacking blockers in the run game as well as any linebacker in the draft class. He has to cut back on the missed tackles, as he's missed 34 over the last two seasons, but he also led all Power-5 linebackers with 56 solo runs stops in 2016. Cunningham adds much-needed athleticism to the middle of the Green Bay defense.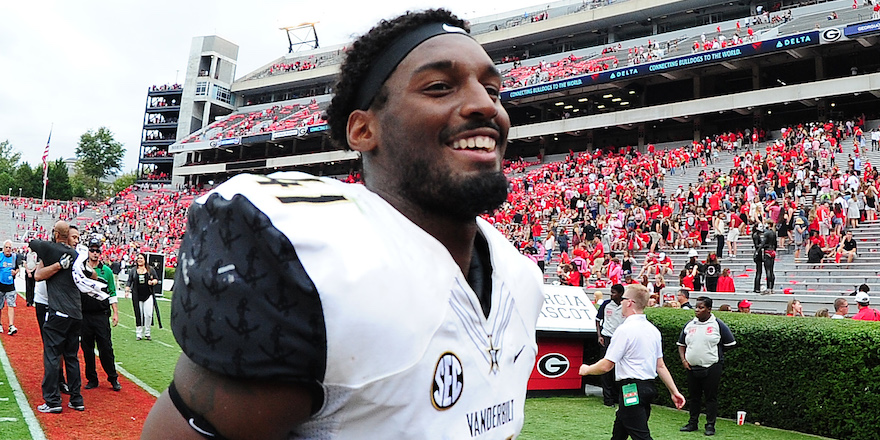 30. Pittsburgh Steelers
Desmond King, CB, Iowa
Even with Artie Burns added to the mix at cornerback last season, King's fit is too much to pass up for the Steelers. He has an excellent feel for zone coverage, and few teams play more zone than Pittsburgh. King understands route concepts and can break on the ball with good ball skills (14 interceptions and 24 pass breakups over the last three years), complementing his coverage skills with sure tackling (only 11 misses on 198 attempts in three years).
31. Atlanta Falcons
Takkarist McKinley, Edge, UCLA
Even with Vic Beasley breaking out last season, Atlanta can still use more help up front, and McKinley's progression culminated in an 88.8 PFF overall grade that ranked ninth among edge defenders in 2016. He picked up nine sacks, 11 QB hits, and 37 hurries on only 339 rushes while providing strong run defense, at 83.0 (20th among edge defenders). With Dwight Freeney a free agent, McKinley can step right in on the edge, and he has three-down potential at the next level.
32. New England Patriots
Jabrill Peppers, S, Michigan
New England can go a few different ways at the back end of the draft, but they certainly like versatile defensive players, and Peppers can contribute to various roles on the defense. He's at his best as an extra run defender in the box, where he explodes to ball carriers in the run game, and he's capable in coverage when taking on tight ends. That's been safety Patrick Chung's role the last few years, but he took a step back in 2016. Peppers can step right in to take the reins from Chung as a box safety capable of manning up with opposing tight ends.