We're just about to the midway point of the 2016 season, so it's time to take a look at some of the unique data PFF has and how this season's crop of players stack up in regard to those numbers.
We're not going to be focusing on the raw passing, rushing, or receiving totals that you can get anywhere, but rather take a deeper dive into some of the more advanced and interesting numbers from our database.
Here is a list of players that have a shot of breaking PFF-era (since the 2006 season) records in some of our unique stats:
Most deep-passing yards
Most deep-passing yards (throws traveling 20+ yards in air): Matt Ryan, Atlanta Falcons, 721 yards
Single-season record: Eli Manning, New York Giants, 1,419 yards (2011)
The 721 yards on deep (20+ air yards) bombs that Matt Ryan has racked up so far this season isn't the best mark anybody has managed at this point in the season (Drew Brees had over 900 at the same point in the 2008 season), but it does put him on pace for the record over an entire year, and at his current rate, he would narrowly eclipse the mark set by Eli Manning in 2011. Ryan has had a far better connection with Julio Jones this season than in previous years, and has thrown some perfect deep shots to his No. 1 target. Those deep passes are a big reason why the Falcons have had the league's most-destructive offense through the first half of the season.
Most missed tackles
Most missed tackles: Derrick Johnson, LB, Kansas City Chiefs, 14
Single-season record: Antwon Blake, CB, Pittsburgh Steelers, 28 (2015)
Last season, Antwon Blake did special things when it came to missing tackles. 28 of them for a cornerback is a staggering figure, a mark which only one corner in the last decade has come within eight of. It narrowly beat the 27 that Kwon Alexander had in the same season, which would otherwise have been the record. Chiefs LB Derrick Johnson is on pace to tie those 28 missed tackles for the most over a single-season in the PFF era, and Alexander is just one miss behind him with 13 so far this year. Whether either makes it to 28 or not, they will likely have a better rate than Blake did, missing 28 of 108 tackle attempts (25.9 percent).
Most-accurate quarterback
Best adjusted completion percentage: Tom Brady, New England Patriots, 87.4 percent
Single-season record: Jeff Garcia, Tampa Bay Buccaneers, 81.4 percent (2007)
Accuracy has only been going up across the league, thanks to the move to more spread-offense type concepts and passing systems, but the record for best completion percentage adjusted for drops, spikes, etc. belongs to Jeff Garcia from back in 2007. Drew Brees this season is within sight of it, sitting at 81.0 percent through the first eight weeks of the season, but Tom Brady is up at 87.4 percent since his return from suspension. Brady has had six passes dropped and thrown 11 away, but when he has targeted a receiver, he has hit them with an accuracy we haven't seen from anybody over the past decade of QB play.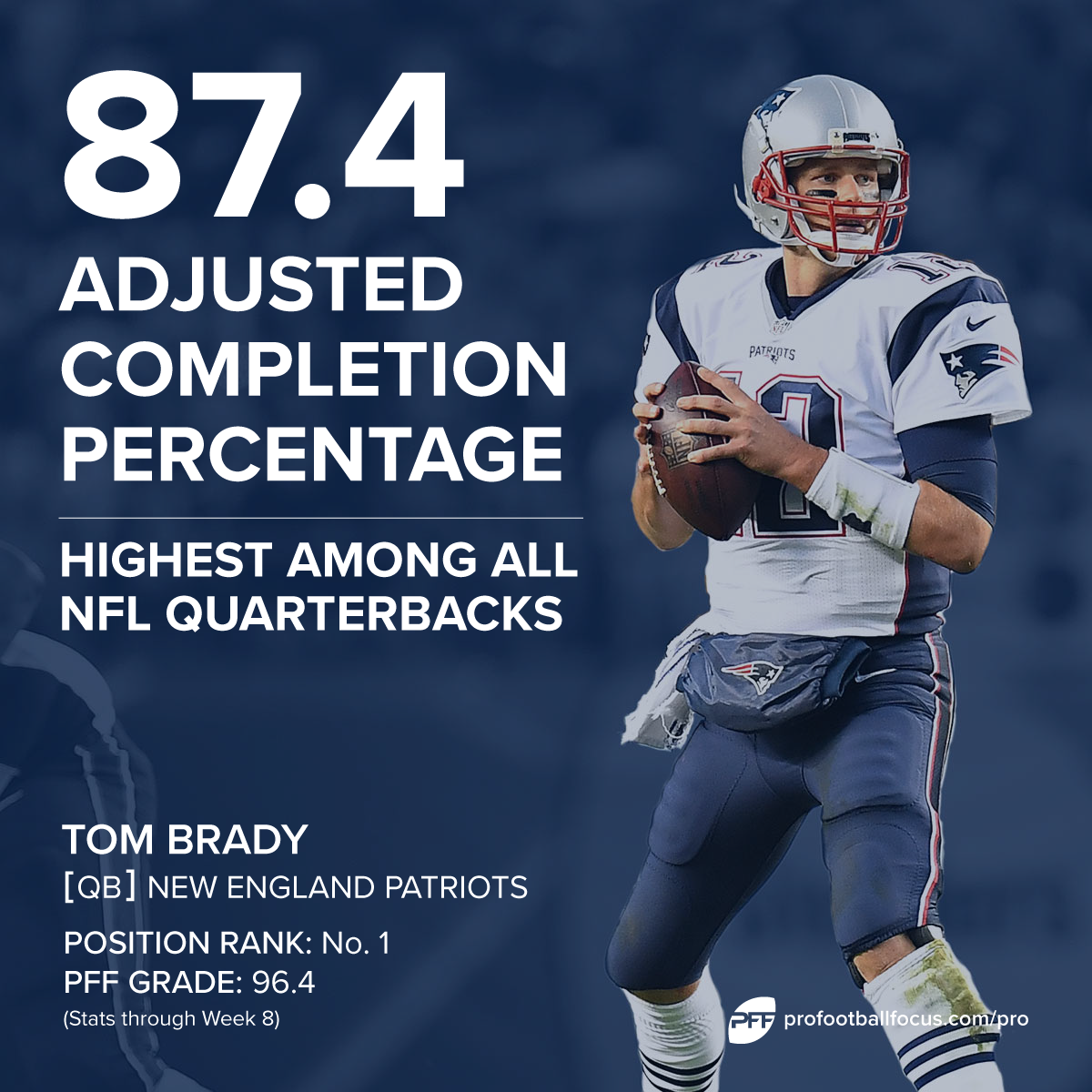 Best QB from a clean pocket
Best passer rating when kept clean: Matt Ryan, Atlanta Falcons, 128.4
Single-season record: Nick Foles, Philadelphia Eagles, 134.6 (2013)
Some of the best QB seasons of the past decade have seen much of their damage done from a clean pocket when their protection has held up. Matt Ryan this season has a passer rating of 128.4 when the Falcons keep him free from pressure and give him a clean pocket to work from. That's not quite on pace for the record, with multiple QBs topping the 130.0 barrier, and Nick Foles' unbelievable statistical season of 2013 leading the way at 134.6, but it is within sight of it if he goes on a good run or things swing his way for a stretch this season. It goes to underscore the kind of statistical dominance from Ryan this year, even if—like Foles—the performance hasn't quite matched the gaudy numbers overall.
Most likely to defend the pass
Lowest passer rating allowed when thrown at: Aqib Talib, CB, Denver Broncos, 37.0
Single-season record: Asante Samuel, CB, Philadelphia Eagles, 31.7 (2010)
Aqib Talib has been pretty shutdown so far this season. He has yet to allow a touchdown catch when targeted, and is yielding a passer rating of 37.0 when QBs throw the ball into his coverage. To put that into perspective, that's better than the passer rating QBs would have if they just threw the ball into the dirt every play. It isn't quite the record over a single-season, however. Darrelle Revis' mind-blowing 2009 season has it beat, but the record since 2006 is held by Asante Samuel from his 2010 season with the Eagles. That year, Samuel allowed just 19 catches and 141 yards, picking off seven passes from just 41 targets.
Most likely to haul it in
Lowest drop rate: Emmanuel Sanders, WR, Denver Broncos, 0.0 percent
Single-season record: Jason Witten, TE, Dallas Cowboys, 0.0 percent (2015)
Multiple receivers have yet to drop a pass this season, but Emmanuel Sanders has caught the most among that group by a clear five receptions. Jason Witten holds the record for the most receptions over a season without a dropped pass, with 77 catches in 2015 and no drops to his name. Todd Heap had 73 catches with the Ravens in 2006 without a drop, which is the second-best rate over a season. Sanders is currently on pace to eclipse the reception totals of the TE pairing, and would hit 88 receptions without a drop if he can maintain his perfect performance over the second half of the year. If he drops one, he would need to hit that 88-reception mark to hold the best drop rate among receivers with a single drop over a season, edging out Jeremy Maclin from a year ago, who dropped just one pass and caught 87.
Best pass-blocking unit
Highest pass-blocking efficiency (offensive line): Green Bay Packers, 88.1
Single-season record: Tennessee Titans, 88.2 (2008)
Green Bay's pass protection this season is playing at a historically-great level. They are challenging to post the best single-season pass-blocking efficiency score of any offensive line over the past decade, and currently sit just 0.1 points behind the Tennessee Titans' line from 2008. That line allowed just 73 total pressures all season, which is also a record in the PFF era, but they were pass-protecting a lot less often than the current Packers' line. They were pass blocking for just 477 snaps in the 2008 season, while the Packers are on pace to do so for 704 snaps. Aaron Rodgers has the best pass-blocking situation in the entire NFL this season, so there is no excuse on that front for anything less than his best when it comes to passing the ball.
Best pass-blocker
Fewest total QB pressures allowed: Max Unger, New Orleans Saints, 1
Single-season record: Brian Waters, Kansas City; Nick Mangold, New York Jets; Tom Nalen, Denver Broncos (2007); and Jeff Saturday, Indianapolis Colts (2006), 4
What Max Unger is doing so far this season from a pass-blocking standpoint has been pretty impressive. He has allowed just one total quarterback pressure in 509 snaps across seven games so far this season. The fewest total pressures allowed by any offensive lineman over a season in which they started the majority of games has been four, recorded by four different players—three of them centers. Nobody has managed that since the 2007 season, and Unger is on pace to surrender half as many as the record. Obviously one bad game could blow this record immediately out of the water, but so far, Unger's performance has been exemplary.
Most-risky target
Most interceptions thrown on passes intended for a single receiver: DeAndre Hopkins, Houston Texans, 7
Single-season record: A.J. Green, Cincinnati Bengals (2013)/Larry Fitzgerald, Arizona Cardinals (2012), 12
This statistic isn't an indictment of the receiver in question, but usually a sign that his QB is struggling, trying to force the ball to his best player and finding ugly results at the end of those decisions. Andy Dalton couldn't stop throwing at Green in 2013, and the four-headed QB disaster Arizona had back in 2012 were all seemingly intent on throwing interceptions when targeting Larry Fitzgerald, but right now, Brock Osweiler is on pace to outdo them all. He has thrown seven picks already when targeting DeAndre Hopkins, which over the year would beat the previous record by two.
Most likely to be batted at the line
Most passes batted down at the line: Ryan Fitzpatrick, New York Jets, 12
Single-season record: Drew Brees, New Orleans Saints, 24 (2006)
Finally, proof that Drew Brees is too short to get it done in the NFL! Back in 2006—his first season with the Saints—he had 24 passes batted at the line, which remains the record for QBs over the past decade. Those first couple of seasons, Brees actually had a lot of passes batted at the line, but he grew as a player and developed an understanding of how to clear throwing lanes for himself. Since then, he has actually been at the other end of the scale. Ryan Fitzpatrick is currently on pace to match that total, despite missing some snaps by being benched this season. Fitzpatrick likes to sidearm a lot of passes to get around defenders, and it causes a lot of them to get swatted away at the line.