With Marshawn Lynch reportedly agreeing to terms with the Oakland Raiders (trade with Seahawks still needs to be completed as of 4 p.m. ET on Friday), we take a look at what this means for the Oakland offense.
Prior to his brief retirement last offseason, Lynch was one of the most effective runners in the NFL for several years, to the point where he was named to Pro Football Focus' All-Decade team (spanning 2006–2015). Since the 2013 season, Lynch has forced 245 missed tackles — 66 more than any other running back over that span, despite sitting out an entire year.
Lynch replaces the departed Latavius Murray (Vikings), who left in free agency after being the lead back for Oakland the past two years. While Murray has been an effective rusher for the Raiders, he hasn't been an elite, game-changing running back. During his three NFL seasons, Murray has broken a tackle once every 7.6 rush attempts. Over Lynch's three most recent seasons, he broke a tackle once for every 3.4 attempts, more than twice as frequently as Murray. In fact, Lynch broke more tackles in both his 2013 (75) and 2014 (88) regular seasons than Murray has in his three-year career (73). Lynch also tops Murray in average yards after contact since 2013 (2.8 to 2.4, respectively).
Lynch's addition gives the Raiders a workhorse running back who is capable of creating his own yardage and extending plays to a level the team hasn't had recently.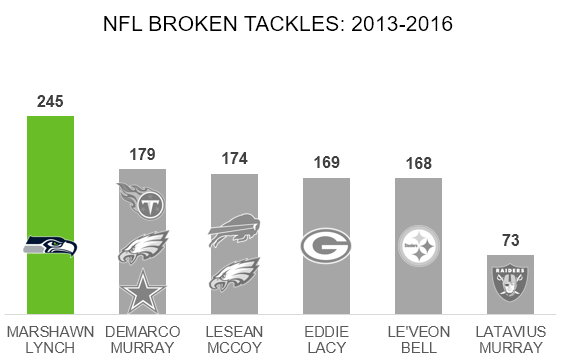 Much of Lynch's success in Seattle came despite running behind a below-average offensive line. In Oakland, that will drastically change. Raiders left tackle Donald Penn was the top-graded run-blocking tackle in 2016, and PFF's runner-up for the Best Run Blocker Award last season. Last offseason's big free-agent splash, Kelechi Osemele, was the highest-graded left guard in terms of run blocking, and Gabe Jackson ranked just outside the top 10 right guards in that facet of play. Even though center Rodney Hudson is a better pass protector than he is a run blocker, and a tier below the top run-blocking centers in the league, he still ranked fourth at the position. Even if Oakland deploys a below-average right tackle, their offensive line is extensively better than anything Lynch has been teamed up with in his career.

As for how the Raiders' offensive line will be blocking, there are enough similarities in blocking schemes between Oakland and Seattle that Lynch should be able to seamlessly step into the offense. Like Seattle, Oakland uses a heavy dose of inside-zone, accompanied by outside-zone and gap concepts. Oakland does run more schemes that involve pulling linemen, but they ran those less than 10 percent of the time. Adjusting to power and counter schemes as a running back is arguably easier than the other way around.
There are no guarantees Lynch will be the player he used to be prior to his brief retirement. He turns 31 next week and will have gone over a year and a half without playing a game. Even with the year off, he has had a heavy workload throughout his career. However, if he is still close to the player he used to be, and Raiders QB Derek Carr returns from injury at a similar level as last year, Oakland will be among the top contenders for the Super Bowl title this upcoming season.