Passing the torch never comes easy to decorated NFL running backs showing signs of decline in, but now within such a results-driven league, a young buck with production to back his youthful skill-set could be all it takes to force any coaching staff's hand.
Tennessee Titans second-year running back Derrick Henry out-snapped DeMarco Murray for the first time in their two-year pairing against the Indianapolis Colts on in Week 12, logging one more snap than the seven-year veteran to be exact.
Henry amassed 79 yards on 13 carries – a majority of which coming on the Titans' game-winning drive – while Murray had just nine yards on his 12 carries. Additionally, Henry ranked third in yards after contact per attempt (4.31) and T-second in forced missed tackles on the ground (five) among backs with at least seven attempts in Week 12, which is just a snapshot of the success he's had on the ground all season.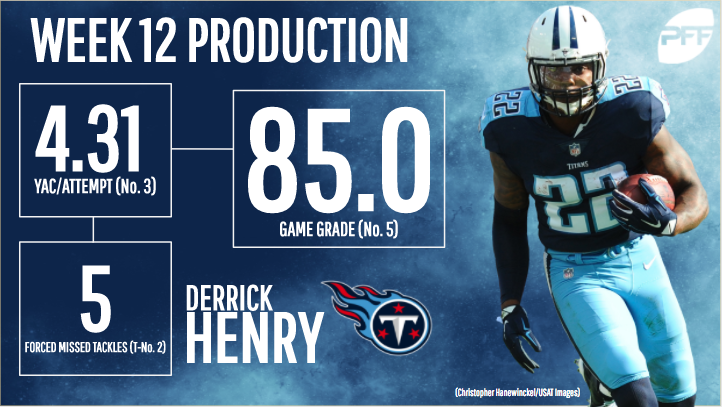 The former Alabama bell-cow has averaged a career-high 4.6 yards per attempt en route to 520 rushing yards and three touchdowns this season. Among 51 running backs with 63 or more attempts, Henry ranks third in yards after contact per attempt (3.58) and tied for 12th in forced missed tackles (23), far exceeding Murray's season totals.
Now 11 games into the season, Murray has averaged a career-low 3.5 yards per carry on his team-high 129 carries this season, leading to just 452 yards on the ground. He also currently ranks No. 49 in yards after contact per attempt (2.03) and is on pace to force 21 fewer missed tackles on the ground than last season.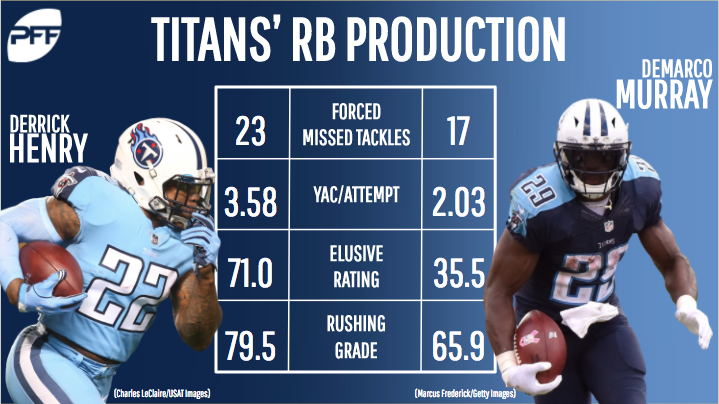 A byproduct of the two's production, Henry ranks 13th with a rushing grade of 79.5 among the 50 NFL running backs with at least 176 offensive snaps. Murray, on the other hand, ranks 32nd on said list with his 65.9 rushing grade, a 7.7-point drop from his 2016 campaign.
Henry has averaged 4.00 yards per carry – 0.59 yards above Murray's mark at 3.41 – running the Titans' go-run concepts (man/inside zone), the both of which Murray excelled within just a year ago. In 2016, Murray averaged 4.78 yards per carry on such runs.
Similarly, Murray has fallen behind his backfield counterpart in terms of rushes by specific directions. He has averaged just 3.8 yards per carry on runs outside the tackles and is only averaging 3.2 yards per carry on inside carries between Tennessee's two bookend tackles while Henry has averaged 4.9 and 3.8 yards  running to each of those directions, respectively.
In his first year in Nashville, Murray put on a show as the Titans' feature back, finishing the season with 1,287 yards, 46 forced missed tackles and nine touchdowns on 293 attempts. However, with his current projection, Music City may be better off humming to the beat of a different drum for the rest 2017 – a much stronger, hard-hitting drum at that.
At his current rate, Murray will not come close to his production from 2016.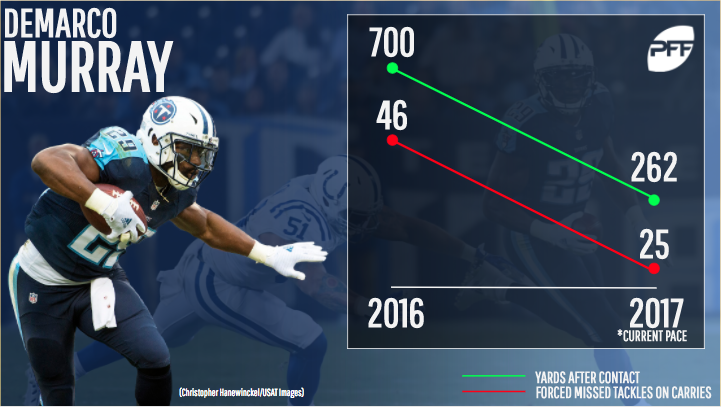 Listed at 6-foot-4, 250 pounds, Henry is a bruiser of a back with a punishing, downhill running style. But, separating Henry from the other lumbering power backs in the NFL is his short-area quickness and acceleration, both of which play key roles in his success at the NFL level. Yet, his true play-making potential remains untapped.
Despite his efficiency and production, Henry averages just over 10 carries per game, which accounts for just 37.6 percent of the number of carries the Titans average per game as a unit. To fine tune its offense, Tennessee could look to flip the backfield market share in Henry's favor moving forward in an effort to receive a higher return on investment from their two-headed rushing attack.