With Week 1 of the NFL season nearing it's end, it's time to look at the performances that weren't quite up to scratch to start the year. Here are the lowest-graded players at every position in Week 1, with a few surprising names appearing on the list.
(Note: Changes may be made following our review process and once Monday Night Football games have been analyzed and graded. Click here to see the best players at every position in Week 1.)
Offense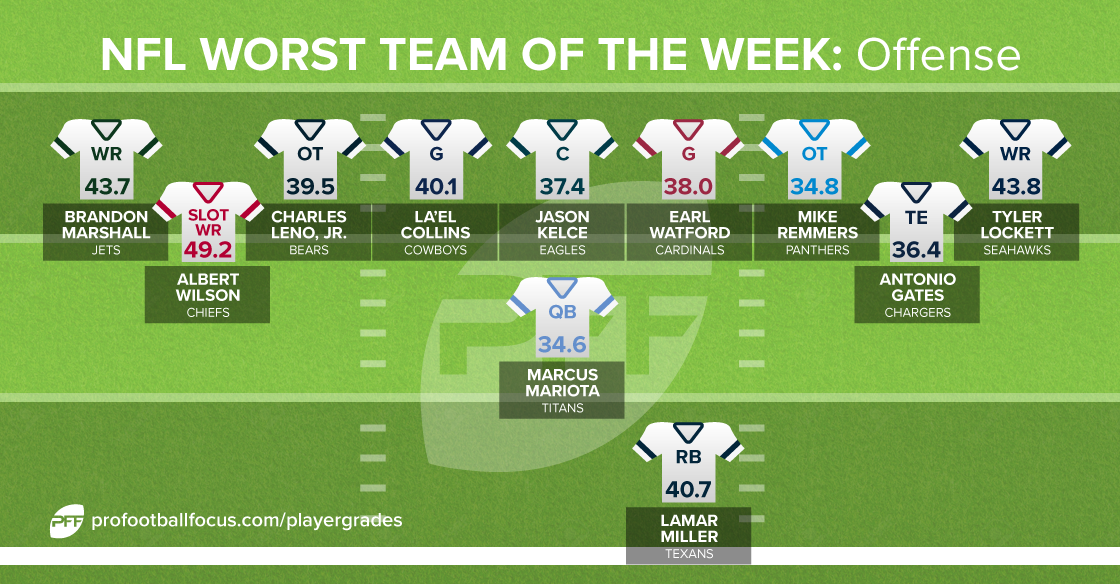 Quarterback: Marcus Mariota, Titans, 34.6 overall grade
Mariota had a bit of a rough go yesterday, as he completed 25-of-41 passes for 271 yards and two touchdowns. He only had one interception on the record, but threw another one that was called back due to penalty. He just wasn't on his game, missing his receivers almost as often as he found them, especially when he tried to push the ball downfield. Mariota was just 6-of-16 for 95 yards when the ball traveled at least 10 yards downfield.
Running back: Lamar Miller, Texans, 40.7
While he broke 100 yards on the stat sheet, it wasn't as good a day for Lamar Miller as the numbers may suggest. Of those 107 yards, only 46 of them came after first contact. The 2.2 yards before contact that he averaged were seventh-best in the league, meaning he had great blocking, but nearly as soon as he was contacted, he went down. He forced just one missed tackle on the day, and also fumbled the football.
Tight end: Antonio Gates, San Diego Chargers, 36.4
While Gates wasn't bad when he was throw to, catching three-of-four targets for 20 yards and forcing a missed tackle, that wasn't enough to make up for a poor run-blocking day. He allowed four tackles when run blocking, and also had a play where his man missed a tackle. He was beaten outside a handful of times, as well, forcing the running back to change his intended point of attack multiple times.
Wide receivers: Brandon Marshall, New York Jets, 43.7; and Tyler Lockett, Seattle Seahawks, 43.8
Both Marshall and Lockett saw seven targets yesterday, and both players caught just three of them. Marshall gained 32 yards, but just six of those came after the catch. Lockett gained only 17 yards on his receptions. Both wideouts dropped an easy pass, as well. Neither were getting very open on a day where both of their quarterbacks needed all the help they could get.
Slot receiver: Albert Wilson, Kansas City Chiefs, 49.2
Wilson operated out of the slot on just over 90 percent of his 41 routes run on Sunday, but he had a fairly ineffective day there. From the slot, he caught just two-of-four passes for -2 yards. Outside the slot, he added another catch for 3 yards to bring his total on the day to just 1.
Left tackle: Charles Leno, Jr., Chicago Bears, 39.5
Leno, Jr. had a tough day protecting the passer for the Bears, as he allowed a sack, two hits, and two quarterback hurries. He wasn't much better when blocking for the run, failing to open up holes most of the game and allowing a couple of run stops.
Left guard: La'el Collins, Dallas Cowboys, 40.1
Collins wasn't horrible in the pass-blocking phase, allowing a hit and two hurries. In the run game, however, he allowed six tackles, including a big one for a loss. Not an ideal day for a Cowboys' offense that needed to rely on their run game.
Center: Jason Kelce, Philadelphia Eagles, 37.4
Kelce really struggled on Sunday at the center position for the Eagles. He was beaten a handful of times when pass blocking, giving up a QB hit and another hurry. In the run game, he was consistently unable to hold his blocks and allowed his man to blow up the play multiple times. He also added a low snap.
Right guard: Earl Watford, Arizona Cardinals, 38.0
Watford struggled blocking in both the pass and run game. He allowed a quarterback hit, and there were two times where he was beaten while pass blocking, but a pressure wasn't recorded; he was also beaten twice for tackles in the run game.
Right tackle: Mike Remmers, Carolina Panthers, 34.8
Despite playing well for the first two quarters, Remmers had a really tough second half in the Thursday night opening game. When all was said and done, he allowed two sacks and three hurries, as well as a few other plays in which he was beaten but a pressure was not recorded.
Defense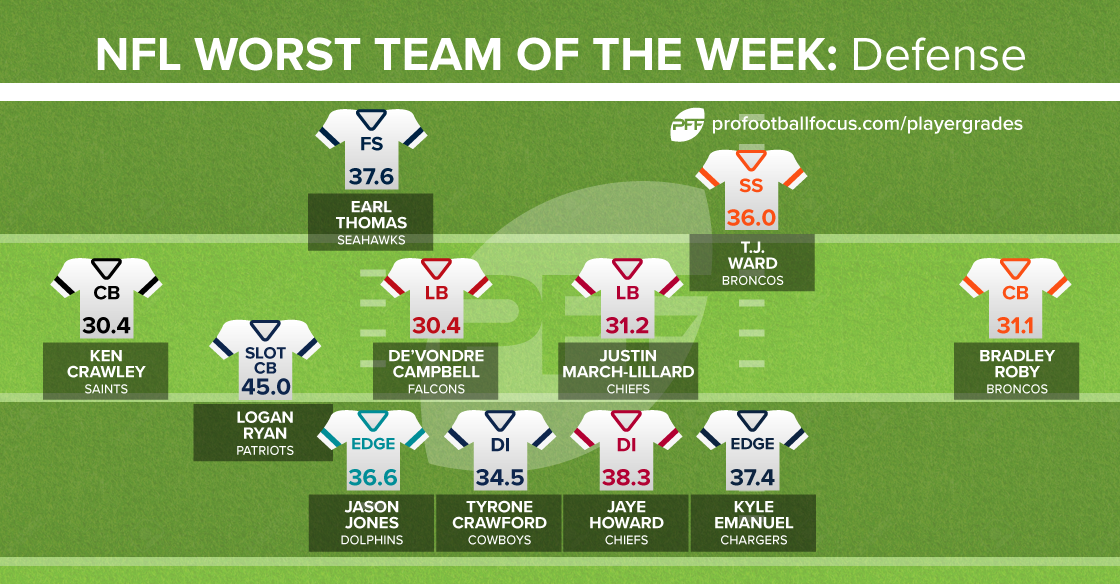 Edge defender: Jason Jones, Miami Dolphins, 36.6
Jones was mostly invisible on Sunday; in 54 total snaps, he had just one sack, and it was an unblocked clean-up. He made no impact in the run game, either, failing to record even an assisted tackle there.
Interior defender: Tyrone Crawford, Dallas Cowboys, 34.5
Crawford was consistently handled by the Giants' offensive line, especially in the run game. He made just one tackle on the day, and it was of the clean-up variety. He also didn't record a single pressure when rushing the passer.
Interior defender: Jaye Howard, Kansas City Chiefs, 38.3
Howard was in a similar boat as Crawford, as he too made just one run game tackle and failed to record any quarterback pressure on the day.
Edge defender: Kyle Emanuel, San Diego Chargers, 37.4
Emanuel had a tough time pass-rushing, as he failed to record a single pressure on the day. He also dropped back into coverage a handful of times, where he allowed two catches on two targets for 43 yards (both receptions went for first downs).
Linebacker: De'Vondre Campbell, Atlanta Falcons, 30.4
Campbell had a really tough go of things in his debut for the Falcons, as he made just four tackles on the day with only two of those being defensive stops. He missed two tackles in the run game, as well, and was generally blocked out of plays altogether. He also surrendered four catches on four targets for 52 yards and a touchdown.
Linebacker: Justin March-Lillard, Kansas City Chiefs, 31.2
March-Lillard was playing the first defensive snaps of his career, and while he made eight tackles, none of them constituted a defensive stop. He missed one tackle, and was generally ineffective in trying to stop the run.
Cornerback: Ken Crawley, Saints, 30.4
Another year, another Saints corner making this team. Crawley was targeted seven times on Sunday and allowed six catches for 64 yards and a touchdown. He didn't fare well in the run game, either, and missed three tackles on the day.
Cornerback: Bradley Roby, Denver Broncos, 31.1
Roby had a tough go of things in coverage, too, allowing five-of-seven completions for 69 yards. While that doesn't seem too bad, many of those catches were big first downs, and he also missed a tackle in the game.
Slot cornerback: Logan Ryan, New England Patriots, 45.0
Ryan spent the majority of his defensive snaps lined up in the slot covering star Cardinals receiver Larry Fitzgerald. It was clear who got the best of that matchup, as Ryan allowed six-of-seven passes to Fitz to be completed for 54 yards and two touchdowns. He also surrendered a big 11-yard catch to Michael Floyd.
Safety: T.J. Ward, Denver Broncos, 36.0
It was a tough day for safety T.J. Ward. He struggled in his run defense, missing a tackle and not making a single defensive stop on the day. He was also beaten in coverage a handful of times, and just wasn't making the plays he's known to.
Safety: Earl Thomas, Seattle Seahawks, 37.6
Thomas is a shocking name to see on this list, but he really struggled in coverage on Sunday. He was late with help on occasion, and missed three tackles on the day.
Kicker: Blair Walsh, Minnesota Vikings
Walsh missed two field goals (37 and 56 yards), as well as an extra point. He also only forced two touchbacks on seven kickoffs.
Punter: Drew Kaser, San Diego Chargers
Kaser's punts averaged just 35.6 yards in the air, and they were frequently returned. His net average of 26.4 was the lowest of the week.