If you know anything about football then you know that The Bachelorette is the real gem of the offseason, the 'Super Bowl of the Summer' as it is called. With the first episode set to air tonight (on ABC), we decided to hand out a few LOCKS for this upcoming season much in the same way that a certain Mike R. from Cincinnati decided to provide his LOCKS for Becca Kufrin's enjoyment.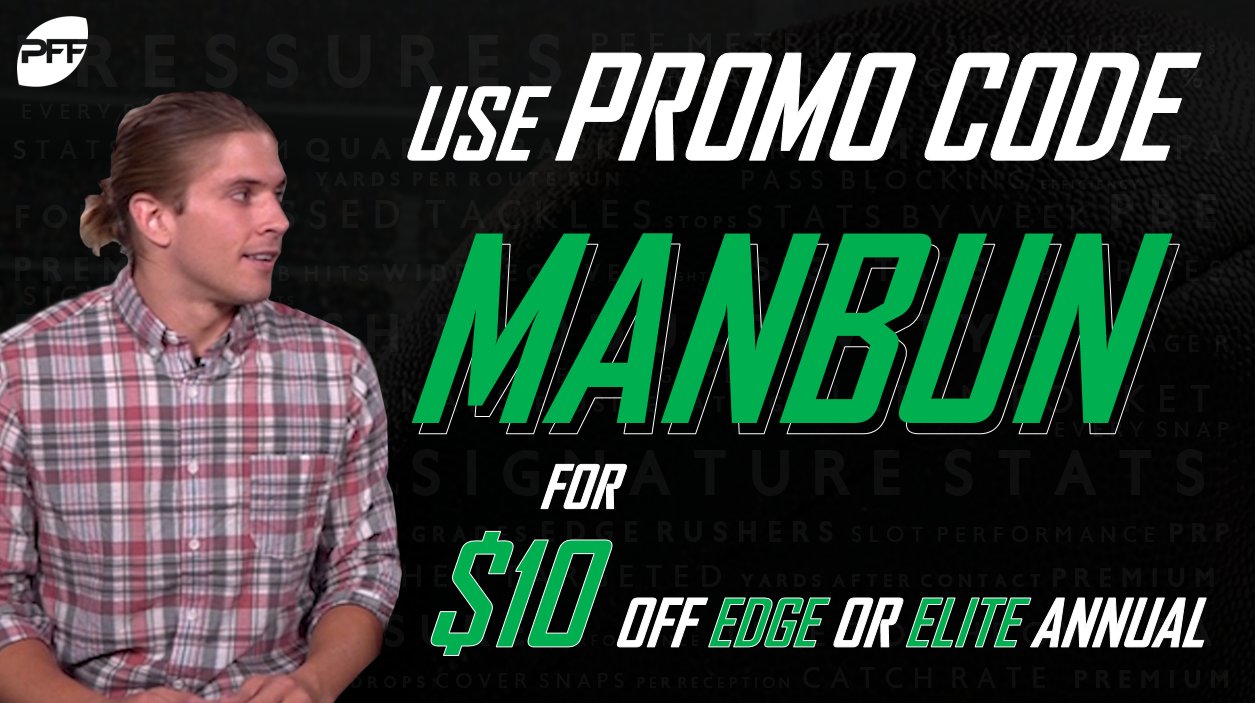 Wait a minute… https://t.co/twBoruKLC6

— Pro Football Focus (@PFF) May 17, 2018
You may be wondering how we could leverage PFF data to make predictions about something as serious as falling in love with one of 28 complete strangers, but there are more similarities than you might imagine. PFF grades every player on every play and we all know that it's not just about having a pretty face, it's how you act when no one's filming that really matters in the long run. The Bachelorette picking the right man to lead her to a winning life is basically what every NFL team goes through when looking for a quarterback.
How did this guy play when he was in a clean pocket? What about under pressure? Did he find a way to make big-time throws or did he put love at risk of a turnover too often?
While you can answer all these questions for NFL players by getting a PFF Edge Subscription and opening your QB Annual, this next level analysis has yet to be done on The Bachelorette contestants, until now. We've even gone so far as to build in opponent adjustment to our model, Becca may be the prize jewel of Minnesota (her home state) but these games are played primarily in Los Angeles and other luxurious destinations that might impact the allure of The Bachelorette for some. Your competition matters.
And yes, we will be grading Mike's performance weekly. https://t.co/twBoruKLC6

— Pro Football Focus (@PFF) May 17, 2018
We will use the same solid math and writing style that got us to 14-6-1 (70 percent) on NFL Locks this past season to produce the winning Locks of Love. Of course, if you want to stay on top of everything as the season progresses and maybe learn about some smart NFL investments subscribe to the PFF Forecast (new episodes each Wednesday).
Who will be the last long-haired man standing:
Mike R. (- 135) – Leo (+ 125) – Push (+ 1000)
Point (George Chahrouri): So long as this isn't Leo DiCaprio wearing the greatest disguise of all time, Mike R. should be well positioned to take down the 31-year-old "stuntman" from Studio City. Leo says he likes to wear his tangled black mop in a "messy bun" and we know that grade under pressure is simply not that stable. Meanwhile, Mike R. clearly knows where to find both a hair brush and conditioner which should keep him in a clean pocket/bun from which to control the portion of Becca's heart that longs to have the shorter hair in the relationship.
Mike R. is the public favorite but our model is unphased and has the "Sports Analyst" from Cincy sending Leo to the barber in over 80 percent of our simulations in large part because stable metrics matter when you're building a love that lasts forever.
Counterpoint (Eric Eager): While our simulations are both real and compelling, The Bachelorette is a fat-tailed distributional event – where playing it safe is not likely going to… cut it in the end. Our friend Mike R. has an intimate understanding of probability theory, and has absolutely no taste for finishing second. Hence, we may see him pull all of the… stunts early and often, leaving the door open for FabLeo to roll with the early punches and make a deeper run than our pal from the 'Natti.  
Under (-110) 0.5 times the other bachelors claim Mike R is "not in there for the right reasons"
Point (EE): While the aforementioned opponent-adjustment is needed, it's not like Mike R. is from LA himself, and hence this might be yet another case where we can assign someone an opponent-unadjusted 78.4 grade and have the adults sort out what that means (away from Twitter, of course). Like offensive line play and being chased by a bear in the wild, it's not so much about your probability of being b(eaten), but rather your likelihood of avoiding standing out as the worst in the crowd, and I have full faith that Mike R. has enough wits about him to avoid looking the most fake among the Alex's, Blake's, Chase's and other men with very unique names.  I, for one, am more suspicious of some venture capitalist who enjoys guac but not avocado (more on him in a minute), and somehow thinks a woman from Minnesota will care.  Freud much?
The above is conditional on Mike R. actually entering such a 28/1 competition to acquire life-long love for the wrong rzns (reasons). While no one can ever really know someone's true motives, it's tough to see books like The "Five Love Languages" and "His Needs, Her Needs" when you're combing through your colleagues bookshelf for the extra copy of "The Hidden Game of Football" and conclude anything other than the existence of a man in need of such a true, transformative experience. #TeamMikeR
Counterpoint (GC): Forever, forever ever, forever ever? Forever never seems that long until you're grown and notice that the day-by-day ruler can't be too wrong. Ms. Kufrin, my intentions were good, I wish I could…
If Mike R. gets caught singing this Andre 3000 gem I think there's a pretty decent chance that someone tries to call him out. Perhaps the best part of the whole show is when a couple of the guys decide that whining to the bachelorette about other guys in the house is a good look. Maybe these nincompoop "right reason" vigilante's watched too much Gossip Girl and think that being a male gossip machine will net them Blake Lively, unfortunately it appears the two shows have very different producers.
Let's be honest here for a hot second, Becca doesn't exactly scream "wife material," heck the last bachelor actually broke up with her for someone who literally had a big-time throw rate of 0.0 percent. Before you send me away for my comments, remember that she decided to put herself out there unlike poor Josh Allen who at least has the looks to overcome his inaccuracy. While there is a reason we took the other side of this bet as a LOCK let's not forget "diamonds are forever" and that can scare even the best men into saying they'd rather not win.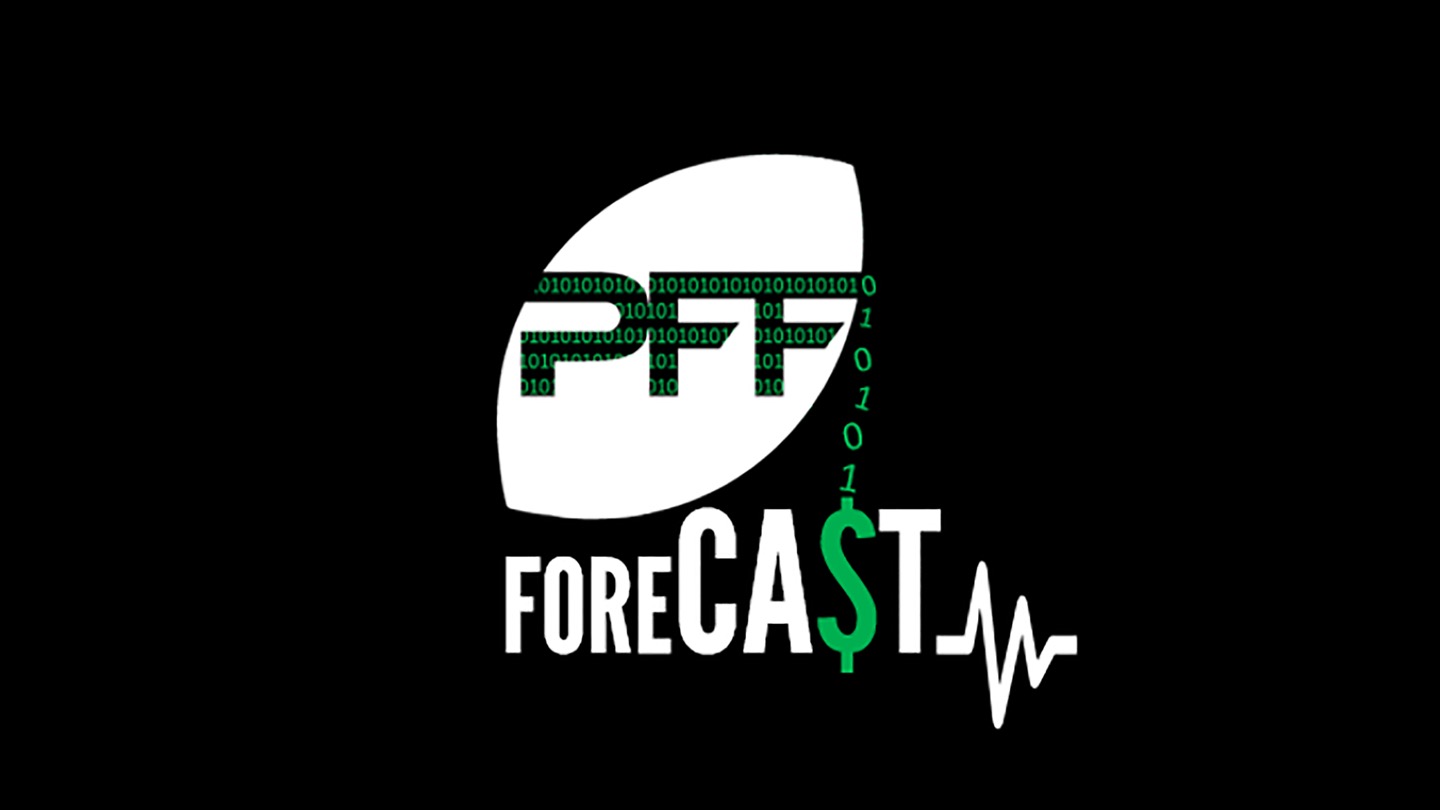 Other than Mike R., the PFF Forecast team has a few guys that could be sleepers
It's really nice to finally see the youngest of Mumford's Sons making it. Ryan grew up in Cape Cod and now lives in Manhattan Beach, California where the average rent is $6,000/mo plus half your soul for a 300-square-foot studio. So either Ryan is the world's highest graded Banjoist or that he has some family money in which case he has more similarities than we thought to one, Josh Rosen. Yes, the same Josh Rosen who was the second-most accurate on passer on tight-window throws in the class (get a QB Annual) and earned the second-best grade on PFF 'NFL Throws.' At first blush, the last few words of Ryan's bio might cause most women to vomit but it could also be a sarcastic ode to Wedding Crashers in which case this man is a legend. If Ryan can capture some of Chosen Rosen's mojo and combine it with a bit of wit, Becca will have a real hard time passing up on this 'Little Lion Man.'
It has been said that there are some women who like to – for lack of a better phrase – mold men into what they want over time. Perfect place for some Clay, then. While Harbor played over 2,200 snaps in the NFL from 2010-2016, and his athletic profile is impressive, teams generated an average of 0.05 Expected Points Added on throws on his targets during that time – one-fifth the value of an average throw to a tight end. Of the meaningless platitudes that will be uttered in the mansion over the next couple of months, the one to heed here is "buy low."
Anyone that can turn a master's degree from Duke into a gig as a colognoisseur gets some of my bankroll. It's like watching Damon Harrison piece together 310 snaps doing one of the least-valuable things in football and somehow coming out of the pile as the most-valuable player on an (admittingly 3-13) NFL team. Respek. As long as his scent doesn't have the same impact on Becca as Harrison has on guards and centers, look for Jean to make a run.
Fade! Fade! Fade! Are you kidding me with this picture-bio combo. You're wearing a pink v-neck and a jacket that has a specific name which I don't remember since I've never stooped to such a level. You need to really crush it from a personality perspective to dig yourself out of this hole… Unfortunately for David, he decides to go with "loves guacamole, but hates avocado. Hopefully that's not a deal breaker." This scores a 10/10 on our Futility Scale. We also know that avocado consumption correlates with GOAT-ness as Tom Brady and his No. 1 ranked clean pocket grade can attest, so this is a real double whammy for this bro. I wouldn't be surprised if he shows up just to promote some app he invested in – the only good news is that the "Right Reasons Brigade" will quickly put him out of his misery for his assault on the wholesome quest for true love.