Coming off an ACL tear a year prior, Kyler Fackrell made his mark in 2015 as a senior at Utah State. The outside linebacker posted a 90.1 pass-rush grade, which ranked sixth among draft-eligible edge defenders. The Green Bay Packers drafted Fackrell in the third round of the 2016 NFL Draft, and while he showed glimpses of what he was capable of with 27 pressures last year, 2018 has been a breakout campaign.

Through the first eight weeks of the season, Fackrell's 63.2 overall grade placed him in 65th among 103 qualifying edge defenders. The past three weeks have been more indicative of his college success in 2015, however, as his 81.6 overall grade is 14th among 98 qualifying players. That stark difference is no coincidence, either.
Nearly 50 percent of his snaps on the season have come in the last three weeks — and with that increase in trust by his coaches has followed an increase in production. Over that period, no edge defender has more sacks than Fackrell (4) and only Danielle Hunter and Bradley Chubb have more stops among the position group than Fackrell's eight.
Fackrell's ability to generate pressure has been a facet the Packers have needed as of late. Over the past three weeks, no Packers defender has more than one sack — Fackrell has four. And over the course of the season, Green Bay's 53 pressures from edge rushers ranks 31st (only better than an abysmal Oakland Raiders' pass rush) despite their total number of pressures (178) ranking 12th. So, while the Packers don't necessarily have a problem flustering opposing quarterbacks, the lack of a presence on the edge is reason for concern, as it's usually the type of pressure to generate fumbles or sacks from the quarterback's blindside.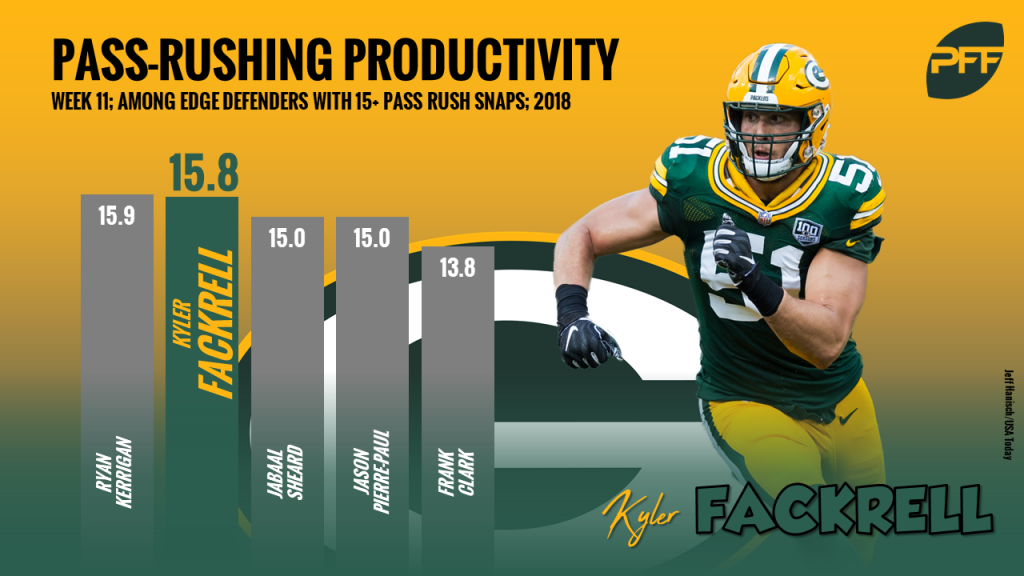 That's where Fackrell's increased production comes into play as the season progresses. For instance, Seattle Seahawks quarterback Russell Wilson has a 78.0 passer rating under pressure, good for sixth among quarterbacks. While the Seahawks came out on top over the Packers on Thursday, Wilson was held to a 46.7 passer rating under pressure. All three of Fackrell's pressures on the night were sacks, so he didn't necessarily affect Wilson's throwing ability — however, Clay Matthews was able to generate four pressures of his own from the other side. When two outside linebackers can be equally disruptive, a quarterback is in for a rough night.
Overall, though, Matthews production on the year has dipped, and the Packers needed a young player to step up. Matthews currently sports a 59.7 overall grade, which would be the second-worst mark of his career, and is on pace for the fewest total pressures and sacks he's recorded in a season.

Pressure is arguably the most important aspect for a defense — without it, a quarterback has free rein to pick apart opposing coverage units. Just look at the Raiders, who have the fewest pressures and 54 fewer than the next best team. They're allowing a 115.9 passer rating to opposing quarterbacks, which is third-worst. At the very least, Kyler Fackrell is a linebacker of the future for the Packers — but it certainly appears he is a pass-rusher of the present, poised to wreak havoc as the season wears on.