The first issue of Pro Football Focus: The Magazine is on sale now, and fans have the option of purchasing a full-season subscription (eight issues) or just the NFL preview issue. As a free preview, we are unlocking PFF owner and "Sunday Night Football" announcer Cris Collinsworth's column from the issue, which looks at whether the Patriots can survive their first four games without Tom Brady, whether the Raiders and Jaguars are this year's surprise teams, and Cris' picks for breakout player candidates. If you wish to subscribe to PFF: The Magazine, click here.
Is old school new school?
It's a new year in the National Football League and a new year at Pro Football Focus, and we're all excited to get going on another great season of football.
It's often said that the NFL goes in cycles. The constant desire to adjust to the hot new scheme means that there's a chance we may see some Back to the Future football in the NFL this season as teams react to smaller and quicker defenses – built to stop the pass – by loading up and utilizing an old-fashioned run game.
Two teams with low expectations might test this theory. Tennessee has added powerful running backs DeMarco Murray and Derrick Henry alongside mauling offensive tackle Jack Conklin – and the Titans appear primed to play some smashmouth football. It also makes sense for second-year quarterback Marcus Mariota, who they can protect with the running game while also capitalizing on his fit for play-action, bootlegs and run-option plays.
The Los Angeles Rams could also go in the same direction to some extent, no matter who starts games. Rookie Jared Goff wasn't impressive in the preseason, but he has two advantages: Todd Gurley and an ability to protect himself by making quick reads, an area where he was as advanced as I've seen in a while for a college player. Can they protect him with the run game, and can he maintain that ability to make quick reads in the NFL? It's not often rookie quarterbacks perform to a high level, but Goff has a chance.
The key for both teams is that they absolutely need to have planned for such a switch through training camp. Those padded practices really are key to implementing that kind of scheme so I think it's crucial they've fully developed the scheme through the summer.
No two-a-day keeps the doc away?
It's amazing when you visit training camps to see the different approaches teams have in this new era of the CBA-restricted practice conditions. There is no doubt the limits on padded sessions and two-a-days have changed the face of football, and the impact on things like blocking and tackling is huge.
A lot of teams' standard practice gear now feels like a pair of shorts and flip-flops. I get there and I'm thinking, "Is this really training camp?" It's really hard for me to get used to it.
Then you get the Pittsburgh Steelers, who shun the modern thinking and go their own way. Pittsburgh has a greater fear of not being prepared to play tackle football than of getting somebody hurt. To some extent, I admire what they do, because they believe traditional football is still the way to win, and the way they have won games despite a lot of injuries in recent years is pretty impressive.
The season is a war of attrition, no matter what anybody says, and the more of those first-string bodies you have around, the better. The Steelers seem to buck that trend and have had consistent success with their approach. I think it's fair to say, however, there is no definitive answer as to which approach works best.
No Brady, no problem?
The one time we've seen the New England Patriots without Tom Brady under center, they won 11 games with Matt Cassel and just missed out on the playoffs. For them to now have this situation with Jimmy Garoppolo thrust into the spotlight in a year the Patriots are Super Bowl favorites is fascinating.
I think Garoppolo is a good player who has a quick release, but can he perform with so much on the line? These four games, especially starting in Arizona and playing behind an offensive line that is in flux, are going to be so difficult. I think we'll see a different offense as Martellus Bennett becomes an important figure. There is a lot on Garoppolo's plate and it's going to be fascinating to see just how important Bill Belichick and the system really are. The last time with Cassel, they were pretty amazing, so I cannot wait to see another test of everything they do.
That's the main storyline of what could be a fun battle in the AFC East – for a change. People forget the Jets won 10 games last year, Adam Gase has taken over in Miami and Buffalo still has the talent everybody liked a year ago. Nobody expected the Bills' defense to be as poor as it was last year. Instead, they were average on defense, and Tyrod Taylor ended up having an impressive year. Injuries in the preseason have hurt an impressive draft, but I still think the Bills should be improved.
For the Patriots, it's not going to be a division that just rolls over and plays dead, but it's so hard to pick against them, given their prolonged dominance.
The rise of the underdogs?
The two franchises I could see coming out of the pack this year are Oakland and Jacksonville. They're the teams that look good enough on paper to compete with anybody; the individual parts of their teams are young and talented. They have issues like every team, but they have quarterbacks that are maturing, great skill-position players, and some star players on defense.
Jacksonville has arguably the top three defensive players from the last two drafts, not to mention Malik Jackson. That's a huge infusion of talent coming into that team all at once. Plus, the more tape I watch on Jacksonville's Allen Robinson, the more I think of Dez Bryant. He has a competitive streak in him that is really fun to watch. It's unbelievable how talented that young man is.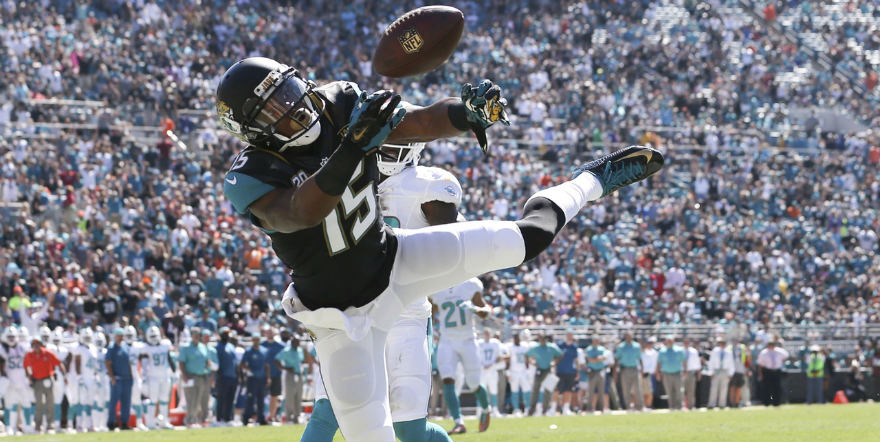 The AFC West is going to be a real dogfight with the Super Bowl champion Denver Broncos in there alongside Kansas City and San Diego. But the roster assembled by Reggie McKenzie in Oakland is comparable with any in the NFL. They have a quarterback who appears to be ascending to the top level and talent all over the field.
P.A.T.
I almost laugh sometimes with all the preseason predictions, because all of these teams are completely different. The most important game is often opening day; there is something about being 1-0 and starting right. When you're 0-1 it immediately feels like you're pushing a rock up a hill. I remember in my playing days that things always seemed to go a lot better when we started with a win.
Who is the one team that I think really has no chance whatsoever of being good? I find it really tough. I could even make a case for Cleveland surprising people. There is something to like in every team and it's funny when people are immediately writing these teams off. You can literally make a case for anybody in the NFL, which is what makes it so intriguing.
Three breakout stars
Corey Coleman is a real star. I cannot help but think the Giants missed an opportunity to pair him with Odell Beckham Jr., which could have been just lethal. When I looked at the draft, I still said they should take him – even when I knew they weren't going to!
Arizona's David Johnson has a chance to become one of the really great players in the NFL. His skillset as a runner and receiver, combined with being a bigger-bodied guy who can run over people, makes him a nightmare for defenses. He is really uniquely situated to have a breakout season.
I love Jabaal Sheard in New England. I thought he was one of the best players in the league last year, and Chandler Jones got all of the attention. Jones is a good player who has moved on to Arizona, but I really feel like you're going to see Sheard get the credit he should have been afforded last year. He was a star.