Running-back-by-committee is a popular approach that many coaches are fond of, but two young running backs trapped in committees are forcing their coaches' respective hands.
In the NFC, Detroit Lions rookie running back Kerryon Johnson continued his emergence with an electric performance against the Miami Dolphins, in which he put up 179 total yards on an impressive 8.3 yards per attempt. The former Auburn standout earned an 83.9 overall grade and 4.89 yards after contact in the contest, each of which ranked third-best among running backs in Week 7.

In the AFC, sophomore running back Marlon Mack shares the backfield with two young rookies, yet he produced 159 total yards against the Buffalo Bills. His 79.7 overall grade was fifth-best at his position, and he was tied for first with four runs of more than 10 yards.
Both the Lions' and Indianapolis Colts' offenses are better when Johnson and Mack are on the field, and the coaches would be wise to reward them with more touches as a result.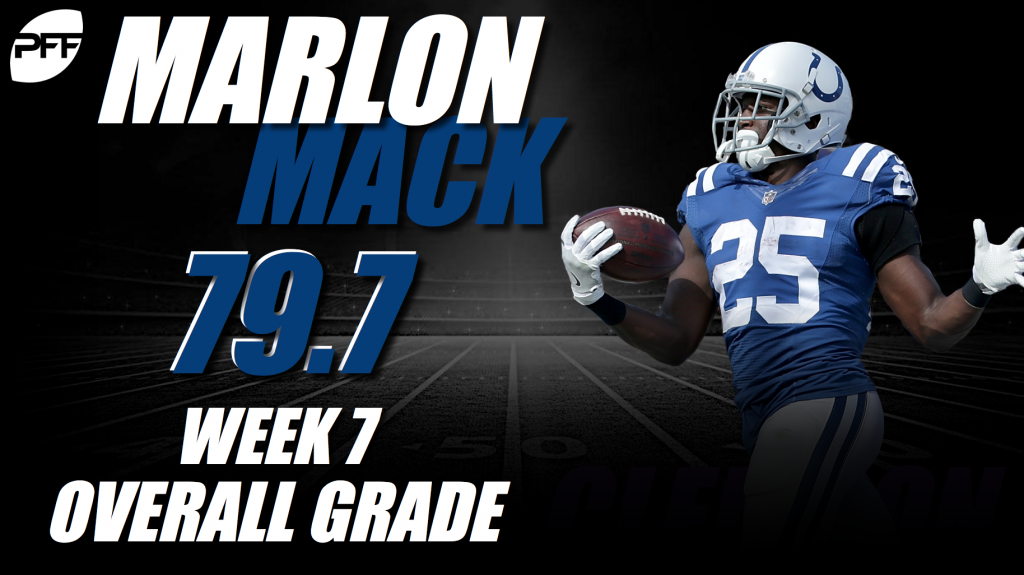 Mack has failed to see the field much this season due to recovering from multiple nagging injuries. With two young rookies behind him, the coaches surely felt no need to rush Mack back into action quickly, but now is time to take the training wheels off. While rookie NC State product Nyheim Hines has looked good as a receiver and Wilkins has had his moments, Mack's production makes it clear he should be the lead back.
Since his return from injury in Week 6, Mack's 215 rushing yards and 6.9 yards per attempt rank third and fourth, respectively. He also has gained 11 first downs and has seven runs of 10 or more yards, both of which rank second among running backs. For the season, Mack's 79.1 overall grade is seventh-best among running backs with at least 35 carries, and he is averaging 6.1 yards per attempt, the third-highest mark. The sophomore running back is also picking up more than just the yards that are blocked for him, as evidenced by his 3.27 yards after contact per attempt.
Despite his efficiency and yardage totals, Mack still saw just 35 percent of the team's snaps and 60 percent of their carries in their game against the New York Jets in Week 6. The Colts gave him more work in the game against the Bills, where he saw 56 percent of the snaps and 63 percent of the team's carries.
Hines' value as a receiver will, of course, eat into Mack's snaps a bit, but Mack proved in his last year of college, where he averaged 8.3 yards per reception (just 0.1 less than then Stanford back Christian McCaffrey that season), he could be a capable receiver. On top of Hines' snaps, Jordan Wilkins still saw 23 percent of the team's snaps against the Bills even though Mack has been the better back when on the field. The point is that Mack is seeing a lot of the team's work at running back, but there is still room for his role to grow- as the numbers and his performance dictate it should.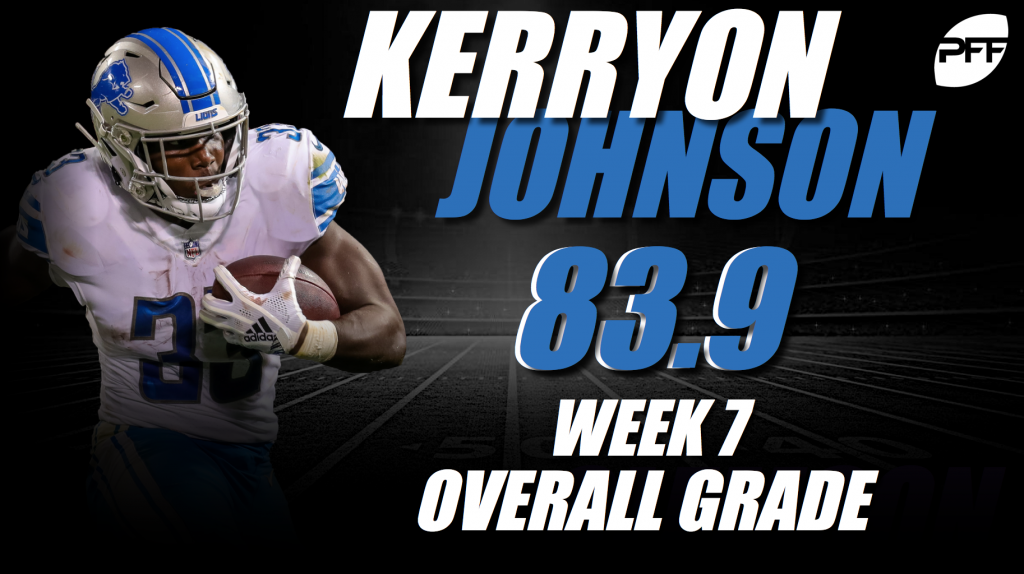 Johnson's usage is slightly more egregious largely due to how inefficient his backfield-mate LeGarrette Blount has been with the touches he receives. Among 41 running backs with at least 50 attempts through Week 7, Blount ranks in the bottom three in overall grade (55.5), yards per attempt (2.9), yards after contact per attempt (2.0), elusive rating (23.3) and, finally, breakaway percentage (0.0).
Looking at Kerryon's numbers in contrast to Blount's, there is no question who the better back has been this season. Among qualifying running backs, Johnson's overall grade of 79.8 ranks fourth, his 6.4 yards per attempt ranks second and his 3.42 yards after contact per attempt ranks seventh. Surprisingly, Johnson is eighth in the NFL in rushing yards with 444, yet he ranks tied for 30th in total rushing attempts (69).
Johnson has been exceptional in the passing game, as well, generating a 77.9 receiving grade that ranks seventh-best among running backs with at least 15 targets. The rookie back has made the most of his touches, generating a 69.2 elusive rating (ninth) and 49.8 breakaway percentage (third)
Even though Johnson has been electric with the touches he's been given, he still sees just 14 touches per game and had never played more than 44 percent of the team's snaps until he played 57 percent against the Dolphins. The plodding Blount is receiving 10 touches per game that could surely go farther in Johnson's hands. While Johnson playing a season-high in percentage of the team's snaps is a step in the right direction, it doesn't exactly inspire confidence. Earlier in the season, Johnson broke the team's remarkable drought of 100-yard rushers against the Patriots and then saw his percentage of snaps played actually decrease by seven percent the following week.
Johnson and Mack are two talented, electrifying running backs that breathe life into their teams' listless running games. Both backs find themselves putting up eye-opening performances despite receiving limited workloads.