Through two games, Redskins CB Josh Norman is the league's leading cornerback, with a 91.6 overall grade—a higher mark even than his 87.9 from last season.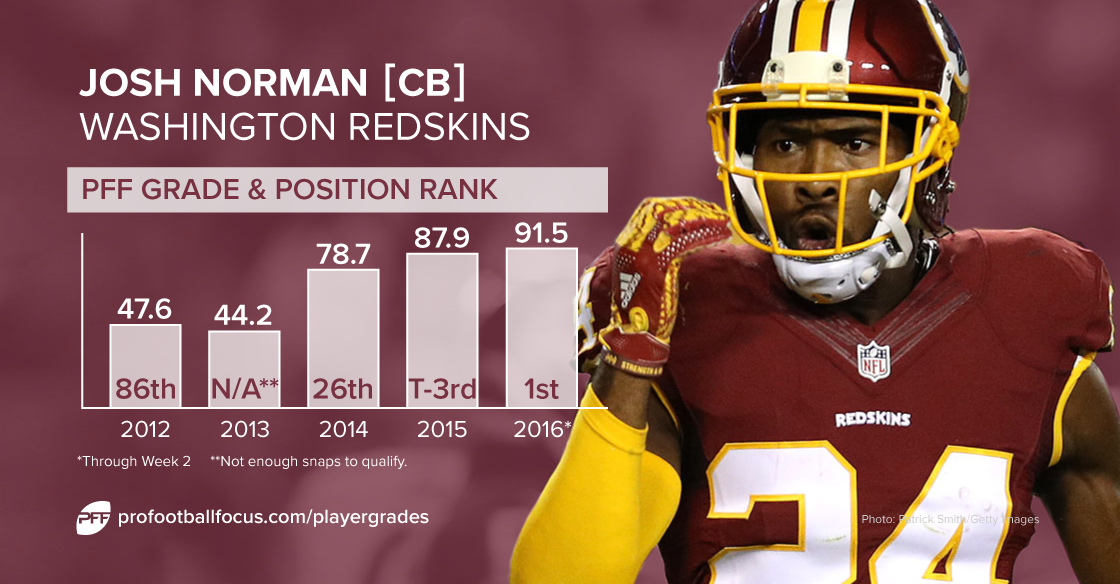 Norman has been thrown at eight times when acting as the primary coverage defender, allowed three receptions for 40 yards, and has a pair of pass breakups in each game. What's maybe more impressive is his stat line against two of the best receivers in the game:
Redskins WR Josh Norman versus No. 1 WRs in 2016

When Norman faced Antonio Brown and Dez Bryant in Weeks 1 and 2, respectively, he kept a clean sheet across the board. The problem people have, though, is that he hasn't done it enough. Many see tracking a No. 1 receiver as a necessary step to being classified as an elite corner, regardless of the fact that it's not the cornerback's decision to make.
Seahawks CB Richard Sherman is arguably the best cornerback in the game right now, but that comes with an asterisk to many because he isn't asked to follow top receivers; guys like Jets CB Darrelle Revis and Cardinals CB Patrick Peterson are. Seattle believes the defense is better overall when keeping Sherman on one side and leaning coverage away from him to help the other side, allowing the No. 2 corner to have help from safeties buzzing down from bracket coverage, generally reducing the amount of space a great receiver can utilize to beat him.
They have, on occasion, used Sherman to track receivers when injuries have meant the other side couldn't hold up against top-flight wideouts even with help, but it's a schematic choice, not a flaw in Sherman's game.
Washington began the season with Norman at LCB and Bashaud Breeland at RCB. They clearly felt that their duo was good enough to just line up and win one-on-one against the offense, and because of that, they haven't incorporated any of the schematic wrinkles into the defense that Seattle does because of what Sherman allows them to do. Instead, the Redskins simply ran their defense as if they had just taken it out of the box and expected it to work. Breeland—talented though he is—just isn't quite good enough to live with receivers as destructive as Brown and Bryant, and while Norman has been perfect against that pair, Breeland has been eaten alive. He surrendered 113 yards and two scores to Brown on Week 1, and had allowed four catches for 57 yards to Bryant before the team decided they needed to make a change.
From that point, Norman was asked to start following Bryant. When the fourth quarter opened, Norman was lined up one-on-one against the Cowboys' top WR on the right side of the defense, a departure from his usual spot on the left. Strangely, there was no straw that broke the camel's back to cause the change—the team just decided to make the switch heading into the final period.
In the final quarter of the game, Norman lined up across from Bryant on 13 snaps, 11 of which came on the right side of the defense. There were only three snaps in which Bryant was on the field that Norman didn't follow him in the final period, as well as two snaps for which Bryant wasn't on the field at all.
Bryant had seven catches for 102 yards in the game, but only one of those catches came in the final quarter—and that was on one of the three snaps where Norman was not lined up across from him.
Josh Norman was an elite cornerback in 2015, and the Redskins paid big money to make him the star of their secondary in 2016 (and beyond). So far, he has more than lived up to that billing, but the team hasn't done nearly enough to maximize the impact that having a shutdown cornerback can deliver.
Their initial strategy was clearly lacking, but the team has at least shown that its prepared to adapt and change, even making the switch mid-game. Whether they take this as a sign that they should be using him to track receivers or not, it's clear that it's something Norman can do if asked. More importantly, the fact that he hasn't been deployed that way for an entire game yet shouldn't be held against him. Norman spent extended periods of time in each of the first two weeks of this season covering two of the best receivers the game has, and he blanked them both.
What's more, he has actually broken up every pass thrown into his coverage intended for one of those top receivers.
Josh Norman is playing the best football of his career right now, and all that remains to be seen is if Washington is prepared to change their defensive scheme to let him show it more.