Prior to the 2015 NFL Draft, there appeared to be a consensus regarding the top two prospects. However, there was still some debate regarding who should go No. 1 overall: Florida State quarterback Jameis Winston or Oregon signal-caller Marcus Mariota? In the end the Tampa Bay Buccaneers selected Winston; however, that decision has been under scrutiny ever since, especially with neither player reaching their potential so far. With that being said, let's take a look at what the two quarterbacks have achieved, how they established themselves in the NFL and what we can expect from them in the future.
Just by looking at their PFF grades over the last four seasons, we can see that neither quarterback has lived up to the pre-draft hype so far. Winston graded out at 75.9, which ranks 25th out of 56 signal-callers with at least 500 snaps, while Mariota ranks 27th with a grade of 74.9. Looking at only their passing grade shows a similar picture, as Winston's passing grade of 75.8 ranks 24th while Mariota's 71.3 passing grade ranks 28th. But what are the actual strengths of each and where do the numbers confirm or contradict the narratives around them?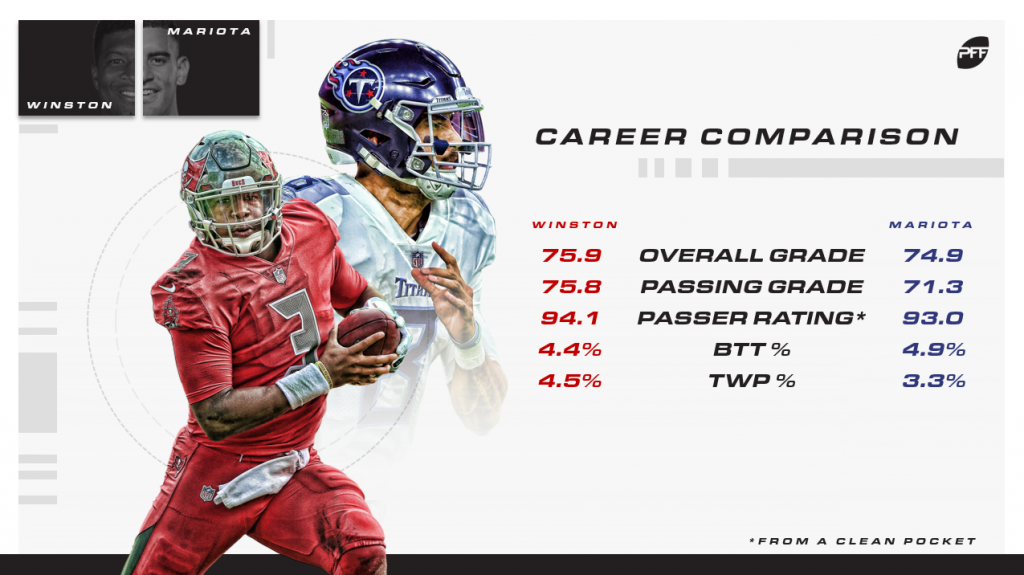 People associate Winston with big plays and not taking care of the football. Winston in fact leads all quarterbacks over the last four seasons with an average depth of target of 10.8 yards. He has also thrown past the sticks on 54.5% of his attempts, which also ranks first, as well as the fact that 66.4% of his passing yards came before the catch.
However, the fact that Winston is among the top tier of NFL quarterbacks in playmaking ability is not necessarily true: he had a big-time throw — PFF's highest-graded throws — on just 4.4% of his attempts, which ranks 23rd among quarterbacks. On the other hand, Winston indeed has struggled to take care of the football: 4.5% of his dropbacks ended with a turnover-worthy play, which is the fourth-highest rate in the NFL over that period.
As for Mariota, the first thing that comes to mind is his mobility and ability to make plays on the run. In fact, Mariota ranks first with a grade of 69.5 among 40 quarterbacks with more than 10 designed runs over the last four seasons. He also averages 6.1 yards per carry, which is tied for first with Blake Bortles. And although that narrative stands true when it comes to Mariota making plays with his legs, he has actually struggled when he was forced to make plays on the move with his arms. The Titans signal-caller has a passing grade of just 36.4 when he is forced to move off his spot. Furthermore, he had just as many turnover-worthy plays as big-time throws on those occasions.
The fact that Mariota takes better care of the football on a play-by-play basis than Winston often comes up when comparing the two and, in fact, the former Oregon quarterback has a much lower turnover-worthy play rate of 3.3%. However, what might surprise people is that Mariota, with 4.9%, also has made those big-time throws at a higher rate than Winston. Those turnover-worthy plays can lead to some disastrous games for Winston, as he had 12 games — compared to Mariota's eight — with a passing grade below 55.0. Although this high variance provides some brilliant Winston games too. While Mariota has yet to play an NFL game where he earned a passing grade over 90.0, the Tampa Bay quarterback has four such games.
There may actually not be a correct answer to the question of who has been the better quarterback so far, as the choice might say more about the person making the decision than about the two quarterbacks. Looking at the big picture and their overall grades, there is not much to separate Mariota and Winston, but the way they earned their similar grades is completely different. While Mariota may take better care of the football, it might be more valuable that Winston has a better chance to string together a couple of elite games when it really matters. Finally, it is also necessary to note that we might not have seen the best of either quarterback, as they have not seen a lot of continuity so far.
Winston and Mariota are going into their fifth season with their third and fourth offensive coordinators, respectively. However, while we might not know much about Titans offensive coordinator Arthur Smith, the pairing of new Buccaneers head coach Bruce Arians and Winston could be a match made in heaven, as highlighted by PFF data analyst Timo Riske on the latest episode of the PFF Forecast podcast.