Both off the board within the first five picks of the 2016 NFL Draft, Jalen Ramsey and Joey Bosa took football's biggest stage with no shortage of limelight, as the two college standouts traded campus glory for high expectations and winning traditions for rebuilding efforts. Of course, now two years into their respective NFL careers, Ramsey and Bosa have more than exceeded expectations beneath the bright lights.
Ramsey posted a 91.8 overall grade in 2017 as Jacksonville's primary boundary cornerback, improving on his respectable 81.4 grade he earned as a rookie. He has quickly joined the league's elite at the cornerback position and he's just heating up.
Similarly, Bosa has enjoyed a hot start to his career, as he recorded an 89.8 overall grade as a rookie despite missing four games to start his career and earned a 91.7 overall grade in his sophomore campaign. He also is only getting better as he gains experience, pairing with Melvin Ingram to give the Los Angeles Chargers one of the league's best pass-rushing duos for years to come.
With their recent selection in the top 20 of the PFF 50 top NFL players for the 2018 season, we dig deeper into what makes this rising third-year pair special.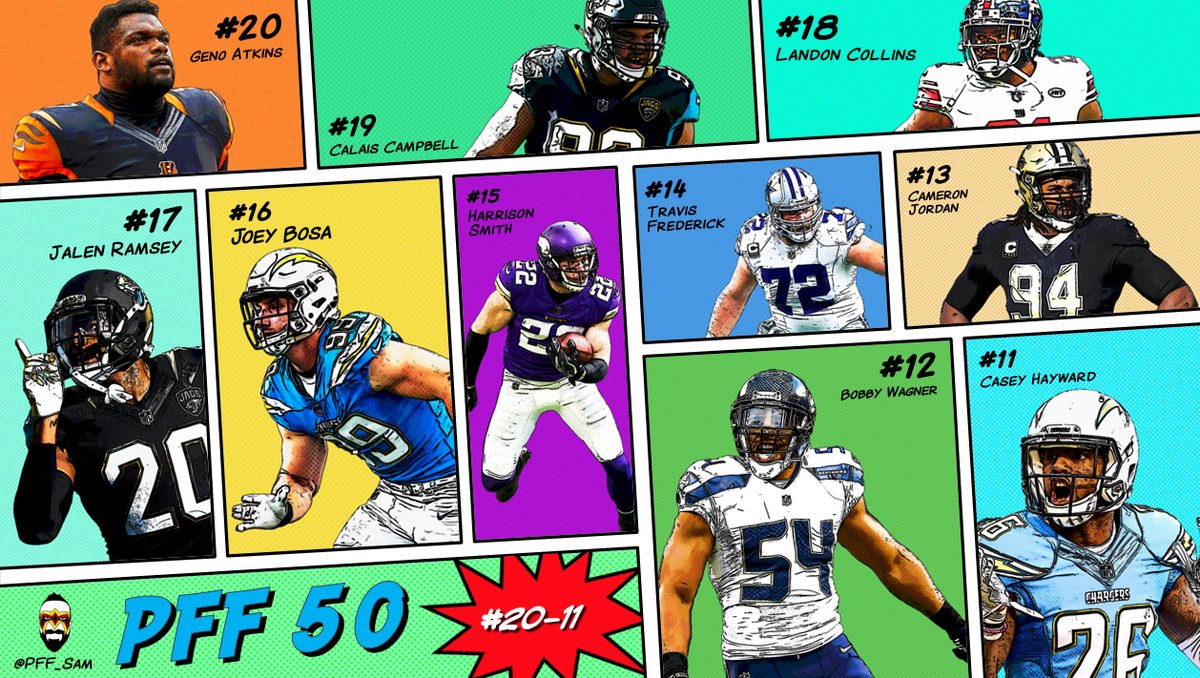 Jalen Ramsey
Ramsey's positional versatility stood at the forefront of his pre-draft evaluation, as he played north of 100 defensive snaps at multiple positions (linebacker, safety, slot cornerback, outside cornerback) during his final two seasons at Florida State. However, rather than entering the NFL as a moving chess piece, the 6-foot-1, 208-pound Ramsey has developed into one of the league's premier outside cornerbacks after just two seasons.
After playing just 73 defensive snaps along the boundary as a true sophomore in 2014, Ramsey capped off his Seminole career playing 749-of-918 defensive snaps (81.6 percent) at outside cornerback in 2015. And despite his lack of experience at the position, he proved quite dominant in his new role, earning an 86.2 overall grade and 85.5 coverage grade that year. He also allowed just 0.68 yards per coverage snap in 2015, ranking tied for 13th among FBS cornerbacks.
Riding the hype train that followed his outstanding junior campaign, Ramsey was cast into a starting outside cornerback role with the Jacksonville Jaguars in 2016. While he did experience some growing pains, he still maintained high floor performances and flashed star-level potential in others. He ranked sixth in catch percentage allowed (52.9) and inside the top 20 in passer rating allowed (76.6) en route to an 81.9 coverage grade in 2016.
With two years of significant experience at outside cornerback under his belt, Ramsey played with improved confidence and anticipation in 2017, leading to a career year across-the-board in coverage.
Among the 73 NFL cornerbacks playing at least 350 coverage snaps this past season, Ramsey ranked 10th in passer rating allowed (63.9) and 12th in catch percentage (51.1). He also ranked third in overall grade and second in coverage grade, earning a 91.8 in each category.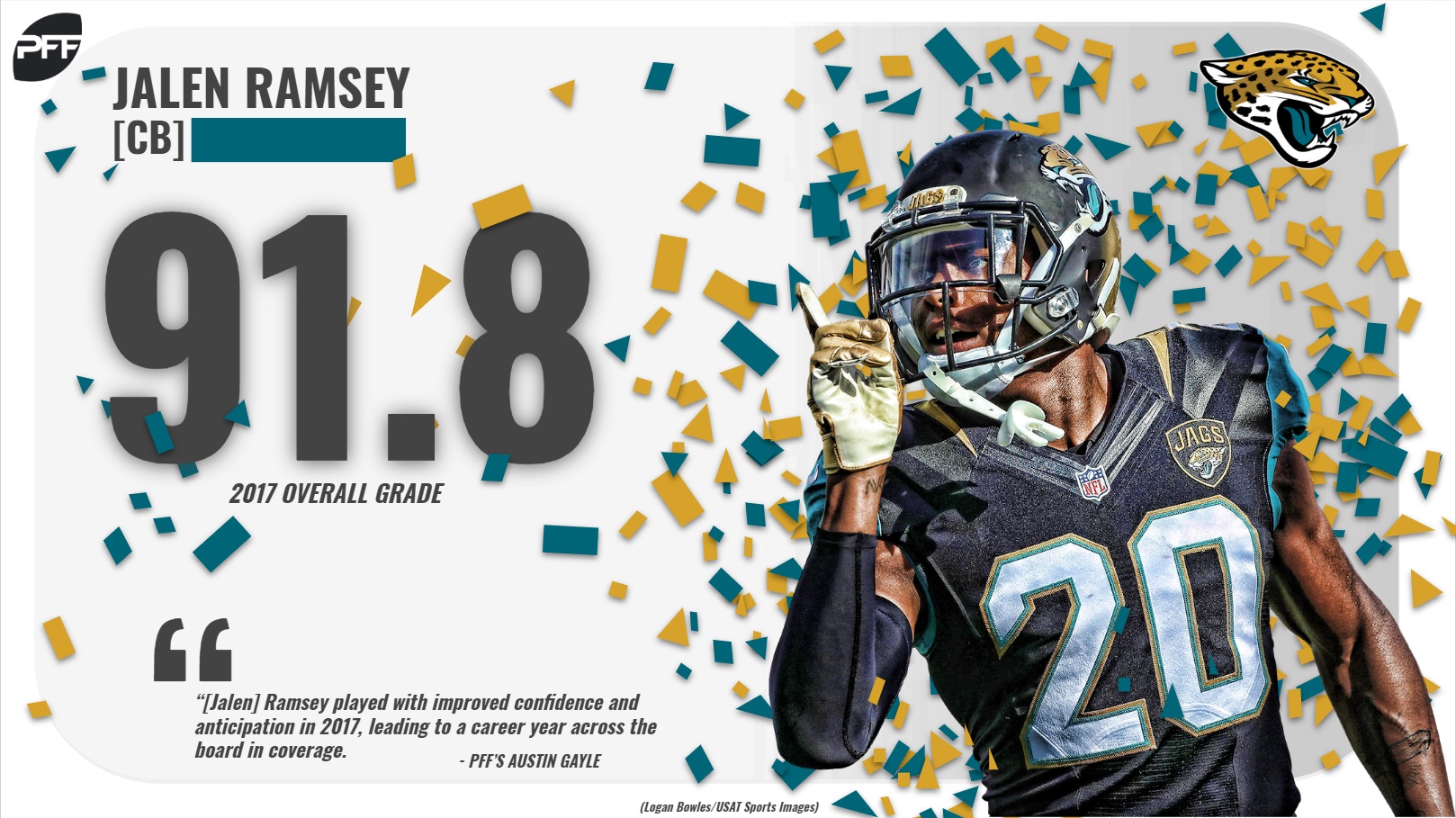 Specifically looking at his play against short routes (throws that traveled nine or fewer yards beyond the line of scrimmage), Ramsey led all defenders with at least 30 targets in yards allowed per target (3.56) and yards after the catch per reception allowed (2.00) in 2017. He allowed completions on 28-of-41 short targets for just 146 yards (56 YAC) and zero touchdowns.
He has also been terrific in terms of getting his offense back on the field. Among 80 defenders to see at least 20 targets on critical downs (third or fourth down), Ramsey allowed a conversion rate of just 26.47, or ninth. He allowed a first down or touchdown on just 9-of-34 critical down targets in 2017.
Ramsey also played the run better than any defensive back in college football during his stint with Florida State, as evidenced by his top ranked run-defense grade (84.2) in 2015. And such high-level consistency has carried over to his NFL career, as he earned an 82.6 run-defense grade in 2016 followed by a 74.4 run-defense grade in 2017.
Though he entered the NFL with such a high floor, Ramsey has still managed to improve his game significantly with just two years in the league, which is a testament to his ambition and devotion to his craft.
Joey Bosa
Slotted as the No. 1 overall player in our final big board prior to the 2016 NFL Draft, Ohio State's Joey Bosa had it all coming out of college, standing tall as the draft's only polished run defender and technically sound pass-rusher that attacked the line of scrimmage with reckless abandon. To his credit, the only thing that's changed since then is the day of the week he takes the field.
In his final two years in Columbus (2014-15), Bosa recorded 145 total pressures (88 hurries, 37 hits, 20 sacks) across his 823 pass-rush snaps, giving him a two-year pass-rush productivity rating (PRP) of 13.82. Among the 35 FBS edge rushers with at least 600 pass-rush snaps in said span, Bosa's PRP ranked second only to then Texas A&M edge defender Myles Garrett (14.43). Bosa also led all FBS edge defenders in total hits and sacks with 57.
Bosa also posted a 10.1 run-stop percentage in 2015, ranking fifth among FBS edge defenders with at least 250 run-defense snaps. He recorded 55 run stops in his final two years with the program.
From a grading standpoint, Bosa was (again) in a class of his own at the college level. He was the highest-graded edge rusher in each of his last two collegiate seasons, earning 92.6 and 92.7 overall grades in 2014 and 2015, respectively.
When on the field during his rookie season, Bosa picked up right where he left off with the Los Angeles Chargers. He recorded 59 total pressures (37 hurries, 11 hits, 11 sacks) across his 230 pass-rush snaps in 2016, ranking fourth among edge defenders with 200 or more pass-rush snaps in PRP at 13.8.
Propped up by an 87.5 run-defense grade and an 87.9 pass-rush grade, Bosa earned an 89.8 overall grade as a rookie, which ranked fifth among qualifying edge defenders.
Bosa's onslaught, of course, continued in 2017, as he improved his overall grade to 91.7 and proved even more efficient in the run and passing game. Now, among the 80 edges with at least 400 pass-rush snaps across the past two seasons (2016-17), Bosa ranks fifth in total pass-rush productivity (12.8), ninth in total pressures (134) and tied for fifth in combined hits and sacks (46). He also ranks 11th in run-stop percentage (8.45) among the 69 edges with at least 300 run-defense snaps over the last two seasons.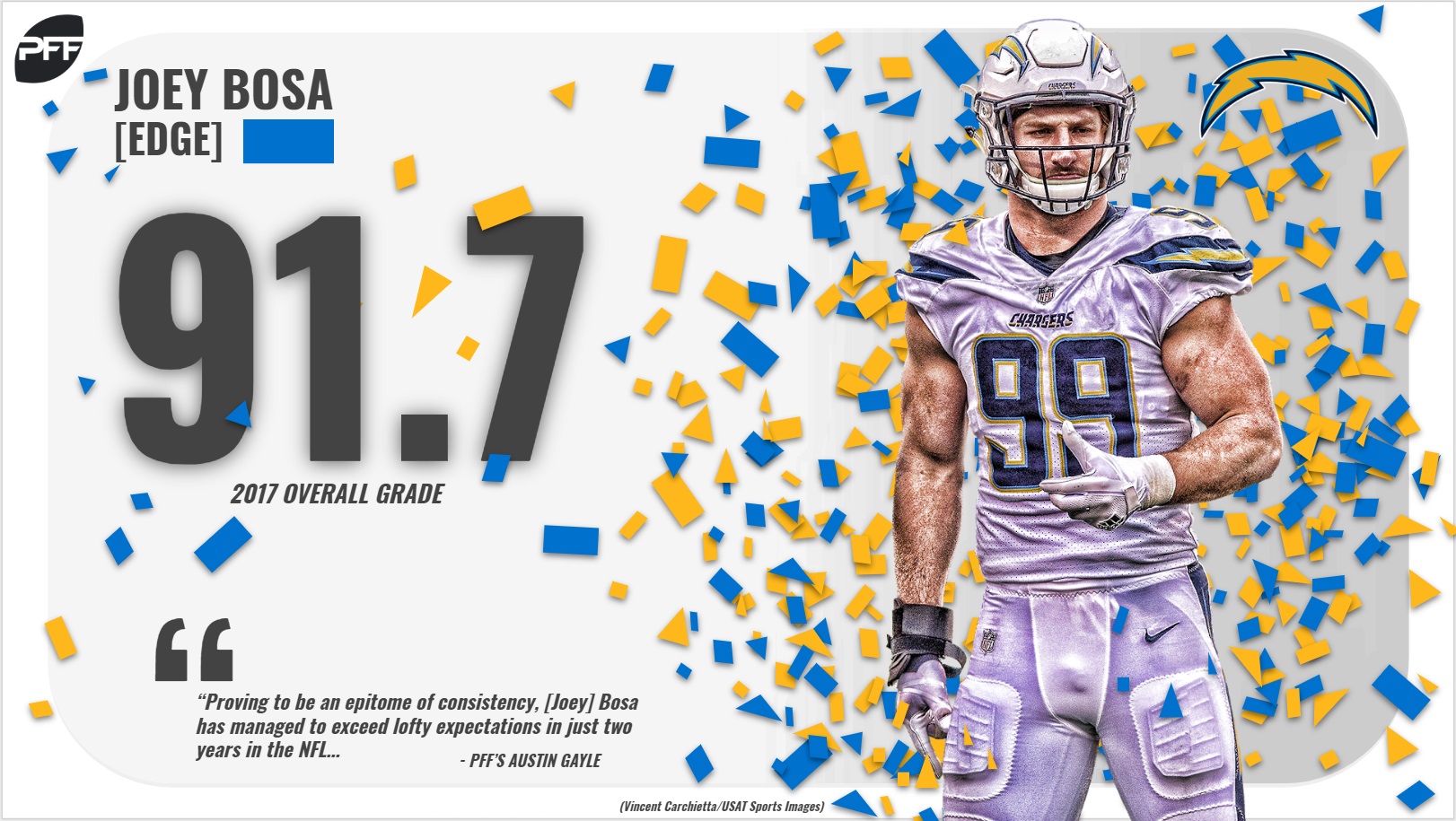 Proving to be an epitome of consistency, Bosa has managed to exceed lofty expectations in just two years in the NFL, and his high-level NFL production – given the similarities between it and his college numbers – is seemingly here to stay.