The NFL preseason is a golden opportunity for lesser-known players to stake their claim for a coveted place on a 53-man roster. From Robby Anderson to Shaquile Barrett, rosters across the league are littered with players that blossomed from camp bodies into impact starters through preseason brilliance. It's time to give edge defender Cap Capi the chance to become the next preseason standout turned regular-season contributor.
At 6-foot-3 and 249 pounds, Capi has the prototypical size of an edge rusher (for comparison, Von Miller is listed at a nearly identical 6-foot-3 and 250 pounds). Since entering the league in 2015 as an undrafted free agent out of Akron, Capi's remarkable preseason production has gone largely overlooked. He has been a journeyman of sorts in his brief NFL career thus far, with practice squad stints on the Jacksonville Jaguars, Baltimore Ravens, Atlanta Falcons, New York Giants, Buffalo Bills and Arizona Cardinals.
In preseason games from 2015 through Week 2 of 2018, Capi's 46 total quarterback pressures are tops in the NFL and six more than any other edge defender. Capi had 18 total pressures in the 2017 preseason alone, the most any edge defender has recorded in a preseason since PFF began collecting preseason data in 2013.
[Editor's note: For access to PFF's preseason data from 2013 to up-to-date in 2018, subscribe to PFF Elite and gain access to Premium Stats 2.0 for preseason and much, much more this year.]

Capi's 2017 preseason production was not just a product of an inflated snap count. He recorded an 89.4 overall PFF grade for the 2017 preseason, ranking 11th among all edge defenders. The names sprinkled just above and below Capi include: Cameron Jordan, Melvin Ingram and Myles Garrett.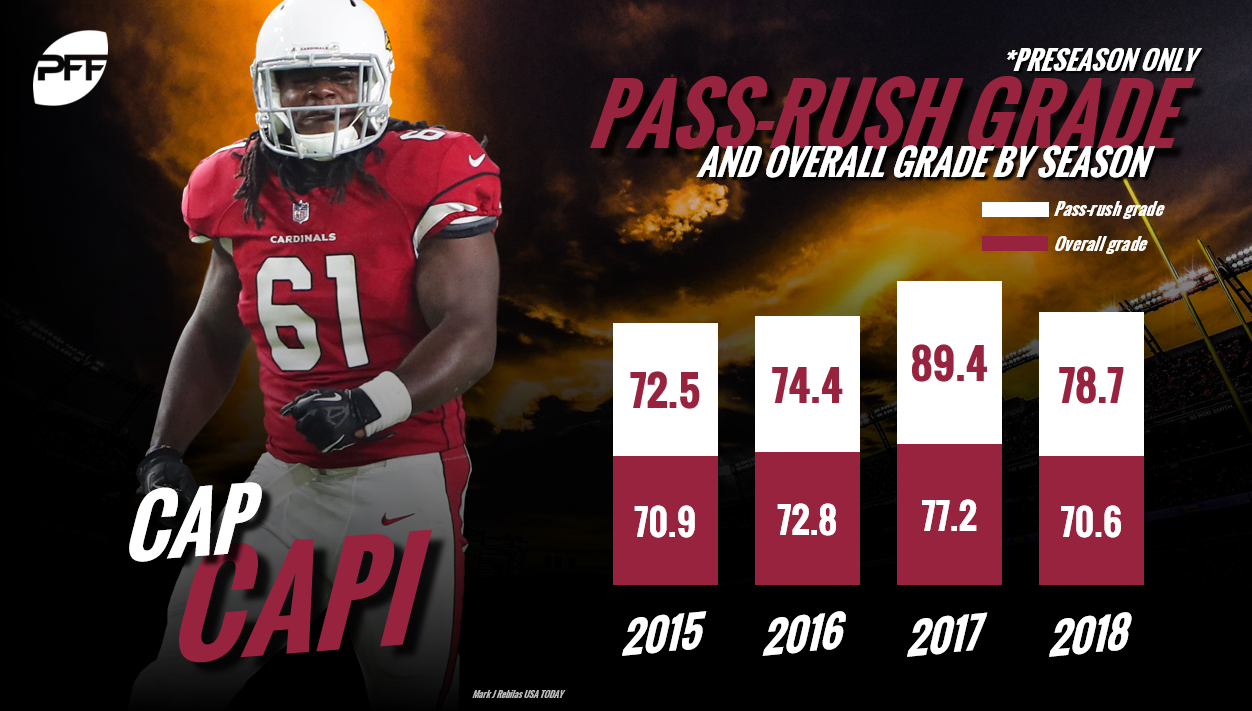 The Buffalo Bills gave Capi his first regular season playing time late last season, promoting him to the active roster from Week 14 through the remainder of the season. In his five-game stint on the active roster, Capi functioned primarily as a rotational pass-rusher, topping out at 18 pass-rushes in Week 15 versus the Miami Dolphins. Naturally, Week 15 was Capi's best regular season game as he recorded an 84.7 weekly overall PFF defensive grade, tied for 11th among all edge defenders. He fared even better as a pass-rusher, ranking sixth among all edge defenders with an 87.6 PFF weekly pass-rushing grade. Evidently, Capi did not show enough for the Bills to retain his services and he was released in April.
Capi is currently in training camp with the Arizona Cardinals and has picked up right where he left off last season. In the Cardinals' first preseason game versus the Chargers, Capi had a whopping three sacks and four total pressures. Capi currently ranks tied for 25th with a solid 78.7 pass-rushing grade this preseason.
Pass-rushers are at a premium in the today's NFL and it is a bit puzzling that perhaps the league's most prolific preseason pass-rusher over the last three seasons has yet to break camp on an active roster. The Cardinals had PFF's 16th-ranked pass-rush last season and the 20th-ranked pass-rush unit in our preseason rankings, showing that they could undoubtedly benefit from having Capi spell Chandler Jones and Markus Golden for at least a few snaps per game.
It is time to give Capi the opportunity to show he belongs in the NFL IN the regular season.