When one of the league's most polarizing teams, with some of the more entertaining players has seen their share of struggles this 2017 season, undoubtedly, questions are going to arise on how to fix the Dallas Cowboys. Or what's wrong with the Dallas Cowboys? Seemingly more frequently than ever, one of those questions being raised is about whether eight-year veteran wide receiver Dez Bryant has already seen his best years – as PFT's Mike Florio recently discussed.
With all this in mind, it's worth finding out, can Bryant still be classified as a No. 1 WR?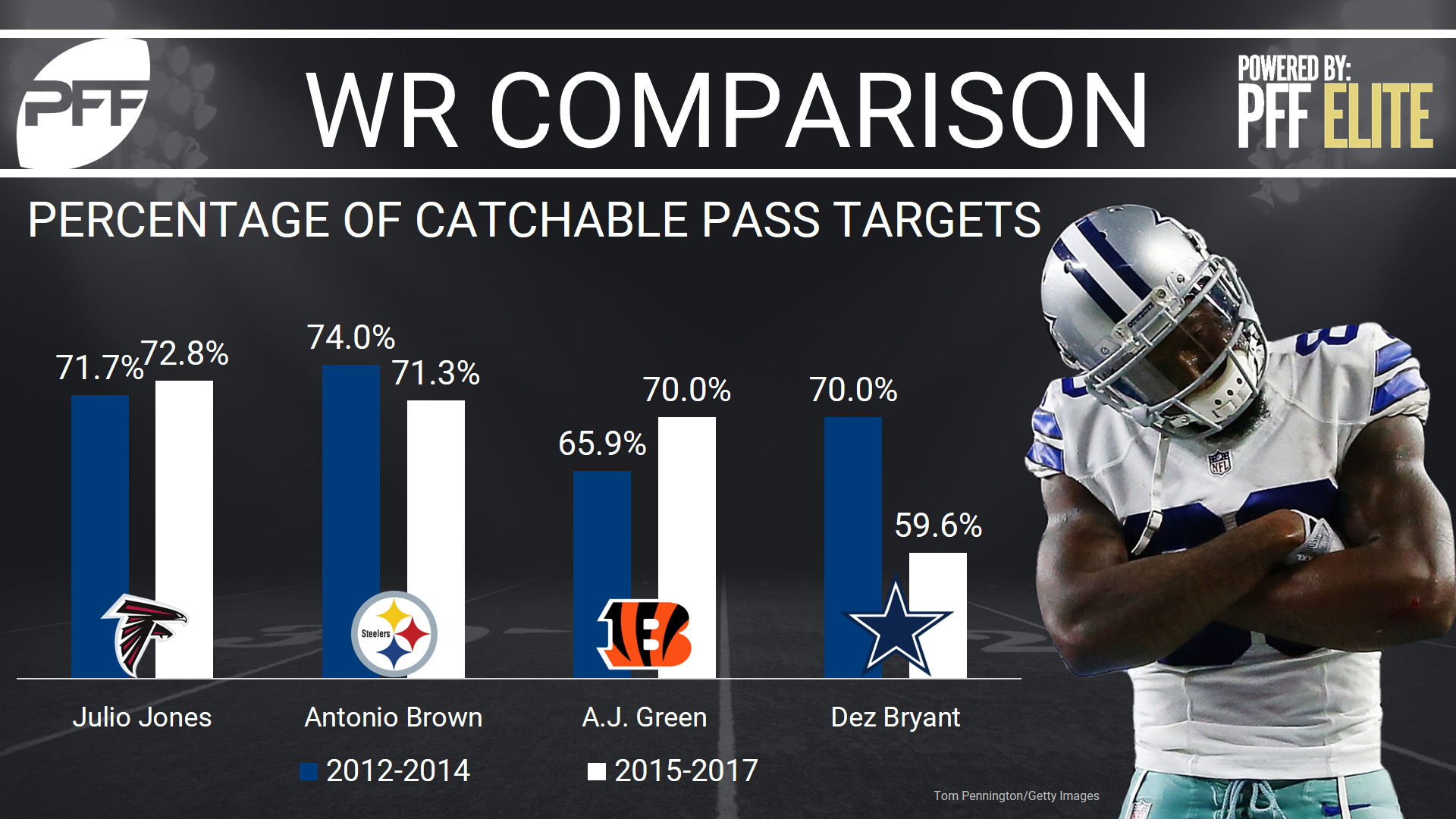 For Bryant, the overall production just isn't there this season. Well, compared to his standards, it really hasn't been there since 2015. He currently ranks 37th among 88 qualifying receivers with his 1.65 yards per route run. He's been targeted 14 times on deep passes thrown 20-plus yards downfield, but has only hauled in two of those receptions for 57 yards.
In 2017, he is on pace to average by far the fewest yards per reception of his career (11.0) and this season will most likely be Bryant's third year in a row that he has failed to gain 1,000 yards receiving after recording three straight seasons with more than 1,200 yards from 2012-2014. Over the last three seasons, Bryant has combined to score just 18 touchdowns, only two more than his total from just 2014 alone (16).
Clearly, something isn't right. Just because Bryant is putting up fewer fantasy football points or lower box score outputs every week, doesn't mean he isn't still playing like one of the best wide receivers in the NFL.
Bryant remains one of the most dangerous players in the league with the ball in his hands. He has forced 12 missed tackles on just 58 receptions this season. That's more than all but two other wide receivers (Golden Tate + Jarvis Landry) in the NFL entering Week 14. On a per reception basis, Bryant's 0.20 forced missed tackles per reception is the second-highest rate at his position (minimum of 50 receptions) to Golden Tate (0.25) and the highest among traditional outside receivers.
Bryant fights for every receiving yard he gains and few at the position are better at making them miss.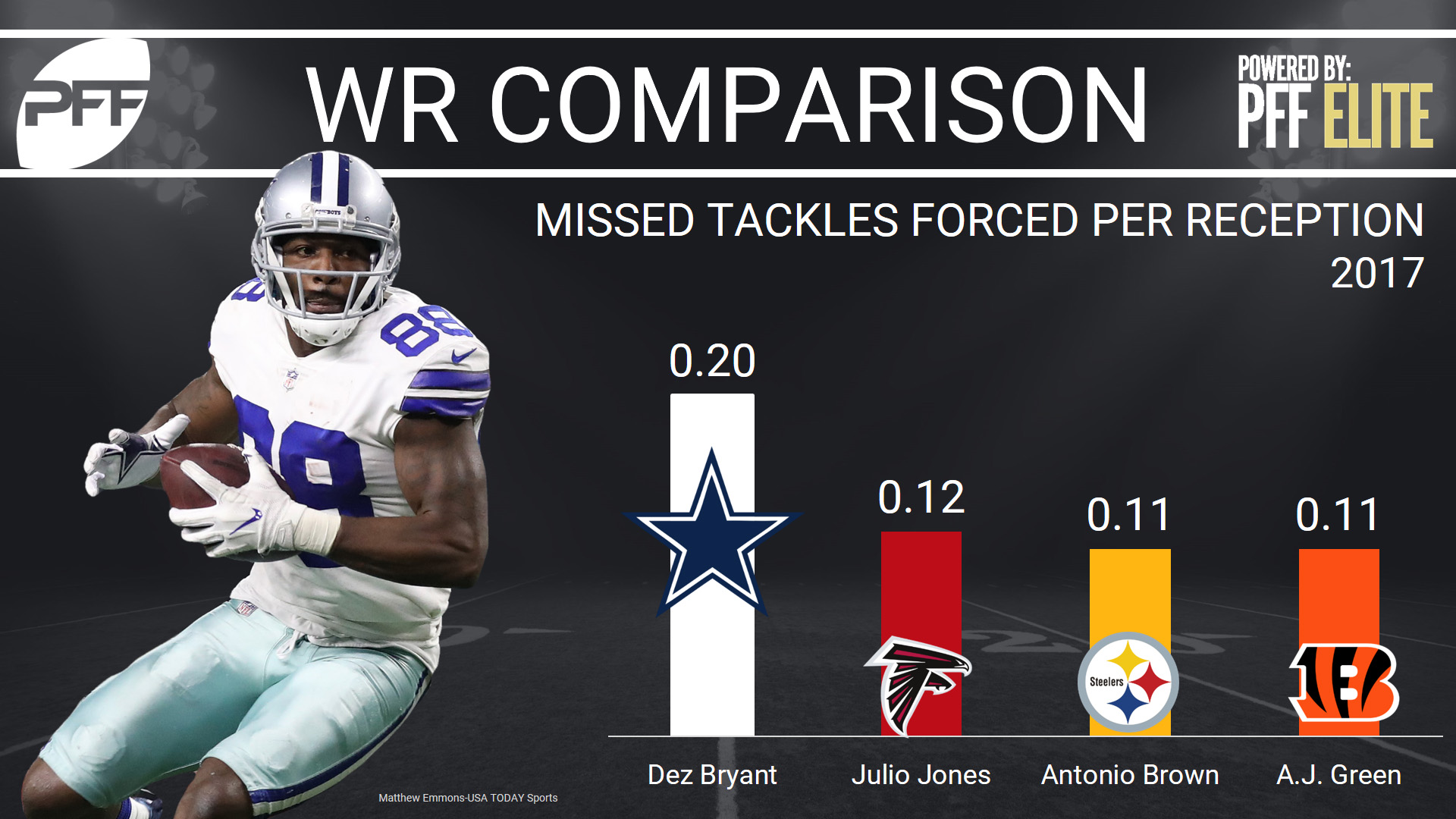 Even more telling for Bryant is when you breakdown his average rate of catchable pass targets seen. The Cowboys lost Tony Romo to injury in Week 2 of the 2015 season and things have really never been the same for Bryant since. Although you will never hear him complain or utter a disparaging word about his current quarterback Dak Prescott, Bryant must be aware that Romo's departure has meant less opportunities for him in the passing game.
Between 2012-2014, 70.0 percent of the pass attempts thrown Bryant's way were deemed catchable (three-year NFL average: 67.4 percent). Bryant took full advantage when given the chance, scoring 41 touchdowns to go along with 2.25 yards per route run which was seventh-most out of 63 receivers with at least 1000 snaps in route during that time. Since then however, the percentage of catchable targets seen by Dez has plummeted, creating a domino effect that permeates across the box score. Just 155-of-260 pass attempts aimed at Bryant since the beginning of 2015 have been catchable targets. His 59.6 percent catchable target rate over the last three years ranks 50th out of 51 WRs with min 200 targets during that span of time.
Despite it all, Bryant still sits with a good overall grade at 81.7, which ranks 20th out of 116 qualifying WRs. Combine that with all of the aforementioned information, and there are plenty of reasons to believe Dez still has enough left in the tank to be considered a No. 1 WR, even if he hasn't put up the similar numbers that his lofty standards demand.