Premium Stats is back and better than ever!

The backbone of Pro Football Focus, the premium stats section changed the way both fans and NFL executives view the game of football.
Once simply a hobby for founder Neil Hornsby, PFF's unique way of breaking down the game became a necessity when trying to properly contextualize all 22 players on the field. NFL teams soon took notice and now all 32 franchises are direct PFF customers (not just the basics, full integration into their daily processes).
As PFF grew, the premium stats section increased in value with its key stats, grades and insights fueling the broadcasts from NBC to CBS and much more in between. After a hiatus of a few years, we've brought premium stats back to the public with a slick new interface. It's now bigger and better than ever.
Who are the best players in the league by position? Who is the best pass-rusher? Coverage player? Run-blocker? It's all there in the grades.
Into the stats? Which wide receiver generates the most yards per route run? Which edge defender has the best pass-rush productivity? Which running back breaks the most tackles and creates the most yards after contact? We have that too.
There's no better way to break down player performance than with Premium Stats 2.0. The revamped interface makes for easier navigation and we have the same level of information for each NFL season dating back to 2006. It even includes preseason data from 2013 to the present.
Let's take a dive down a rabbit hole and break down Julio Jones' 2017 season.
First, the grading: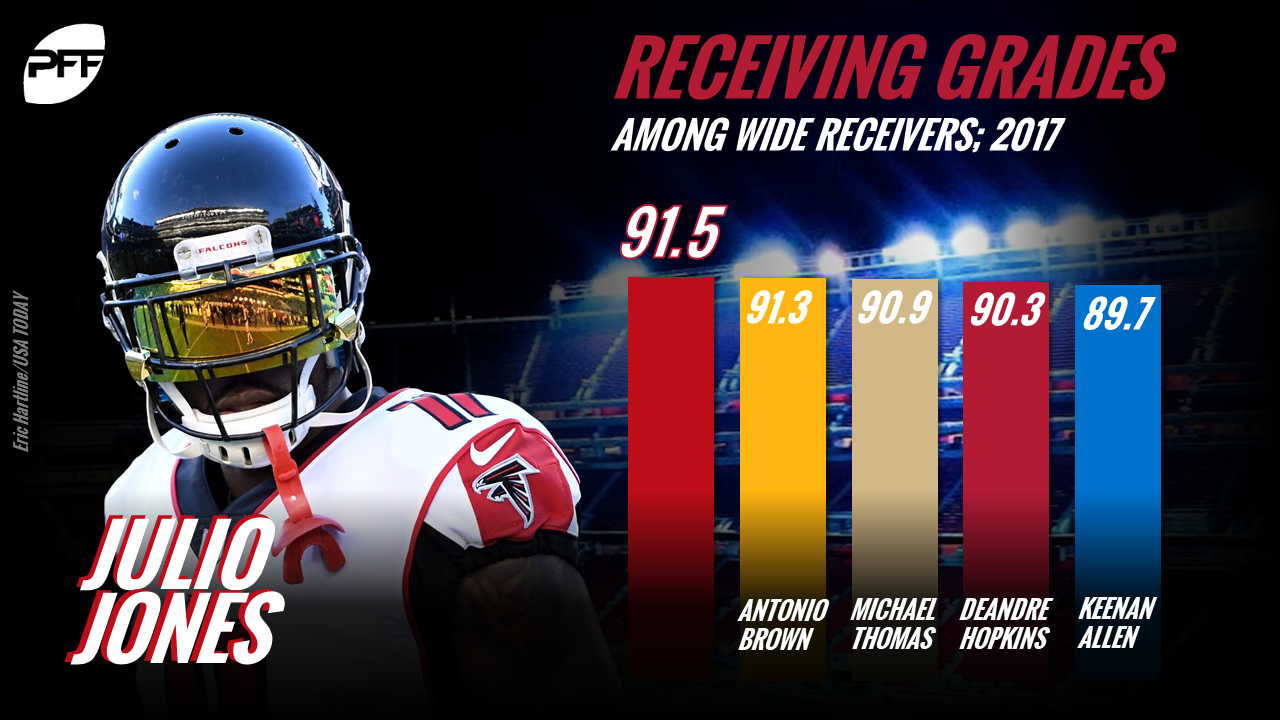 Jones was the top-graded receiver in the league including the playoffs and his receiving grade ranked second. We do see an average 58.0 drop grade, a result of 10 drops on 116 catchable passes.
Here's a look at our best wide receiver stat, yards per route run: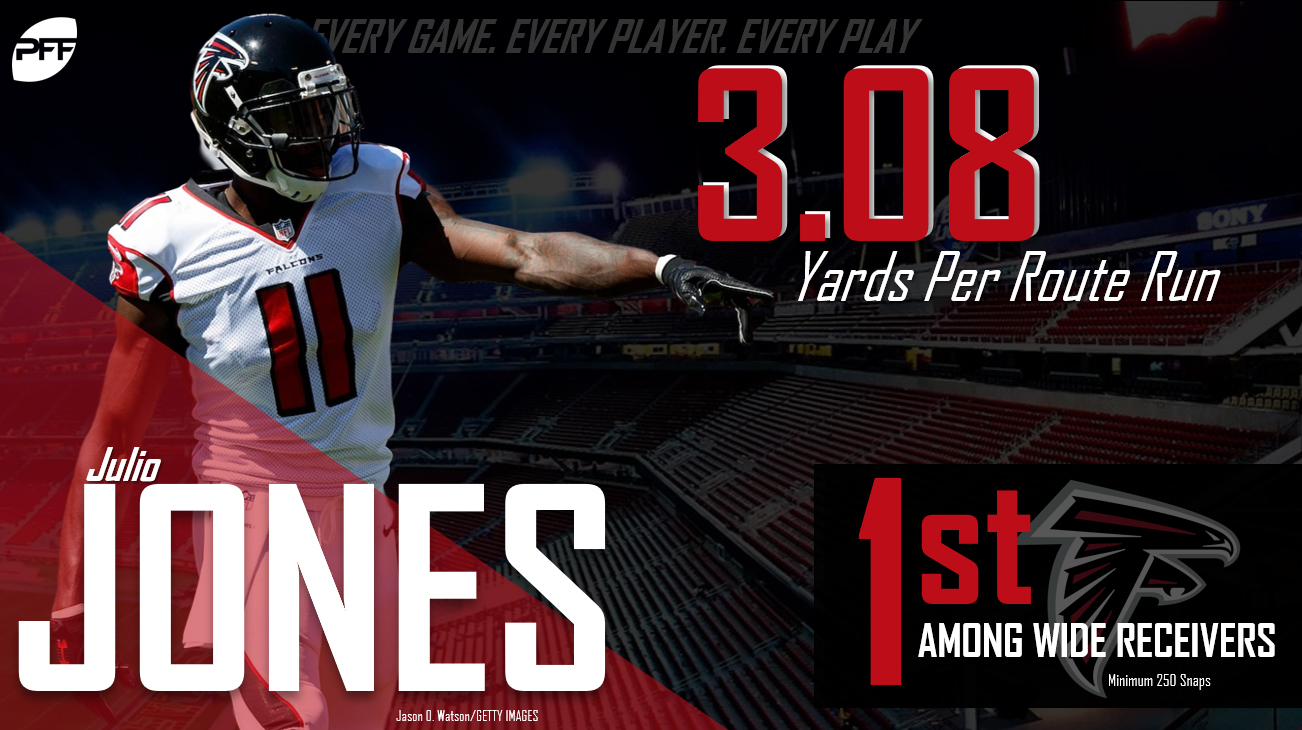 For all receivers with at least 50 targets, Jones was far and away the most efficient with 3.08 yards per route run. This is the third straight year leading the league for Jones.
Deep Passing
The Falcons' deep-pass game was not as efficient in 2017 as it was in 2016, and it's reflected in Jones ranking 23rd in deep-pass catch percentage. His three drops on deep passes tied for the league lead, but his 415 deep yards ranked seventh in the league including the playoffs.
Drop Rate
Back to the drops. Jones tied for 57th in drop rate as 8.6 percent of his catchable targets hit the ground.

Whether diving into player or team performance, premium stats answers your football questions. The how and the why are all in there, and the best part about PFF's stats and grades are that they're both descriptive AND predictive. In other words, we can tell you what happened, but as our data scientists dig further into the numbers, we can better tell you what WILL happen as well.
From water cooler victories, to fantasy glory, to picking games, premium stats is perfect for football fans of all shapes and sizes.