The Seahawks are now 8-4, still very much in the thick of the playoff hunt in the NFC, and it's largely due to the play of QB Russell Wilson.
Wilson can be inconsistent, but when he is on his game, he is as good as any QB in the league, and like all of the game's best passers, can be impossible to defend when he is in that kind of form.
The Seahawks knocked off the best team in the league heading into Sunday night and he was near perfect in that performance. The box score numbers do a pretty good job of summing up his day, but they don't come close to explaining how he came to that production.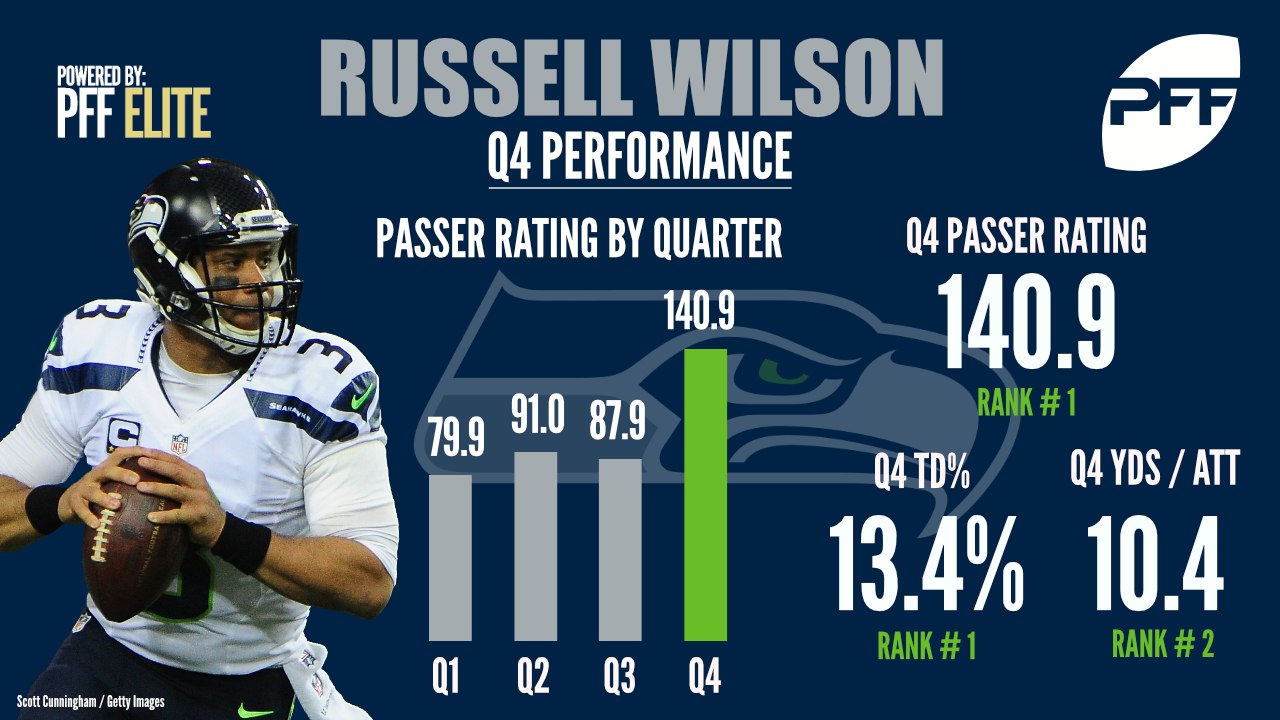 While pressure breaks most quarterbacks, Wilson seems to find comfort in it far more than he should, and does his best work when running for his life behind the line of scrimmage or improvising on the move.
The Eagles have the best defensive front in the game, and going up against Seattle's offensive line that was supposed to be a mismatch just too great to overcome, but Wilson had a passer rating of 96.9 when pressured on Sunday night. When the Eagles sent the blitz, Wilson's passer rating was a near-perfect 156.3.
13 of Wilson's 36 dropbacks were either scrambling or rolling out of the pocket on the move, and he added some key plays rushing the football and actually gaining yards on the ground.
Wilson has always graded a little better at PFF than his numbers would rank him, and it's because we are taking into account those crazy plays that he makes with regularity on the move that we saw against the Eagles. He now sits with an overall PFF grade of 85.6, sandwiched between Drew Brees and Carson Wentz.
Wilson's numbers have also shot up when it matters most, in the fourth quarter of games, where he now has a passer rating of 140.9, a ridiculous figure that ranks No. 1 in the NFL, along with his fourth-quarter touchdown percentage.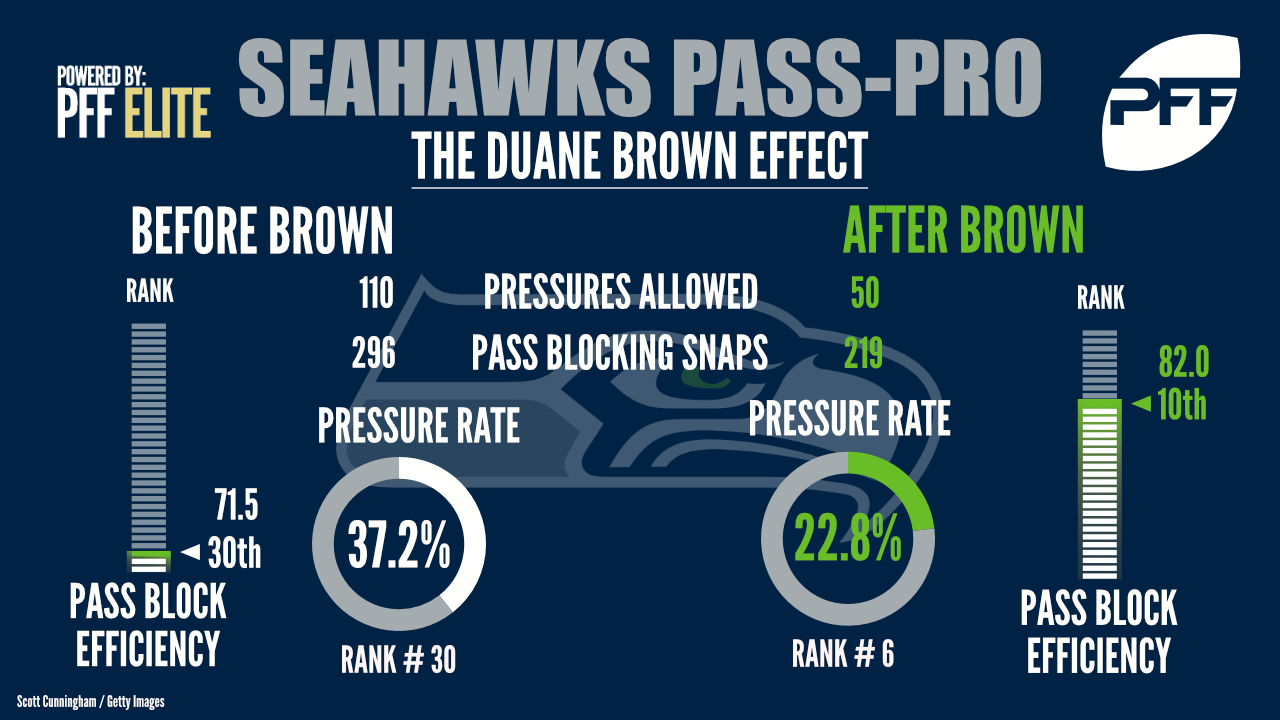 Wilson though has had some help as the season has developed. The Seahawks offensive line is still far from good, but adding a high-quality player in the form of Duane Brown at left tackle has made a huge and immediate impact.
Brown has allowed just one sack since starting for the Seahawks (coming Sunday night against the Eagles), and nine total pressures across five starts. The player he replaced – Rees Odhiambo – allowed four in the last game he started and has a game on his resume this season with 10 total pressures surrendered.
The upgrade from Odhiambo (overall PFF grade of 27.5, worst in the league) to Brown (overall PFF grade of 78.2, 22nd) cannot be overstated.
Before Brown arrived in the Pacific Northwest, The Seahawks had the league's 30th-ranked pass-block efficiency score among all offensive lines. That metric effectively measures how much pressure was being allowed on a per-snap basis, and it was resulting in Wilson being under pressure 39.4 percent of the time. Since Brown has arrived, they have climbed to the 10th-ranked unit in pass-block efficiency. Wilson has been under pressure just 23.1 percent of the time, which if it held true over the entire season would rank second in the league in terms of lowest percentage of snaps under pressure.
Good Russell Wilson is probably the league's best QB. We appear to be getting Good Russell Wilson tonight.

— Sam Monson (@PFF_Sam) December 4, 2017
Wilson is more at home under pressure than most quarterbacks, but even he is fighting an uphill battle against unrelenting pressure, and being able to limit the amount that comes on him is a huge key to this Seahawks season. For the first time in a long while, they have made a successful move to address that problem, and the play of Brown down the stretch could be key to keeping Wilson playing at his best.
When he is on his game, there is no quarterback harder to defend than Wilson, and the key to keeping him in that form may be the tackle the team traded to acquire earlier in the season.