Dallas Cowboys RB Ezekiel Elliott was recently named the winner of Pro Football Focus' Rookie of the Year and Best Runner awards for the 2016 NFL season. To see the winner of every PFF award, visit our NFL awards page.
From the moment Ezekiel Elliott was drafted No. 4 overall back in April, I believed he was a virtual lock to win Rookie of the Year. The shock emergence of his teammate, rookie quarterback Dak Prescott, meant that it wasn't the slam dunk it could have been, but the combination of Elliott's skill-set behind one of the most dominant units in the game—the Cowboys' offensive line—proved to be just as irresistible on the field as it did on paper over his rookie season.
Elliott saw a light workload in Week 16 (just 12 carries) and didn't play at all in the final game of the regular season, as the Cowboys had secured all of their playoff goals by that point. Despite that, he still finished the season as the NFL's rushing champion with 1,631 yards on the ground at 5.1 yards per carry.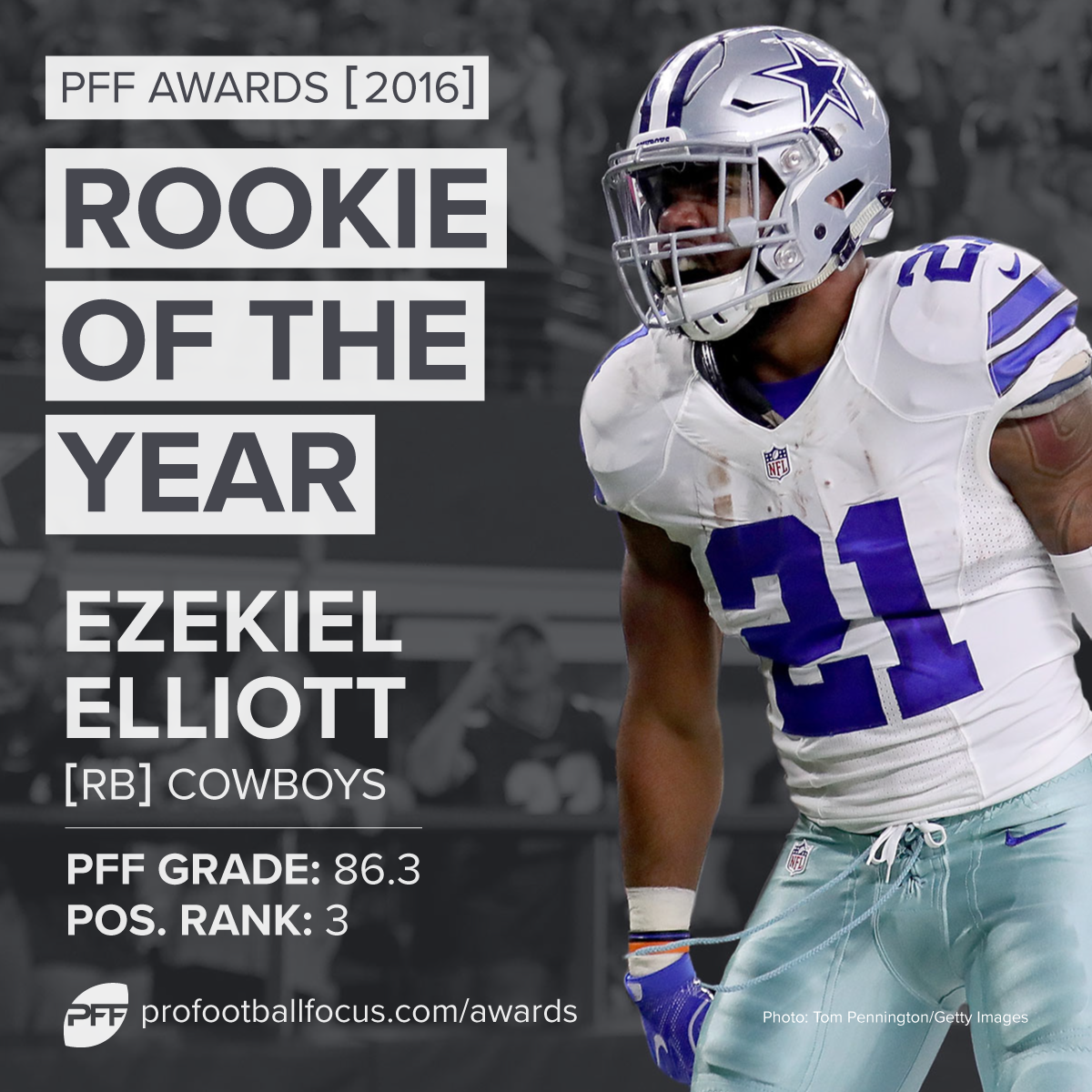 Elliott was more than 300 rushing yards ahead of the next-best runner over the season, despite taking a week off and getting just half a workload the week before that.
Where things get tricky, though, is apportioning out the credit. We know the Dallas offensive line is excellent. The unit was able to make Darren McFadden look like a legitimate running back a year ago, getting him over 1,000 rushing yards from just 10 starts. Does that mean, however, that no matter how much success a back has behind the O-line, the group should get all of the credit?
There are plays where the offensive line opened up yawning chasms for Elliott to run through, and there are even plays where they literally carried Elliott for yards after the catch (see below), but the former Buckeye did a lot of the heavy lifting himself, too.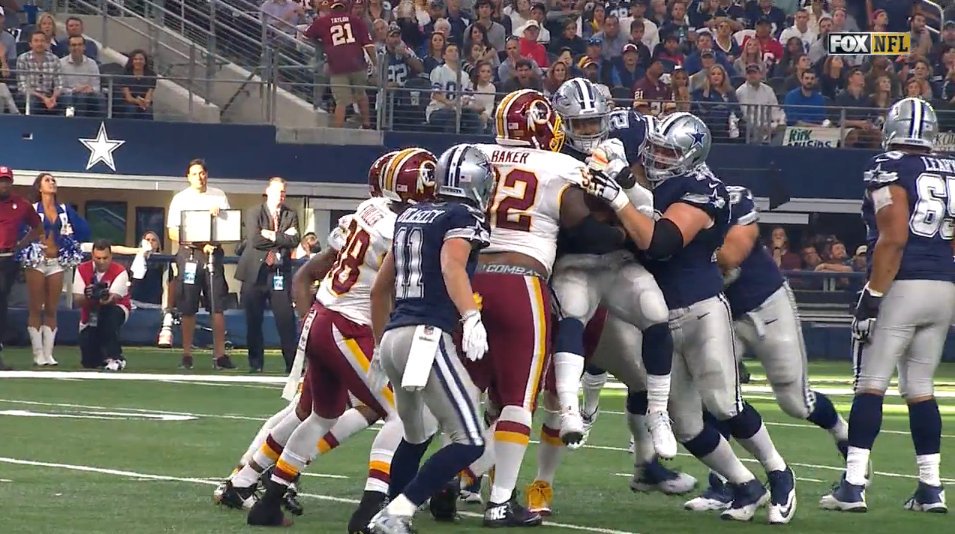 Elliott came within 62 yards of topping 1,000 rushing yards after contact this season. He broke 36 tackles, and averaged 2.9 yards per carry after contact. Some of that is helped by making it through to the second level more regularly than other backs in the league, but you only have to watch the tape for a few carries to see the symbiotic relationship Elliott has with the Dallas offensive line. The unit does a good job of opening holes for him, and he does a good job of maximizing the yardage from those holes and gaining as much ground as he can.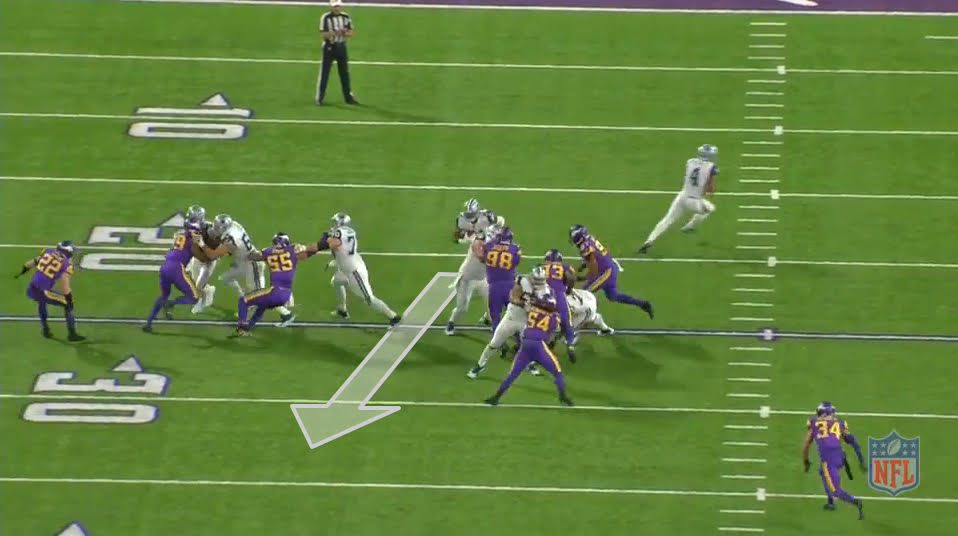 That said, Elliott wasn't even the only impressive rookie running back in 2016. Former Indiana Hoosier Jordan Howard had an excellent debut season for the Chicago Bears, and actually ended the season as the league's second-leading rusher behind Elliott, despite not starting until Week 4. Howard racked up 1,313 rushing yards at 5.2 yards per carry, and given Chicago's offensive line relative to the Cowboys, was arguably as impressive as Elliott, if not more so in the eyes of some.
Where Elliott separated himself, though, was what made him such an elite prospect in the first place: the well-rounded and complete nature to his game. Most rookie running backs are dynamic with the ball in their hands, but the nuances of pass blocking and receiving can prove extremely valuable given the offenses they came from in college.
Howard dropped eight passes from just 37 catchable targets this season, which was both the highest number of dropped passes among all running backs and the worst drop rate (21.6 percent). Elliott had just one drop all season, giving him a drop rate of 3.0 percent; that, along with his pass-protection skills, meant that he could immediately be used as an every-down back.
Only four backs were on the field for more snaps than Elliott this season, and again, remember that he was afforded a week and a half off at the end of the regular season. Had he seen his usual rate of playing time in those games, he would have been up around third, trailing only Arizona's David Johnson and Tennessee's DeMarco Murray.
It's tough to overstate just how impressive Dak Prescott's rookie season was, and players like Joey Bosa (Chargers) and Jack Conklin (Titans) also impressed hugely in their first campaign. Ezekiel Elliott, though, wasn't just the best rookie runner of the season—finished the year as PFF's All-Pro first-team RB in his first crack at the whip.
Even with Dallas bowing out of the playoffs, Elliott put up 125 rushing yards at almost 6 yards per carry, gaining 80 of those yards after contact. The Cowboys' offensive line gave Elliott the best possible platform to have success, which is why I expected him to win this award from the day he was drafted, but it would have been meaningless had he not shown the ability and talent to use that platform and demonstrate the kind of production he is capable of. The Dallas offensive line can turn most running backs into 1,000-yard rushers, but Elliott was able to turn that offense into a dominant juggernaut on the ground, and for that, he wins PFF's Best Runner Award for 2016, as well as Rookie of the Year.