The PFF grading system isolates the role of each pass blocker with an emphasis on avoiding negative plays. In a "fault-based" system, the best pass protectors are expected to avoid losses, and each play is assigned a different level of difficulty or expectation based on factors such as down and distance and dropback depth of the quarterback (passing concept). A blocker who does his job will receive a fraction of a positive grade depending on the situation, using those previously listed parameters.
Negatively Graded Plays
To earn a negative grade, a pass blocker must lose his block within the natural framework of the passing play. The quicker the loss, the worse the grade.
We at PFF differentiate between quick, defining losses that affect the quarterback in roughly two seconds or less:
[Editor's Note: See Cincinnati Bengals right tackle Bobby Hart.]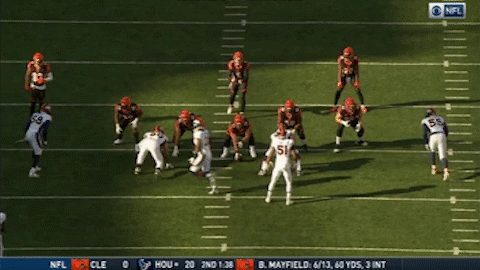 [Editor's Note: See New York Giants right guard Jamon Brown.]
And ones that are a quick loss for the blocker and generally in the 2.0- to 2.5-second range, or comfortably within the flow of the play for the quarterback:
[Editor's Note: See Tampa Bay Buccaneers left tackle Donovan Smith.]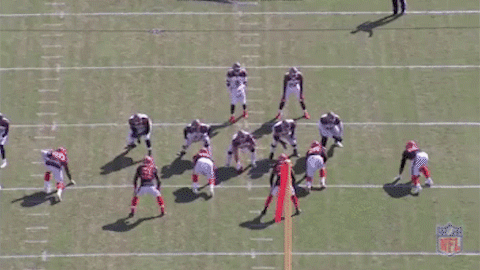 [Editor's Note: See New Orleans Saints left guard Andrus Peat.]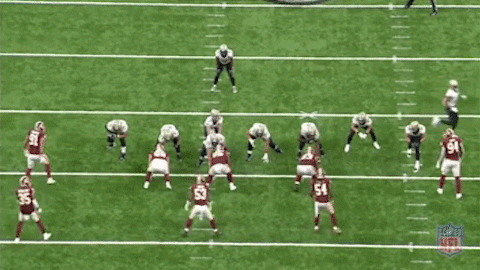 There are also slower-developing losses, but one in which the blocker loses control of his man within the time that the quarterback should still be working through his progressions.
[Editor's Note: See Oakland Raiders left tackle Kolton Miller.]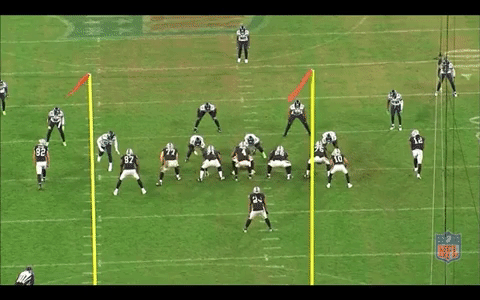 [Editor's Note: See New England Patriots left guard Joe Thuney.]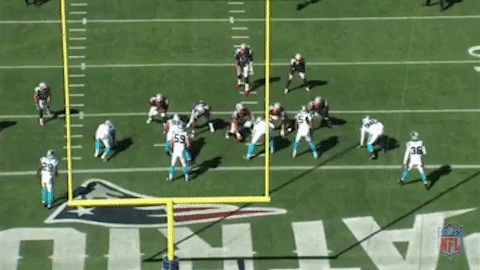 Pass-Blocking Stats
PFF collects many stats that help define each block.
Hurries are plays in which the QB's throw is affected, or he's moved off the spot.
[Editor's Note: See New York Giants left tackle Nate Solder.]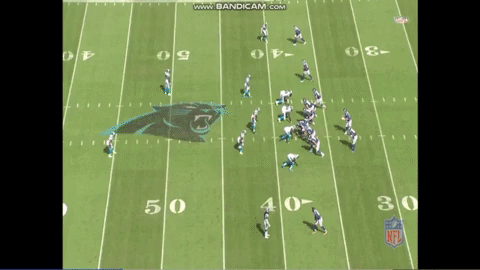 Hits are essentially the same, but the quarterback is taken to the ground.
[Editor's Note: See Kansas City Chiefs left guard Cameron Erving.]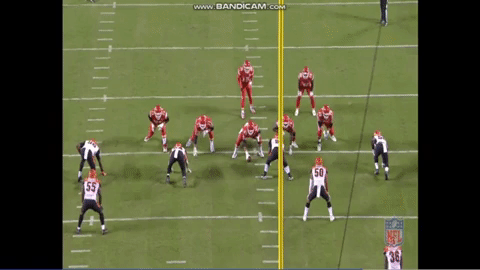 Sacks are charged to the offensive lineman when it is his clear blown block or missed assignment that led to the quarterback being sacked.
[Editor's Note: See Cincinnati Bengals left tackle Cedric Ogbuehi.]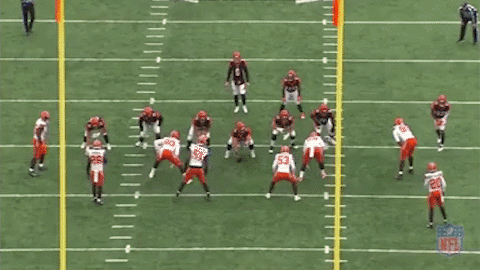 There's one other situation that is accounted for that will receive the "beaten by defender" label. This is a play in which the blocker clearly loses, but there is no actual pressure on the quarterback due to a quick release of the ball.
[Editor's Note: See Seattle Seahawks right tackle Germain Ifedi.]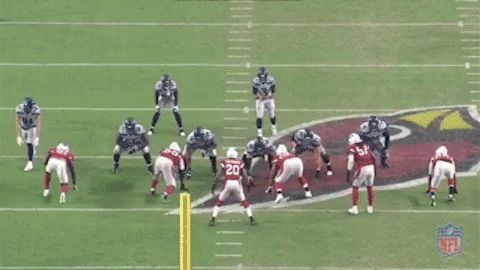 It's important to note that the blocker's grade will not change based on whether or not he gives up a sack, hit, or a hurry. Those results are largely driven by other factors such as the quarterback, receiver and performance of the defender. It's important to isolate the role of the blocker on each play and not use the result of the play to influence his grade. Here are three blocks by Chris Clark, all at a similar level of defeat but resulting in three different types of pressure.
[Editor's Note: See Carolina Panthers left tackle Chris Clark.]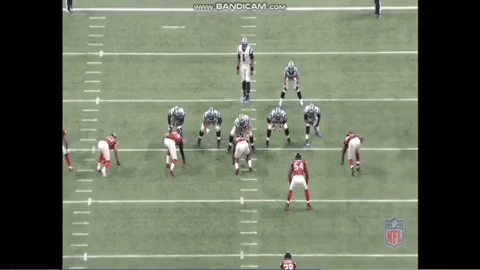 Here's a look at Julie'n Davenport with near-identical blocks, one of which results in a sack and one that does not. The PFF grade remains the same on both plays. 
[Editor's Note: See Houston Texans left tackle Julie'n Davenport.]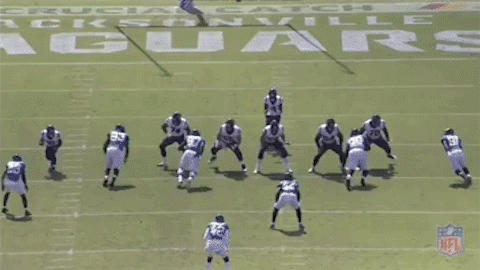 Special Cases
 Obviously, screens are a different animal. Blockers are expected to allow penetration in setting up the play, though there are instances in which they allow their man to get to the quarterback too quickly, and they'll be downgraded accordingly 
One other key component to the PFF pass-blocking grade is a player's ability to avoid penalties. PFF differentiates penalties that are due to poor discipline, such as false starts:
[Editor's Note: See Washington Redskins right tackle Morgan Moses.]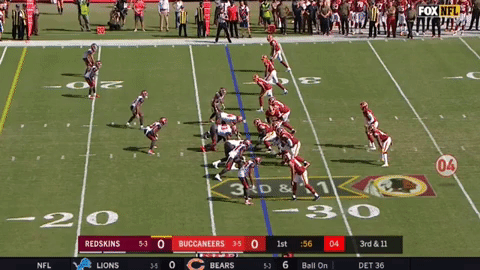 Clear holding penalties that are the result of poor pass protection will be charged against a player's pass-blocking grade.
[Editor's Note: See Washington Redskins right tackle Morgan Moses.]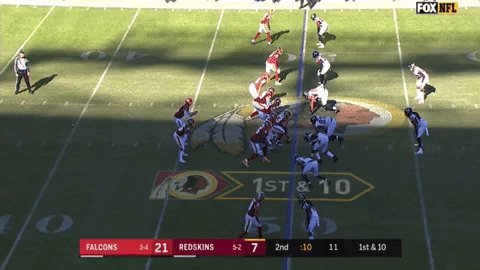 QB's role in pass protection
 Not every sack will be charged to a blocker, as the quarterback's role in helping the pass protection is crucial. The QB will be charged with any sack in which he leaves a clean pocket: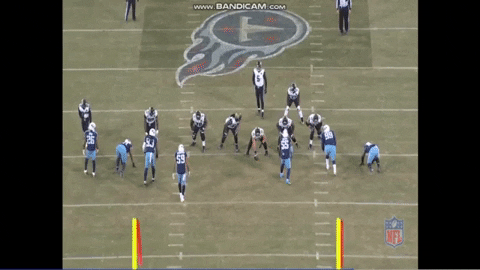 Holds the ball too long: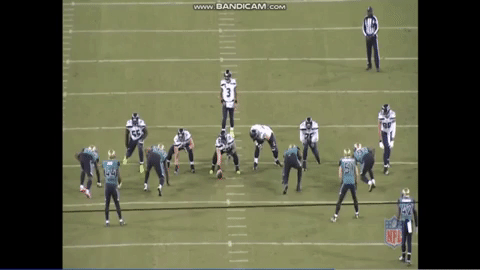 Or maneuvers within the pocket to the detriment of the leverage of the blocker: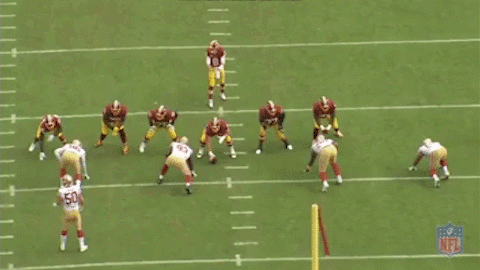 The PFF grading system isolates the pass blocker's play in a unique way, and it has proven to be both descriptive of what happened on the field and predictive of what will happen. When paired with the information contained within the PFF database, it's a necessary tool in player evaluation and roster building.