[Pro Football Focus recently identified Saints WR Michael Thomas as the No. 93 player overall in the 2016 NFL season. To see the full list featuring the 101 best players of the season, click here.]
Five receivers came off the board in the 2016 NFL Draft before Ohio State receiver Michael Thomas had his name called. An early entry into the draft, Thomas didn't blow up the combine or have eye-popping stats. When Thomas was eventually selected, few called it a steal and even fewer called it a reach. The middle of the second was generally agreed upon as perfect value for a guy with Thomas' résumé.
After only one season, that consensus has changed. Leading all rookies in yards, catches, touchdowns and broken tackles tends to do that. Not only did Thomas establish himself as the top rookie wide receiver in the NFL, but he also took over as Drew Brees' go-to receiver by the end of the season. Thomas' 119 targets were six more than former first-round pick Brandin Cooks and the rookie caught 77.3 percent of his targets compared to 63.6 percent for Cooks.
The question then becomes, how did a receiver who ran a pedestrian 4.57, 40-yard dash at the combine and didn't top 800 yards in any season at Ohio State establish himself an overnight success in the NFL? The answer is that New Orleans recognized the rookie's strengths and played to them. What he may lack in long speed, Thomas makes up for in suddenness. And at 6-foot-3, 212 pounds, Thomas is already one of the most physically imposing receivers in the NFL. Those two attributes combine to make him a weapon on quick underneath routes and a consistent chain-mover.
| | |
| --- | --- |
| Route | Targets |
| Hitch | 33 |
| Slant | 31 |
| Crosser | 15 |
| Back Shoulder | 11 |
| In | 8 |
| Go | 7 |
| Screen | 5 |
| Out | 4 |
| Post | 2 |
| Fade | 2 |
| Corner | 1 |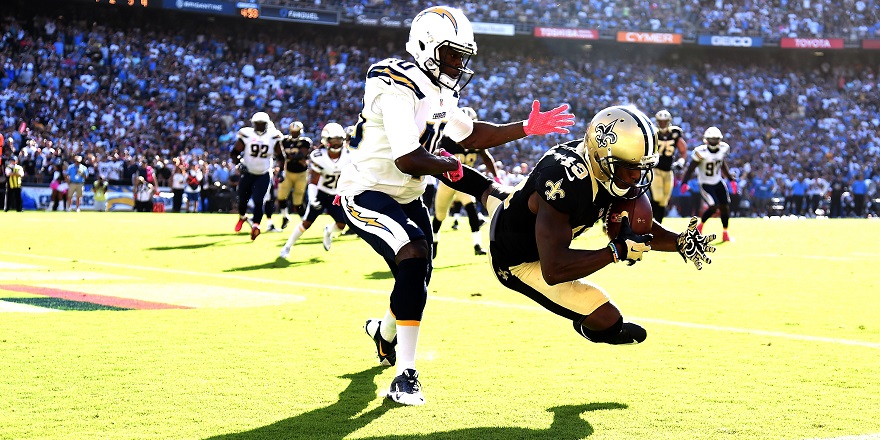 As you can see, more than half of his targets came on either hitches or slants, a ridiculous rate. For the average NFL wide receiver those two routes account for only 29.2 percent of their targets. It's one thing to run those routes at a high rate, but another altogether to be as efficient on them as Thomas was. He averaged 8.0 yards per target on hitches (NFL average is 7.0) and 7.5 on slants (NFL average is 7.4).
Even though Thomas has only 16 games to his name in the NFL, it's become abundantly clear that the Saints found themselves a No. 1 receiver. Not only is he talented, but Thomas also fits seamlessly into New Orleans timing passing offense. It's a perfect combination, and made Thomas one of seven rookies in PFF's top 101 for 2016.