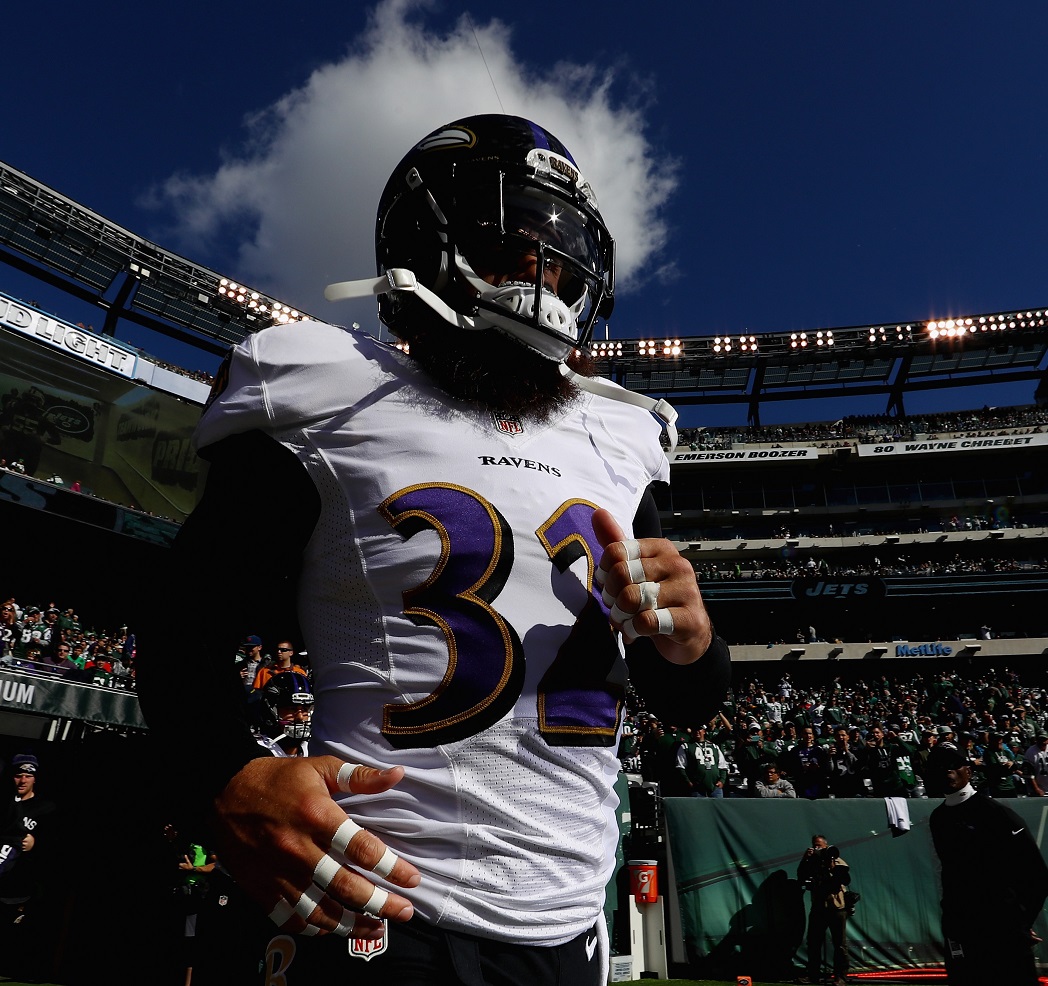 EAST RUTHERFORD, NJ - OCTOBER 23: Eric Weddle #32 of the Baltimore Ravens runs onto the field before the game against the New York Jets at MetLife Stadium on October 23, 2016 in East Rutherford, New Jersey. (Photo by Al Bello/Getty Images)
[Pro Football Focus recently identified Ravens S Eric Weddle as the No. 10 player overall in the 2016 NFL season. To see the full list featuring the 101 best players of the season, click here.]
For eight seasons in San Diego, Eric Weddle exceeded every expectation one could have for a second-round pick. He rarely missed a down, playing 7,962 snaps over that span, receiving multiple PFF Pro Bowl nominations, and earning a well-above-average grade in every single season of his career. Life was good.
Toward the end of an injury-plagued 2015 season though, that all changed. A growing rift was apparent between Weddle and the Chargers organization stemming from an apparent desire to move on from the 30-year-old and rebuild. The safety was battling injuries and in the midst of his worst season since 2009, but even considering that, San Diego's actions were a head-scratcher. The feud came to a head when Weddle was fined by the organization for watching his daughter perform during halftime of a meaningless game in late December. The next week he was put on IR even though he claimed he was healthy enough to play.
After an ugly break where he even described the Chargers organization as being "dead to me," one shouldn't be surprised Weddle entered 2016 like a man with something to prove. The Ravens signed him to a modest four-year, $26 million contract and Weddle set about earning every penny of his 2016 salary and then some.
Baltimore saw the diverse skill set of an All-Pro safety and crafted a role for him to take advantage of it with the goal of putting him in as many play-making positions as possible. Weddle lined up as a deep safety on only 42.9 percent of his snaps. When he dropped down toward the line of scrimmage he did everything from cover the slot (12.9 percent of snaps) to play traditional linebacker (15.5 percent of snaps).
The role fit Weddle to a T and for a team desperate for playmakers in the secondary he was a godsend. Through the first nine weeks of the season he allowed 5 catches on 11 targets for 25 yards, zero touchdowns and one interception. Weddle had completely returned to the form that made him PFF's top-graded safety in 2014 and 2012. His 92.4 overall grade was once again the best of any safety in the NFL.
Weddle would finished fourth at the position in run-stop percentage (6.6 percent) and fifth in run-defense grade (90.7). In coverage he would allow only nine more completions (13) than he had interceptions (4) and finished with the second-highest grade (90.4). No safety in the NFL could match that all-around consistency and it earned him a well-deserved spot in the top 10 of PFF's top 101 players for 2016.