EA Sports' Madden 20 released its player ratings on Monday. Surprising no one, not everyone was pleased with every player rating in the game, so they've taken to Twitter among other social media platforms to announce their gripes.
Below is a list of some of the hits and misses we at PFF see in the game's launch ratings.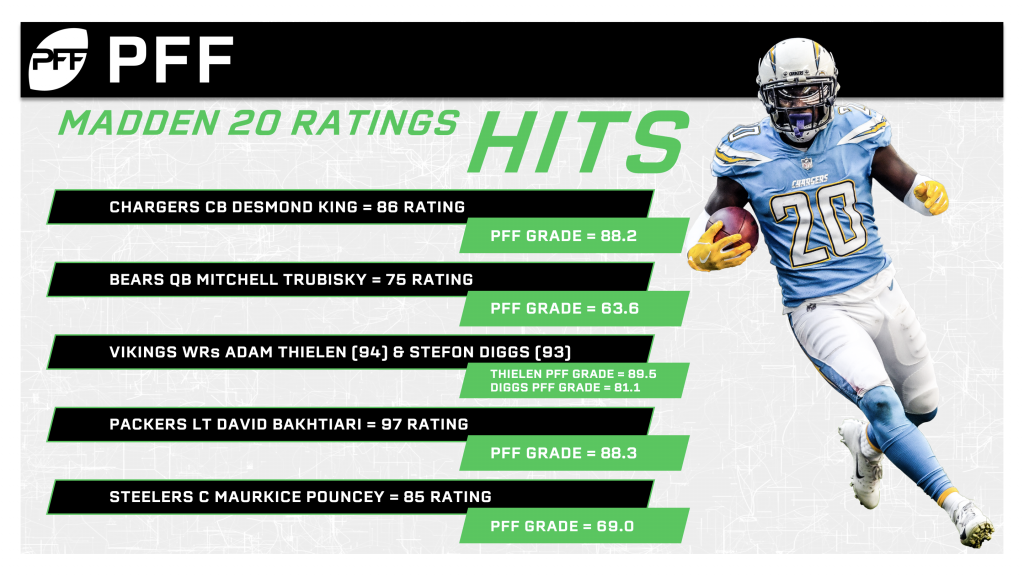 As PFF's 33rd-ranked quarterback in overall grade (63.6), Mitchell Trubisky checks in as Madden 20's 27th-best at the position — an accurate representation of a relatively average 2018 season that flashed potential for the future. Madden tagged Trubisky with an 88 throw power rating, which makes sense given that Trubisky attempted the fourth-most deep attempts in 2018 with 82. It's just that he wasn't all that accurate on them, with an adjusted completion percentage of only 37.8% that lines up with his middle-of-the-pack 87 accuracy rating. 
Desmond King's 86 overall rating is more than justified. The former Iowa product has been the highest-graded slot cornerback in the NFL since entering the league as a fifth-round pick in 2017. He's an afterthought in a league that pours praise onto dominant outside cornerbacks, but Madden 2020 did King justice with his launch rating.
Adam Thielen and Stefon Diggs are arguably the best wide receiver duo in the NFL right now, and Madden 20 nailed it. Thielen earned an overall grade of 89.5 last season, ranking ninth among wide receivers, while Diggs earned an overall grade of 81.1, ranking 19th. In Madden, Thielen and Diggs have overall ratings of 94 and 93 and rank seventh and eighth, respectively.
Is there a better pass-protecting offensive tackle in the NFL right now than David Bakhtiari? The answer is a firm no. Recently named PFF's Pass-Blocker of the Year, the Packers left tackle allowed four sacks, three hits and 18 hurries from 737 pass-blocking snaps over the course of the 2018 regular season — the third straight season in which he played more than 450 pass-blocking snaps and allowed fewer than 30 total quarterback pressures. In addition to owning the best single-season pass-blocking grade of the PFF era (94.6 in 2017), he also holds the fifth- and seventh-best marks for his work in 2016 (93.7) and 2018 (93.6), respectively.
Selected to the 2019 Pro Bowl, Maurkice Pouncey could have easily found himself among the top-five centers in the game in Madden 20 player rating, but EA Sports was smart to overlook the Pro Bowl nomination and slot Pouncey at seventh on their center rankings. After earning a career-high 78.1 overall grade in 2016, Pouncey has earned sub-73.0 overall grades in back-to-back seasons with the Pittsburgh Steelers.
Byron Jones flourished in his first year at cornerback last season after making the switch from safety. He was one of only two cornerbacks who had at least 250 snaps in press coverage and earned a coverage grade of 80.0 or higher, and that's well-reflected in his 93 press coverage rating in Madden 20, which ranks fifth among cornerbacks.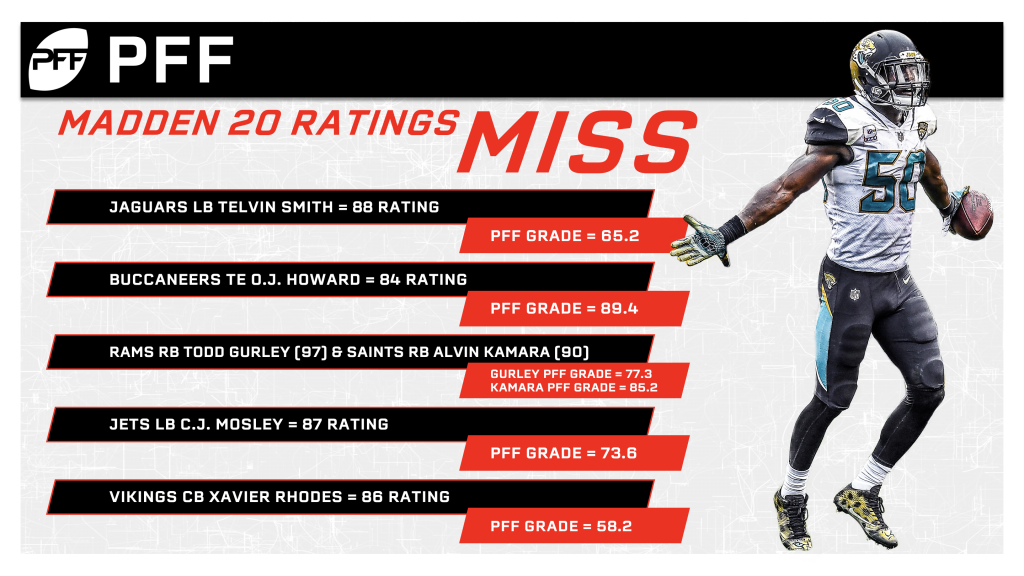 Madden has Edwards as the 57th-ranked running back in the game with an overall of just 75, while we have him as the 15th-ranked running back last season with an overall grade of 80.7. One of our biggest disagreements is his truck rating, which sits at 84 and is lower than 30-plus other running backs – that's hard to justify, especially because Edwards gained an average of 3.22 yards after contact per attempt last season, tying for 14th among running backs.
Telvin Smith is listed as an outside linebacker in the opening Madden 20 ratings, a position he played in just 40 of his 1000-plus snaps in 2018. To add on, he owns the second-highest overall Madden rating with an 88, ahead of players like Leighton Vander Esch and Zach Brown, both of whom had PFF grades more than 20 points higher than Smith. Sitting behind only Jadeveon Clowney in Madden ratings for right outside linebackers simply doesn't make sense given that Clowney had more than 60 quarterback pressures while Smith had 12 pressures and missed the second-most tackles among linebackers.
The second-year tight end finished the 2018 season as our third-highest graded player at the position, and his average of 2.26 yards per route run ranked third among the 64 tight ends with at least 100 snaps in route. The Alabama product may have less than 100 targets to his name over the last two seasons, but we're pretty confident Howard is in store for a breakout 2019 campaign and that this Madden rating is going to look a little low in a few months.
Todd Gurley is great; he's just not seven points better than New Orleans Saints' Alvin Kamara. Among the 67 running backs with at least 20 targets a year ago, Kamara ranked second in receiving grade (89.4) and third in yards per route run (2.16). Gurley ranked outside the top-35 in both metrics.
CJ Mosley has earned a 75.0-plus overall grade just once in his five-year career in the NFL, and he's never earned high single-season marks in coverage, either. He may be being paid like a top-five linebacker in the NFL, but he shouldn't be rated as one considering his career efforts.
As things stand, Xavier Rhodes is tied with Denver Broncos cornerback Kareem Jackson and Los Angeles Chargers slot ace Desmond King for the 14th-best rating among players at the position, and it's hard to see why. A season ago, the Vikings cornerback allowed the highest completion percentage of his career (65.2%), the second-highest passer rating (88.4) of his career, totaled the fewest combined picks and pass breakups (6) of his career, all while his overall grade of 58.2 fell 21.3 points shy of Jackson and 30.0 points shy of King.