As we head into the 2018 season, PFF has been taking stock of how things stand before another full year of action changes our perceptions and changes the lie of the land heading forward.
We have taken a look at various position groups, team facets and specific positions, and the latter is where we will continue here by laying out the top 10 tight ends as things stand right now.
This list has already taken some blows, with Hunter Henry being lost for the season as he looked on the cusp of a true breakout year for the Chargers, but here is the best of what remains: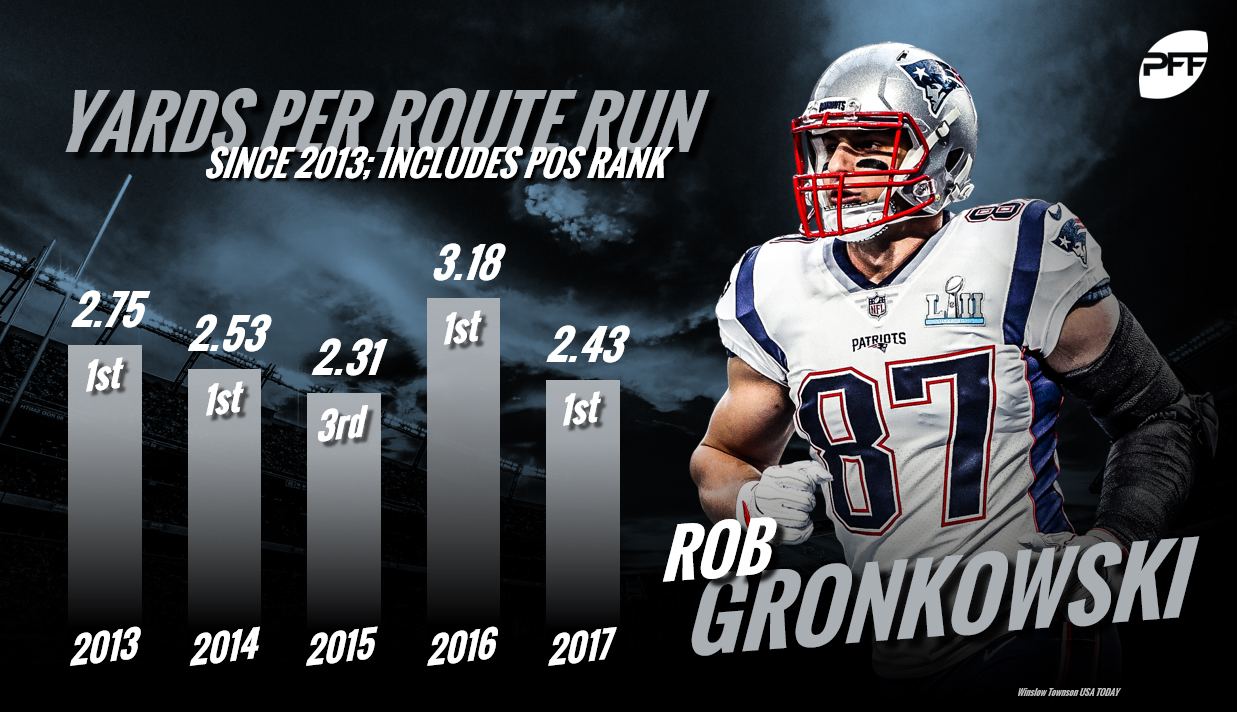 Well duh. Gronkowski isn't just the best tight end in the game right now, but he's the best of his generation and has a legitimate chance to be seen as the best to ever play the game by the time he decides full-time partying is a better way to spend a few months than playing football. One of the few modern-day tight ends that is as formidable a run-blocker as he is a receiving weapon, Gronk is the classic example of players that are dominant enough to excel in any era. He now owns five of the highest six grades we have ever given a tight end, and a career average of 2.40 yards per route run – a figure only two other players at the position have eclipsed over a single season in the time he has been in the league.
He is the gold standard at the position.
After Gronkowski, there is a real lack of players with the blocking chops to match their receiving talents, but the league has changed, and that has never been less of a drawback to a tight end than it is now. Kelce has improved his blocking since coming into the league, but he's never going to be confused for an extra tackle any time soon. What Kelce does though, is run after the catch better than any other tight end in the game. In his four-year NFL career, he has broken 62 tackles and averaged more than seven yards per reception after the catch in three of his four seasons. He can work deep down the seam or catch simple shovel passes and play like a running back to devastating effect. He is one of the biggest matchup problems in the league.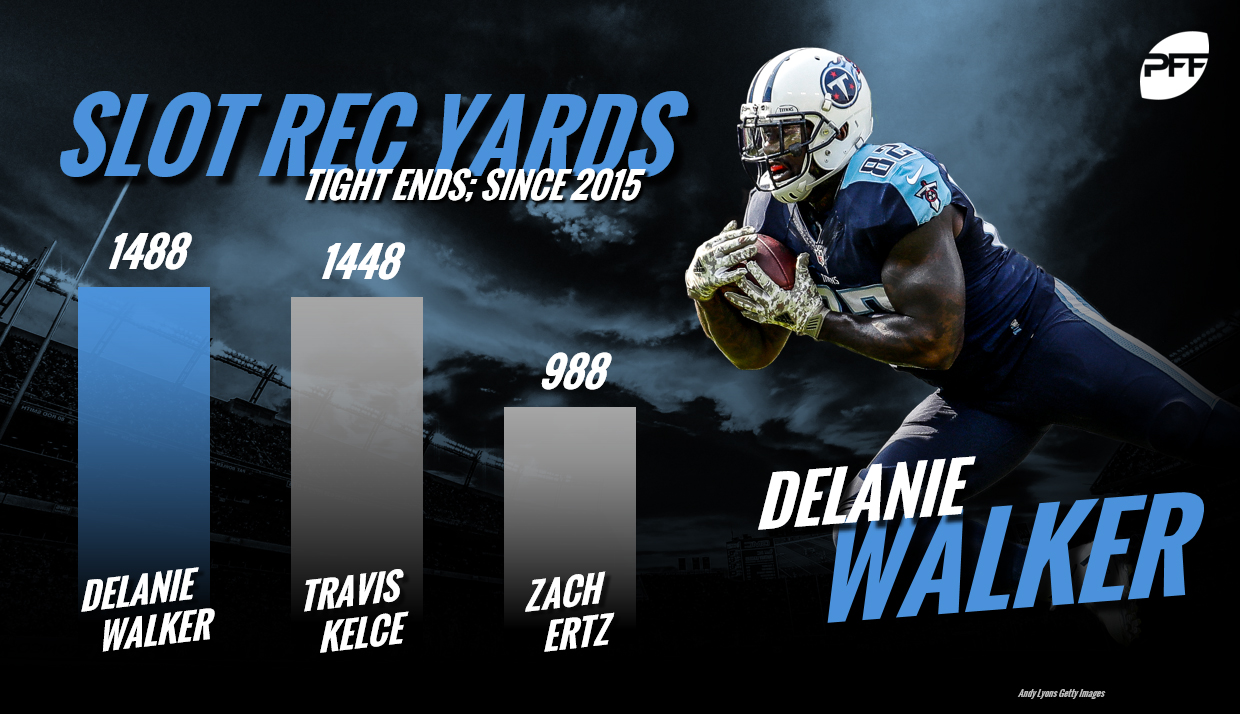 The Titans just handed Walker an extension, rewarding him for several seasons of fine play during which time he has been vying for the title of the league's best tight end … after Gronkowski. Walker has been a capable blocker and receiver for the Titans but his best season came back in 2015 when he topped 90.0 in overall PFF grade, and at 33 years of age, there has to be something of a concern that he is edging towards a decline and his best play is in the past.
Another 33-year old, Olsen is one of the few tight ends in the league that has been a No. 1 receiver for his team in multiple years. Olsen has never been a quality blocker, but his receiving skills were so good that it didn't matter, and was more than worth the downside. An injury-hit 2017 season saw him post the worst overall PFF grade of his career, but despite that, he remains an incredibly solid pair of hands, dropping just two passes since 2015 despite 167 targets over the past two seasons.

The dynamic in Philadelphia will be fascinating heading into 2018 with Ertz now teaming up with rookie Dallas Goedert to form one of the most potentially dynamic duos in the league. Ertz has seen more than 100 targets in each of the past three seasons including the playoffs, with last year giving him four PFF grades of 80.0 or more over his career.
The forgotten man in the tight end landscape throughout the league, Reed may be the prototypical receiving weapon at the position. He runs like a wide receiver and can move like few players at the position, but has played more than 500 snaps just twice in his five-year career now as injuries have taken a consistent toll on his potential. Like Kelce, Reed is adept at making people miss, with three double-digit broken tackle seasons over his career. He could vault higher up this list if he can prove he is capable of staying healthy.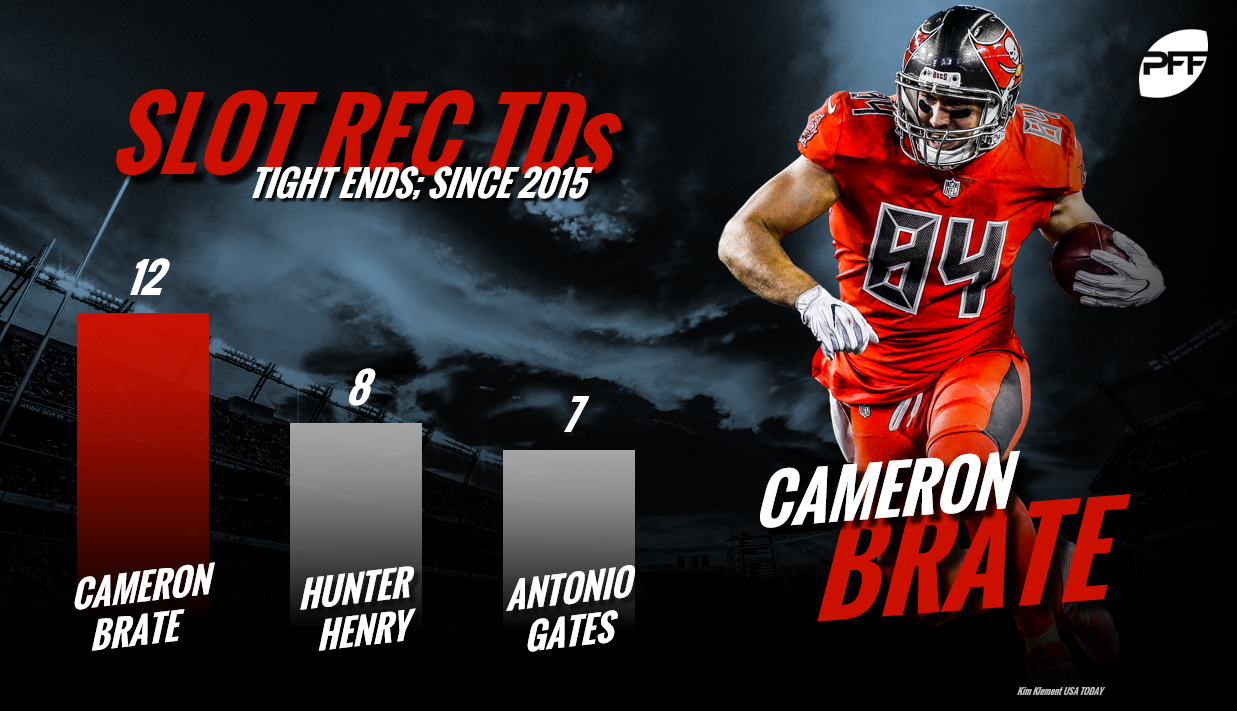 Brate burst on the scene in 2016 with the Buccaneers and even though they drafted O.J. Howard the following offseason, that just freed Brate up to be a receiving weapon while Howard did the dirty work blocking in-line. Brate saw just five fewer targets in 2017 than he did the year before, though his catch rate was down (73 percent to 66 percent) and his production numbers across the board dipped. He may never kick on from that impressive breakout season, but he has proven to be an effective receiver.
There are few tight ends with the physical potential that Rudolph possesses, but his career seems to have been a case study in the difficulties of putting all that together in one season. At 6-foot-5 and 265 pounds, he has Gronkowski-like physical tools, but has only ever flashed that same level of dominance. Over the past two years in Minnesota, he has become a much more consistent receiving threat, even as his run-blocking has tailed off to make way for that improvement. He caught 63 passes from 87 targets in 2017 (including the playoffs), dropping just one pass all season.

As we get to the close of this top 10 list, we look to potential and small sample sizes. Burton's entire NFL career is just 741 snaps old over four seasons, but the Bears still signed him to a four-year, $32-million contract to be their receiving weapon at the position. While they already have Adam Shaheen, this move suggest he is slated to become more of their blocking tight end while Burton becomes the matchup weapon in the passing game. Though the sample-size is small, his PFF grade last season was a top-10 figure, and he has flashed dynamic playmaking ability. A 2018 that fulfils that potential would justify this place on the list.
Another player that has flashed big-time potential, Kittle now has a quarterback to take advantage of his skill set in Jimmy Garoppolo. The 49ers rookie caught 43 of the 61 passes thrown his way last year (70.5 percent), and broke eight tackles with the ball in his hands, averaging 6.2 yards per reception after the ball ended up in his hands. He has speed to burn and the potential to vault himself up this list.