Week 14 of the NFL regular season schedule has been completed, giving us an even larger sample size to delve into just how each of the 2018 NFL Draft first-round picks has fared in their respective action so far. Some of the 32 first-rounders have not qualified for a grade either based on small snap counts or not playing altogether. On the other hand, some players have jumped out of the screen and have helped strengthen their teams.
Here is how each of the 32 first-round rookies from the 2018 NFL Draft has graded in their first 14 weeks: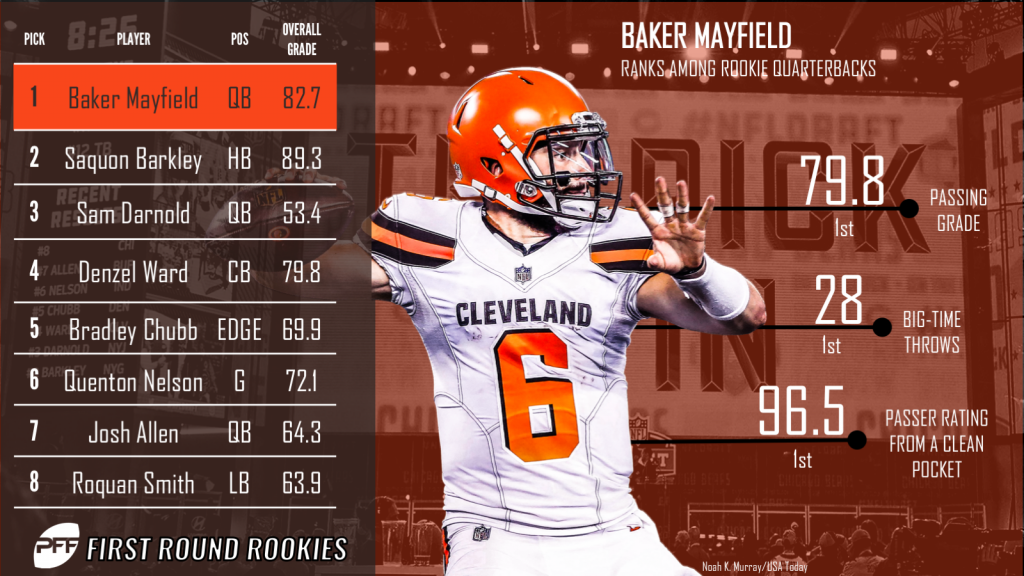 2018 SEASON GRADE: 82.7
Mayfield has been fantastic as a rookie, and he delivered his finest performance to date in the win over the Panthers. Mayfield completed 18 of his 22 attempts on the afternoon but had three passes dropped by his receivers, meaning that he had just one true incompletion. He also delivered multiple highlight reel throws, including a perfect touchdown pass to Jarvis Landry where he moved to his left before delivering the ball exactly where it needed to be. Mayfield's elite overall grade of 90.6 is the highest mark of his young career to date and the best mark among quarterbacks this week.
2018 SEASON GRADE: 89.3
The second overall pick absolutely feasted on a lifeless Redskins defense in Week 14 and racked up a career-high 170 rushing yards from just 14 rushing attempts. Three of his carries went for 10 or more yards (including an excellent 78-yard touchdown run) and 42 of his rushing yards came after contact. Like Mayfield, Barkley's Week 14 game grade of 86.8 is the best mark of his career to date.
2018 SEASON GRADE: 53.4
We got to see a little bit of everything with Sam Darnold in Week 14, as he made a number of bad decisions and throws through the first three quarters only to lead the Jets to an impressive comeback win in the final frame. He completed 16 of his 24 pass attempts for 170 yards, one touchdown and one interception, but he put several big-time throws on tape, the best of which being his downfield throw to Robby Anderson to set up the game-winning score. Darnold earned an overall game grade of 72.8 for his efforts in Week 14, his best mark since Week 6.

2018 SEASON GRADE: 79.8
Ward's play has been nothing short of inspiring this year, and it seemed like Deshaun Watson took notice of that before his Week 13 game. After seeing a whopping 16 total targets over his previous two games, Ward was targeted just once in his Week 13 clash and allowed just two yards on the catch. Through 13 weeks, Ward allowed a passer rating of just 70.0 on throws into his primary coverage – the 11th-best mark among all players at the position in that span.
2018 SEASON GRADE: 69.9
Once again, Chubb was productive for his team in the pass-rush and added another five pressures from his 30 pass-rushing snaps against the 49ers in Week 14. This takes his season total to 50 total pressures on the year – the 11th-most ever recorded by a rookie edge defender and 15 shy of taking the record.
Subscribe to PFF Edge to continue reading
Already have a subscription? Sign In