Week 10 of the NFL regular season schedule has been completed, giving us an even larger sample size to delve into just how each of the 2018 NFL Draft first-round picks has fared in their respective action so far. Some of the 32 first-rounders have not qualified for a grade either based on small snap counts or not playing altogether. On the other hand, some players have jumped out of the screen and have helped strengthen their teams.
Here is how each of the 32 first-round rookies from the 2018 NFL Draft has graded in their first 10 weeks: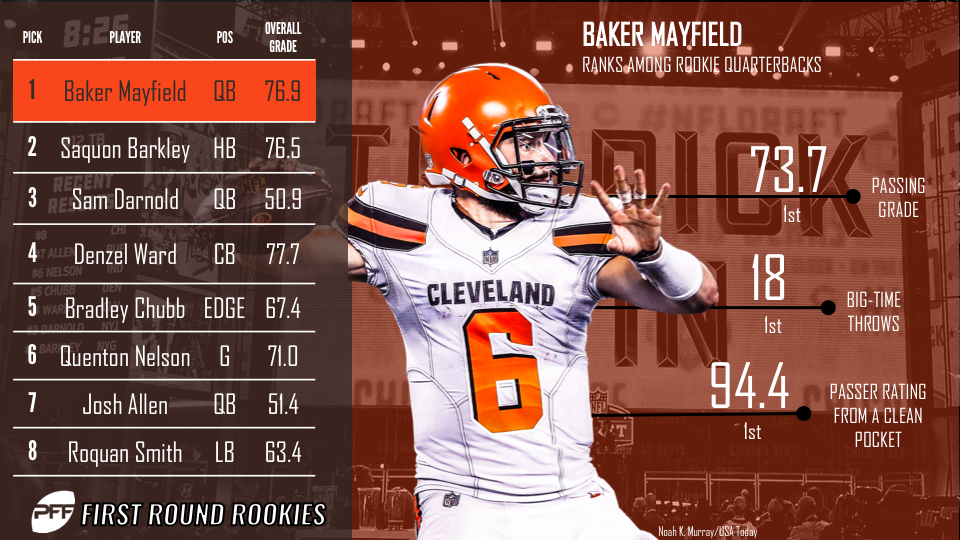 2018 SEASON GRADE: 76.9
After a couple of really rough outings, the first overall pick returned to his best in his team's Week 10 victory over the Falcons. On just 23 dropbacks, a career-low for the former Heisman winner, he completed 17-of-20 attempts for 216 yards and three touchdowns, en route to 10.8 yards per attempt and a passing grade of 84.1 – his highest single-game marks to date.
2018 SEASON GRADE: 76.5
Barkley logged a career-high 20 rushing attempts in his Week 10 matchup against the 49ers, and he managed to generate 67 yards with 47 of those yards coming after contact. As has become the norm with the dynamic back, he also did damage in the passing game and caught 4-0f-5 targets for 40 yards after the catch.
2018 SEASON GRADE: 50.9
As Darnold's Week 6 game showed, the former USC signal-caller is more than capable of delivering exceptional performances under center, but unfortunately for Darnold, the bad performances are vastly outweighing the good ones right now. Darnold had his lowest-graded game to date against the Dolphins in Week 9, completing just 21-of-39 attempts for 229 yards, four interceptions and he threw an incredible six turnover-worthy passes on the afternoon. Darnold has thrown 17 turnover-worthy passes this season, four more than the next closest quarterback.

2018 SEASON GRADE: 77.7
Denzel Ward only managed eight snaps in the Browns' Week 9 game before he succumbed to a hip injury, but he returned in full force to help his team to victory over the Falcons in Week 10. He played all of his team's defensive snaps for the sixth time in 10 professional games, and he was his usual self in coverage, where he allowed four catches from seven targets for 46 yards. All told, he allowed a passer rating of 77.1, but that could have been even better, as he was unable to hold onto an errant Matt Ryan throw that could have easily resulted in an interception.
2018 SEASON GRADE: 67.4
Once again, the Broncos' first-round pick was productive in the pass-rush in his team's Week 9 loss to the Texans, and he racked up three total quarterback pressures on his 19 pass-rush snaps. From Week 1 to Week 9, Chubb accumulated 35 quarterback pressures, which is the most among rookie edge defenders in that span.