Amidst an otherwise disappointing season for the New York Giants, rookie tight end Evan Engram has flashed star-level potential as the focal point of team's aerial attack.
Leading the team with 66 targets, Engram has brought in 40 receptions for 443 yards and a team-high five touchdowns through nine games. He also ranks sixth among NFL tight ends with 250-plus routes with his 1.45 yards per route run average, which stands as the highest mark for a rookie tight end with 250-plus routes through the first 10 weeks of the season in the PFF era (2006-present).
Largely due to his poor run blocking grade (39.0), Engram owns just the 43rd overall grade among tight ends at 50.2. Of course, his bread & butter has kept him afloat among the masses, as he ranks third among tight ends with 275-plus passing snaps in receiving grade.
However, Engram's elite production and efficient route-running only scratches the surface in regard to his accomplishments through the air this season.
Engram has adopted an entirely different role than what he was previously asked to perform at the college level within the Giants' offensive scheme, and he's done so without breaking stride.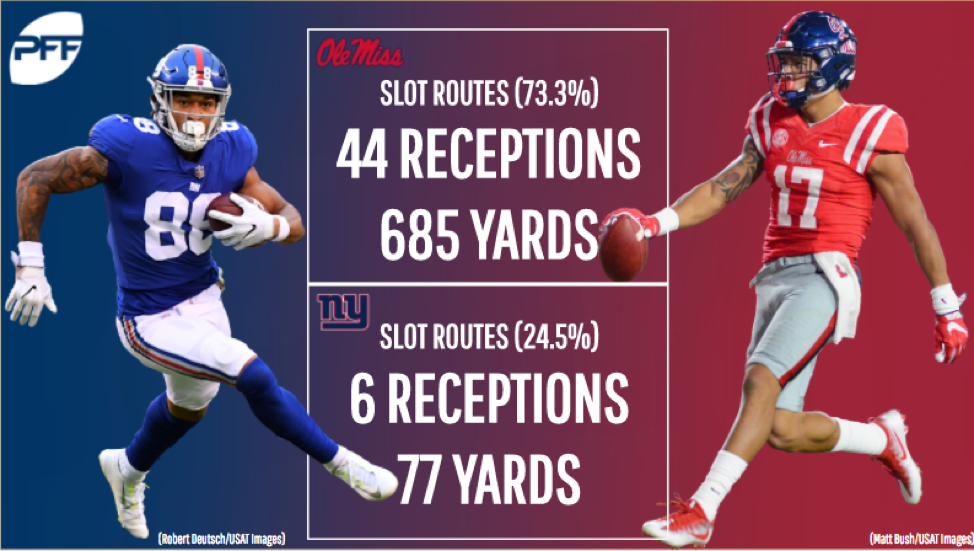 In East Rutherford, Engram has run 61.3 percent of his routes (195) at in-line tight end or H-back, where he has brought in 26-of-40 targets for 279 yards (1.43 YPRR) and two touchdowns. On his 78 (24.5 percent) routes from the slot, has caught six of his 13 targets for 77 yards and one touchdown.
Conversely, the former Ole Miss standout put on a show during his final season for the Rebels, running 73.3 percent of his routes (274) from the slot throughout his senior campaign. He led FBS tight ends with at least 26 targets in total yards per route run (2.59) and ranked second in yards per route run from the slot (2.61) among FBS tight ends with 70 or more slot routes.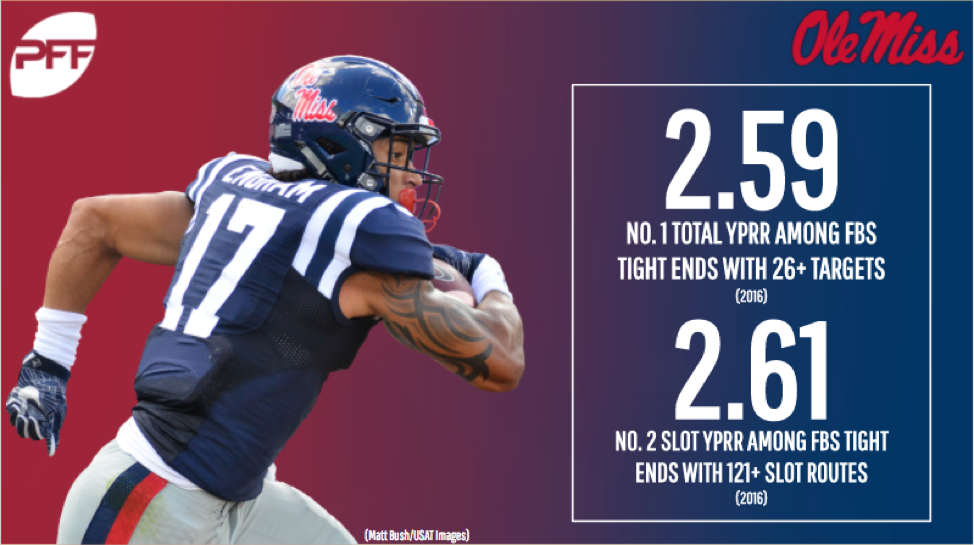 Going beyond Engram's (obviously successful) transition from the slot to a traditional tight end position, New York has also asked the rookie first-rounder to take his talents outside the hashes in relief of injured receivers Odell Beckham Jr. and Brandon Marshall.
After running just four routes from an outside receiver position throughout his final two years in Oxford, Engram has run 43 total routes at either left or right receiver through 10 games with the Giants, 32 of which came after Beckham and Marshall's injuries. On those routes, Engram has recorded eight receptions for 69 yards and one touchdown.
A combination of the Giants' injuries at receiver and Engram's pass-catching prominence has given head coach Ben McAdoo & Co. every reason to call on him to deliver results all over the field. The former No. 23 overall pick is the only first-year tight end to run more than 300 routes through Week 10 in the PFF era.
Engram, of course, has answered the call.