The Cincinnati Bengals fielded a historically porous defense that gave up 500 yards in three straight games last season, and amid that turmoil, another stellar season from star defensive interior Geno Atkins went unnoticed. The 31-year-old defensive tackle doesn't tend to dominate the headlines, as he prefers to avoid the media spotlight. Instead, the stalwart veteran allows his play on the field to do the talking — and his performance demands your attention.
Geno Atkins has been one of the NFL's elite interior defensive linemen since entering the league, producing an overall grade and pass-rush grade of 90.0 or higher in three seasons. The Georgia alumnus has generated a pass-rush grade of 85.0 or higher in each of his last four seasons while racking up 10 or more sacks in three of them. His quickness, strength and pass-rush savvy allow him to consistently produce at an elite level, making him one of the most dangerous interior pass-rushers in the league. In the play below, his trademark strength is on display, as he gets leverage on the upright Chaz Green before lifting the 318-pound guard almost completely off the ground and pushing him back into the lap of Derek Carr for the sack.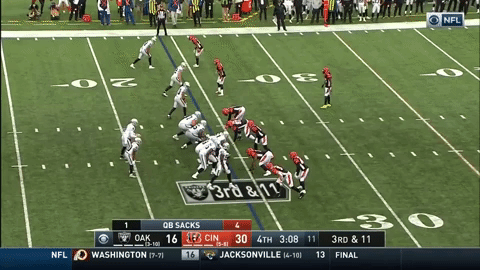 Atkins' 83.5 overall grade and 85.1 pass-rush grade in 2018 were his lowest marks since his 2014 season, and his grades ranked 12th and sixth among qualifying interior defensive linemen, respectively. Even though he produced 64 pressures and nine sacks — both of which were his lowest totals in four seasons — it would be incorrect to assume that Atkins has lost a step. As you can see from the play below against Marshal Yanda, one of the league's best guards of the last decade, that is not the case. Below, Atkins uses his savvy and the threat of his incredible strength to fool the Ravens' guard with an impressive push-pull move that leaves Yanda helpless, grasping at anything he can to prevent Atkins from getting the sack.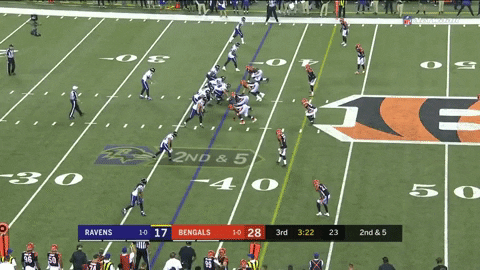 Looking at the advanced statistics, it becomes quite clear that Atkins still deserves to be in the conversation for the league's best interior pass-rushers. He finished with an exceptional pass-rush win percentage of 16.2%, which ranked fifth at his position league-wide and second in the AFC behind only Chris Jones last season. More importantly, Atkins was at an elite level on crucial downs, producing the third-most pressures among interior defensive linemen on third and fourth down last season, along with an impressive win rate of 18.7% that ranked seventh. As if that weren't enough to convince you, he also managed a pressure percentage of 13.6 and pass-rush productivity of 7.8, both of which ranked inside the top-five among players at the position.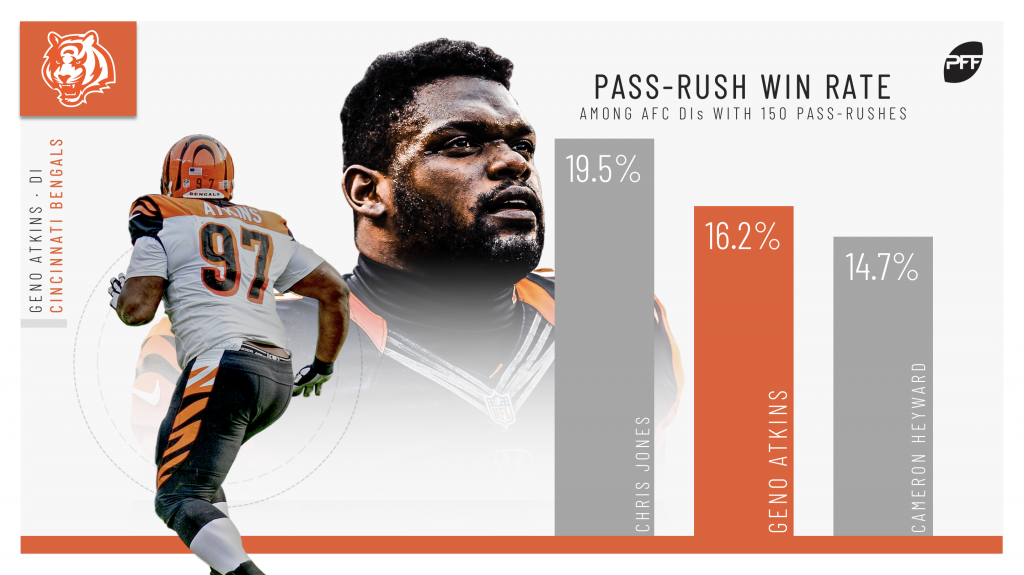 Such impressive marks beg the question of why Atkins' grade was lower than it had been the past few seasons, but that was due in part to his propensity for missing tackles last season. He missed a total of eight tackles — the third-most among DIs — en route to a 37.9 tackling grade. Considering that the lifelong Bengal has never missed more than five tackles and has produced a tackling grade of over 60.0 or higher in all but two seasons, it is likely that number will regress toward the mean next year.
Though Atkins had a down year by his lofty standards, he still ranked top-five in pass-rush win percentage, pressure percentage and pass-rush productivity; he was elite on third and fourth down when pass-rushers are called upon to get after the quarterback. Though the Bengals' defensive unit had a down year last season, Geno Atkins did not, and he still deserves to be talked about as an elite interior defensive lineman.