The storyline was repeated ad nauseum in the weeks leading up to Super Bowl 52: 'you have to pressure Tom Brady with the front four.'
The Philadelphia Eagles defensive line had been arguably the league's best all season and had all the horses necessary to execute that blueprint. Come Sunday, they did just that. The Eagles generated pressure on 40 percent of Brady's dropbacks while blitzing on only 14 percent of them. The most crucial play of that game – a Brandon Graham forced fumble with 2:16 remaining in the fourth quarter – came on only a four-man rush.
Over the course of the next few months however, the Eagles have seen turnover along their formidable front. Vinny Curry and Beau Allen's 66 combined snaps from that Super Bowl victory all went to Tampa Bay this offseason while they traded for Michael Bennett, signed Haloti Ngata and drafted Josh Sweat. There's little reason for concern up front though as long as two constants remain: their aforementioned edge defender in Graham and defensive tackle Fletcher Cox. Those players come in at 25 and 26, respectively, on the 2018 version of the PFF 50 top NFL players and are the catalysts for everything Philadelphia wants to do defensively.
Defensive coordinator Jim Schwartz is blitz-averse. He only brought extra rushers on 23.2 percent of opponent's passes last season. That's the 10th-lowest rate in the NFL and 5.7 percentage points below the league average. The reason he can afford to do that is because Philadelphia got pressure without blitzing on 37.5 percent of the plays a season ago – the highest rate in the NFL (league average is 31.5 percent). That's a higher rate than six different teams (Bills, Bucs, Pats, Giants, Browns, Texans) generated pressure when they blitzed.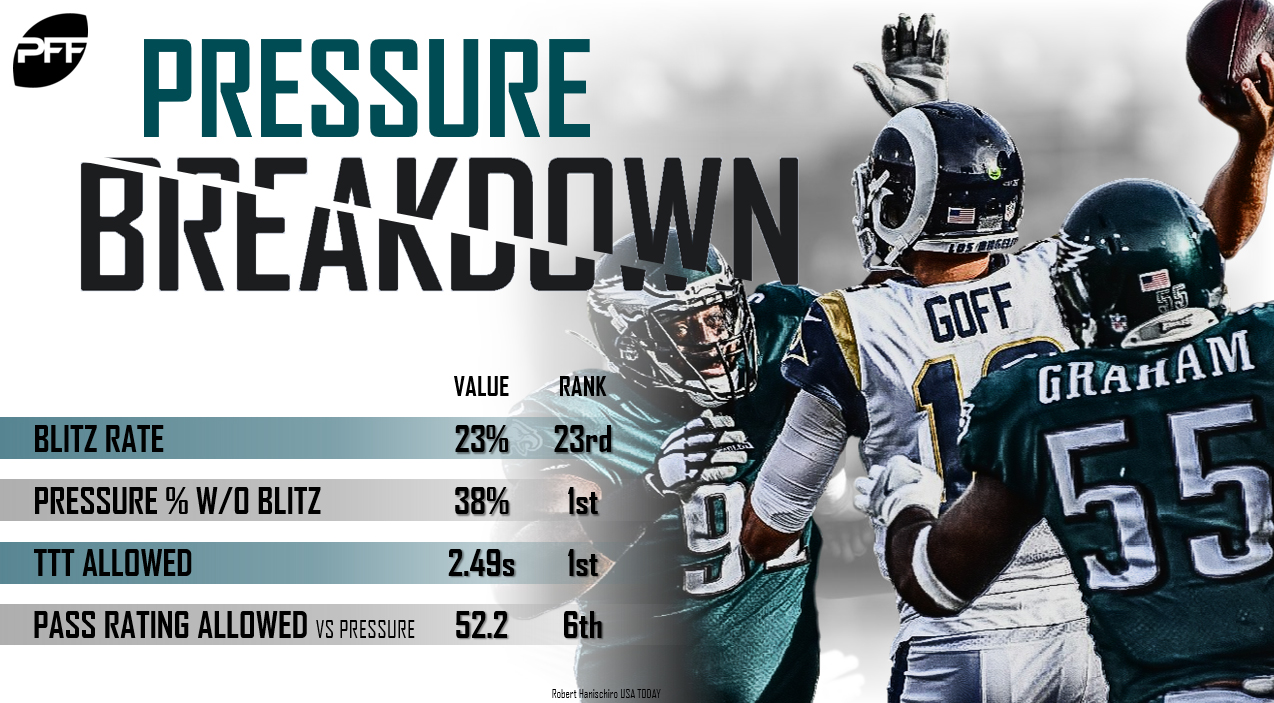 While much has been made of the Eagles deep rotation up front, 145 of their pressures a season ago were generated by Graham and Cox alone. That's the second-most of any duo in the NFL behind the heralded Chargers pair of Joey Bosa and Melvin Ingram. And in the biggest game of the season, it was Graham and Cox who once again came up big. They combined for 13 total hurries and four total sacks and hits while the rest of the team combined for 13 and three, respectively.
This should come as no surprise to Eagles fans though as both men have been playing at this level for a while now. Both had quiet starts to their career being highly-touted first-round selections.
Graham struggled to even see the field early in his career and didn't even notch 500-plus snaps until his fifth year. Still, he was a PFF favorite early on for his dominant performances in limited snaps. In 2012, he collected 45 total pressures on 205 pass-rushing snaps for a pass-rushing productivity of 17.3 – one of the best marks we've ever seen. He finally realized full-time status in 2015 and has rewarded the Eagles with overall grades of 84.8, 93.9 and 91.9 in the years since. He comes in as the fourth ranked edge defender in the PFF 50.
Cox never quite had the trouble seeing the field that Graham did as the big man has averaged 834 snaps a year over his six-year career, but his early returns didn't necessarily suggest the stud he is now. He toiled his way to two sub-80.0 overall graded seasons out of the gate before becoming one of the league's best run defenders in 2014. From there, he's matched Graham's prowess with overall grades of 91.5, 89.1 and 91.2 the past three years. And he's maintained that level of play despite signing a massive, 6-year, $102.6 million-dollar contract prior to the 2016 season.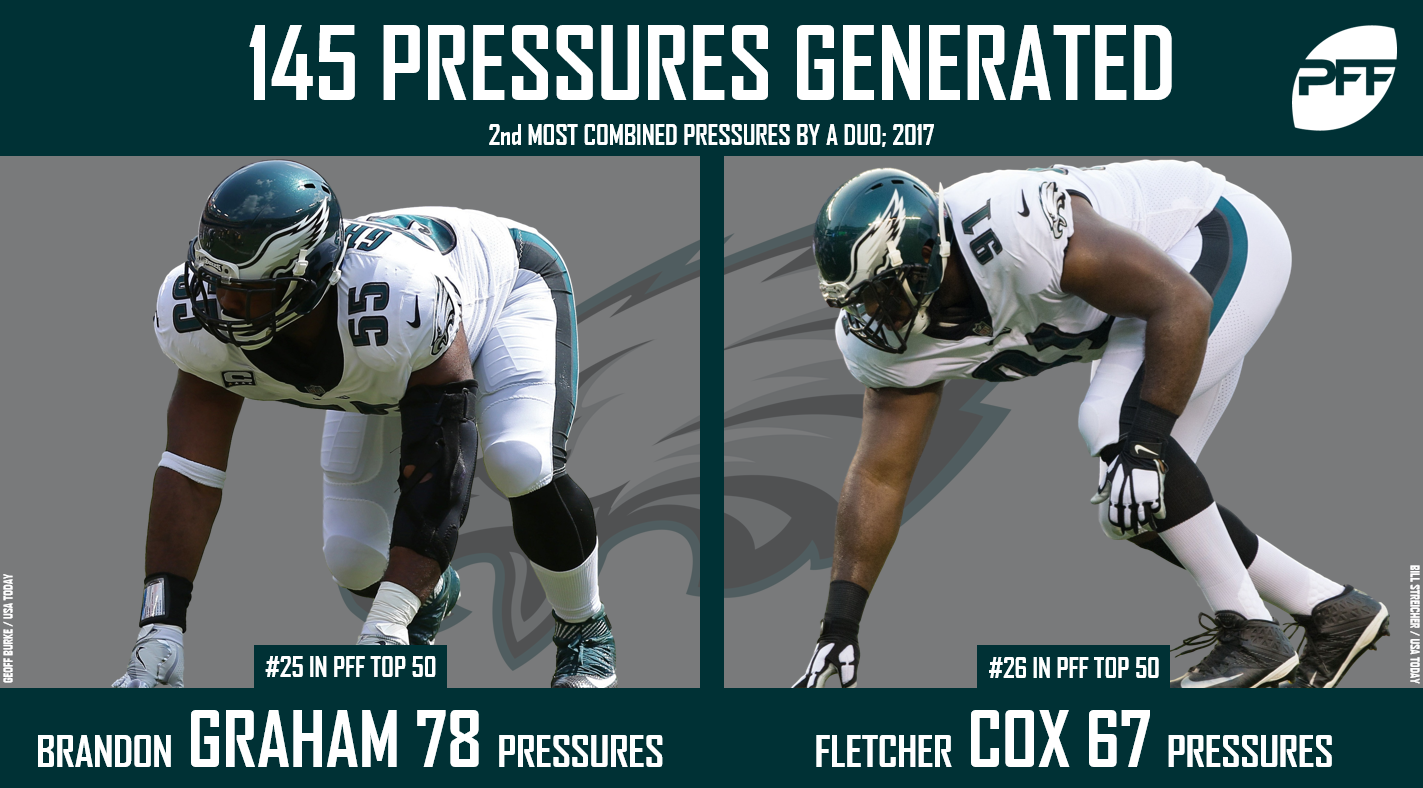 With Graham being 30 years old and Cox only 27, the two don't appear to be slowing down anytime soon. While Cox is locked up through 2022, Graham's contract is set to expire following the upcoming season. As long as they have both though, the Eagles will have one of the dominant defensive front's in football, and continue to compete for championships.