Hot new coaching hires are the new wave across the NFL. We've seen a handful of first-year coaches completely turn franchises around in recent years. From the Bears (Matt Nagy) and Colts (Frank Reich) last year, to the Rams (Sean McVay) and Bills (Sean McDermott) in 2017. The 2019 crop of mint coaches contains a few rosters that look similarly set up for immediate success. These are the ones that have all the tools at their disposal to execute their respective schemes.
While the fate of the Cardinals' defense is still very up in the air, Steve Keim did an excellent job giving Kingsbury the chess pieces necessary to bring the Air Raid to the NFL. While Kyler Murray's spread ability is obvious, his skillset isn't quite a necessity for Kingbury's offense. The true necessities are four diverse wideouts and a versatile running back.
At Texas Tech from 2016-2018, Kingsbury ran 10 (1 back, 0 tight ends, 4 receivers) or 20 (2 backs, 0 tight ends, 3 receivers) personnel on almost 80% of their snaps. The NFL average is 8%. It's safe to say anything resembling what Kingsbury ran at Texas Tech will be a stark outlier in the NFL landscape. The Cardinals added Andy Isabella in the second round and Hakeem Butler in the fourth round to a receiving corps that already featured Larry Fitzgerald and Christian Kirk.
The real key offensive weapon, though, for Kingsbury was already on the roster. David Johnson has wide receiver-type skills at the running back position and is no stranger to splitting out of the backfield. Back in 2016, Johnson took nearly 20% of his snaps outside the backfield and had 879 receiving yards. That hybrid ability will be put to use this upcoming season.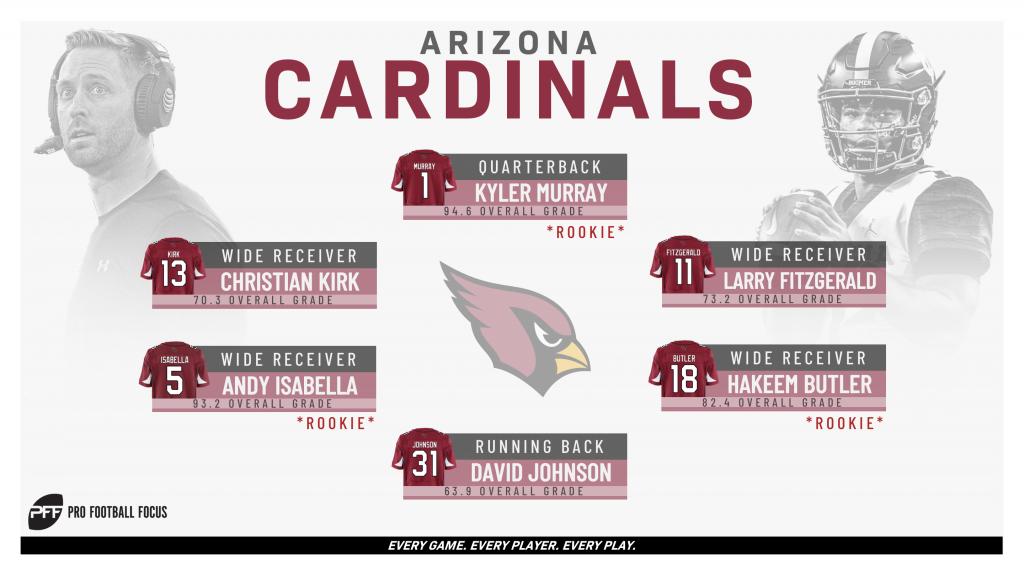 If you were to break down the core needs for a Sean McVay/Kyle Shanahan offense – the two coaches LaFleur learned under in Atlanta and Los Angeles – they'd be an athletic offensive line and an accurate quarterback. 
Anything else is icing on the cake, but the offense can't function without the two above. Both head coaches build their offense around outside zone and the bootleg off of it, and LaFleur's was no different last season in Tennessee.
The good news for LaFleur is that Green Bay has both far more than Tennessee did. While the quarterback one is obvious, the Packers have the offensive line as well. They were built on zone principles under Mike McCarthy with a pair of exceptional tackles. We ranked them as the top pass-blocking offensive line in the NFL last season, and they added Elgton Jenkins in the draft and Billy Turner in free agency to shore up the interior.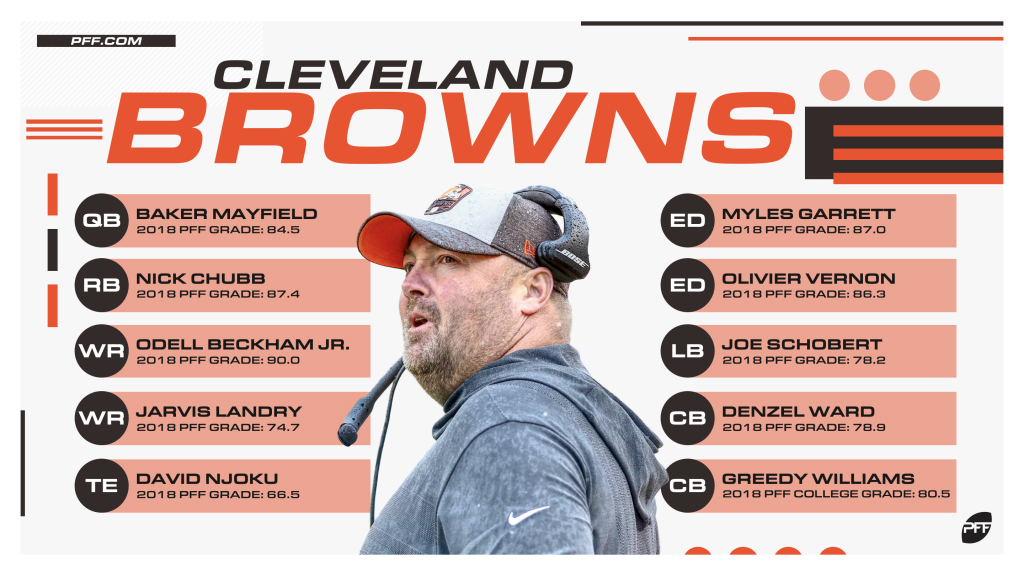 While the other two coaches have full toolboxes needed to run their offenses, Kitchens has a full tool shed at his disposal. Maybe more importantly, Kitchens has shown the willingness to deploy all those tools in a creative manner. So much so that in the second quarter of last year's late-season win over the Atlanta Falcons, Kitchens broke out a wishbone backfield that featured Duke Johnson, Nick Chubb and Dontrell Hilliard – and it wasn't simply a one play gimmick, he continued to use it. 
Now consider he's added Odell Beckham Jr. and Kareem Hunt to an offense that averaged nearly 24 points per game after he took over. If the Browns offense crashes and burns, Kitchens won't won't be able to point the finger at his personnel.