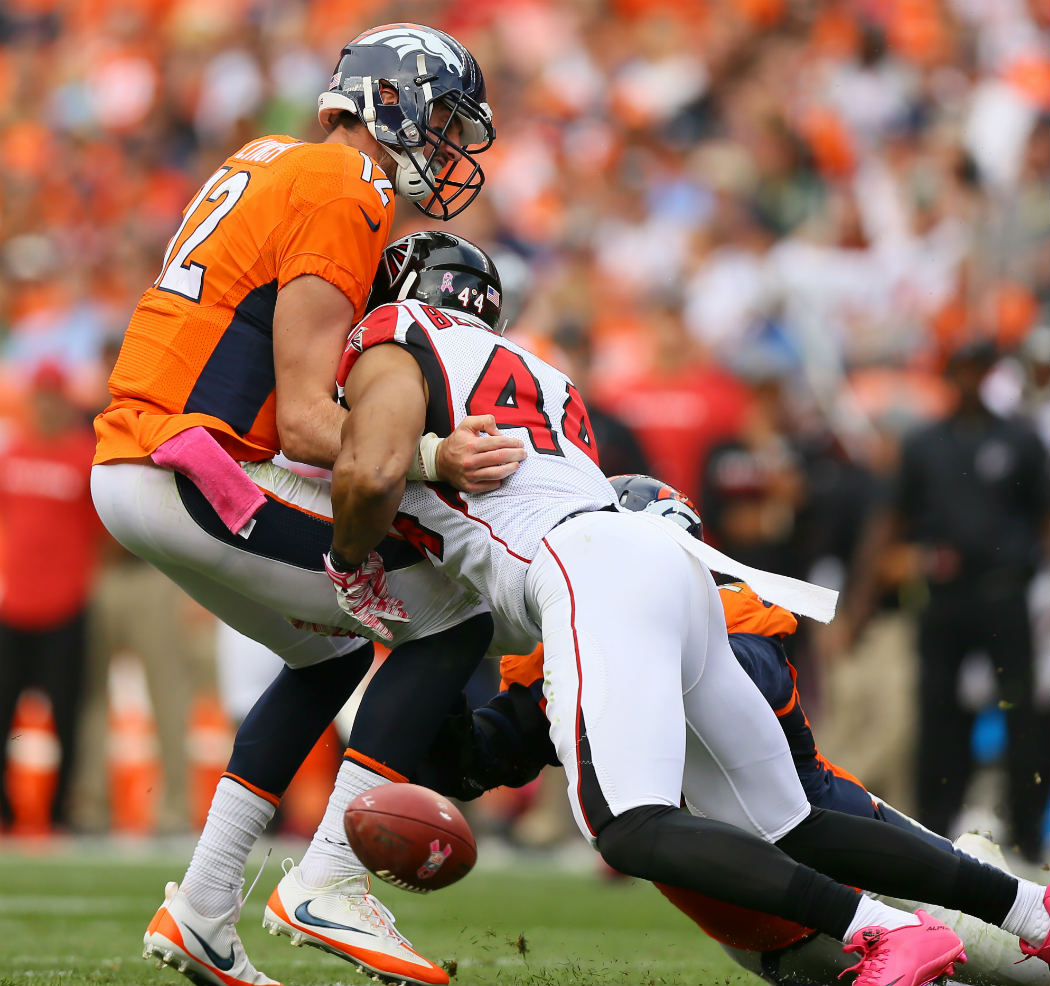 DENVER, CO - OCTOBER 9: Outside linebacker Vic Beasley #44 of the Atlanta Falcons causes quarterback Paxton Lynch #12 of the Denver Broncos to fumble in the third quarter of the game at Sports Authority Field at Mile High on October 9, 2016 in Denver, Colorado. Broncos recovered the ball. (Photo by Justin Edmonds/Getty Images)
Atlanta Falcons 23, Denver Broncos 16
Here are the biggest takeaways and highest-graded players from the Atlanta Falcons' 23-16 victory over the Denver Broncos:

Matt Ryan leans on his running game
Quarterback grade: Matt Ryan, 81.7
After a shaky start, Matt Ryan settled in and relied on the Falcons' ground game to open up some passing lanes. Ryan relied heavily on his backs in the passing game, as they accounted for 180 of his 267 passing yards. Ryan was under pressure often during the game, no surprise given the Broncos' electric pass rush. In all, he was pressured on 13 of his 31 dropbacks. The majority of his completions were on throws of less than 10 yards, as he was 12-of-16 for 155 yards in that range.
Top offensive grades:
T Jake Matthews, 82.4
FB Patrick DiMarco, 82.1
G Andy Levitre, 78.9
C Alex Mack, 78.7
RB Tevin Coleman, 74.0
Falcons take advantage of mismatches at the skill positions
Matt Ryan took advantage of matchups the Broncos presented him with, although not the ones you would expect, as star wide receiver Julio Jones, coming off his 300-yard performance against Carolina, was relatively quiet on the day as the Broncos secondary kept him contained. On two notable occasions, the Broncos had a linebacker lined up on speedy running back Tevin Coleman in coverage, and in both cases Ryan took advantage. Tackle Ryan Schraeder had a tough day going up against Denver edge rushers Von Miller and Shane Ray, as he finished with an overall grade of 42.9 and pass protection grade of 36.
Top defensive grades:
S Keanu Neal, 87.5
S Kemal Ishmael, 84.4
ED Vic Beasley, 84.3
CB Desmond Trufant, 81.9
ED Adrian Clayborn, 81.4
Falcons defense owns the afternoon
This was the game of the season so far for the Falcons defense as they absolutely owned the Broncos' offense all afternoon. Up front, Vic Beasley and Adrian Clayborn combined for nine total pressures (including five sacks, four for Beasley) on 61 pass-rushing snaps between them. Two of Beasley's sacks caused fumbles by Denver QB Paxton Lynch, and Beasley also led the defense with five run stops on the day (a stop is a solo tackle that constitutes as a loss for the offense, given the situation). In the secondary, the defense did an excellent job at bending without breaking, often times allowing easy/short completions but closing in to make a tackle. Keanu Neal and Desmond Trufant combined to allow eight of the 13 passes targeted their way to be completed, but for just a total of 76 yards, including just 13 yards after the catch.

Quarterback grade: Paxton Lynch, 38.3
Lynch struggles in first career start
It was a rough game all-around for the rookie QB, who finished the day with a 38.1 passing grade while also coughing up a couple of fumbles. Lynch especially had his struggles when he was put under pressure. On 17 pressured dropbacks, Lynch was able to manage just six pass attempts, and he completed three of them for 40 yards and an interception go with a 31.9 QB Rating. Lynch found most of his success today when he was throwing quick passes in the short-to-intermediate range. When Lynch got the ball out of his hands in 2.5 seconds or less he completed 16 of 20 passes with a 112.3 QB rating, but when he held onto the ball for 2.6 seconds or more he was just 7-of-14 with a 39.0 QB rating.

Top offensive grades:
OT Russell Okung, 72.0
TE John Phillips, 66.4
RB Devontae Booker, 60.0
WR Jordan Norwood, 54.4
G Darrion Weems, 53.8
The Denver offense falls flat in all facets
You really have to do some digging if you want to find a positive takeaway from the Broncos' offense on Sunday. Denver was absolutely worked at the line of scrimmage, where their offensive line failed to get a sustainable rushing attack going while allowing 14 total pressures between them in pass protection. Paxton Lynch was able to connect with WR Emmanuel Sanders (whose overall grade suffers from an offensive pass interference penalty coupled with a fumble) on a few plays – Sanders' catch along the sidelines to pick up a first down on Denver's opening drive sparked the offense momentarily – but that's really about it.
Top defensive grades:
OLB Von Miller, 89.7
CB Aqib Talib, 84.2
S T.J. Ward, 82.3
OLB Shaquil Barrett, 76.2
ED Shane Ray, 75.0
Von Miller is Denver's top-graded defender
The Broncos had their pass rush going against Atlanta, and they contained Julio Jones. That didn't spell a win for them today, however, as they struggled against the running back duo of Devonta Freeman and Tevin Coleman, particularly in the passing game. Linebackers Todd Davis and Brandon Marshall were exploited in coverage as they both gave up long receiving gains to Coleman, with one going for a touchdown. Miller had a great day, as he recorded three hurries and a sack. Perhaps more impressive was the ability he showed in run defense, as he graded a 92.0 in that area of the game. Cornerbacks Aqib Talib and Chris Harris Jr. combined to do well in shutting down Jones, as he caught just two passes for 29 yards on five targets.
PFF Game-Ball Winner: Falcons edge rusher Vic Beasley
PFF's player grading process includes multiple reviews, which may change the grade initially published in order to increase its accuracy. Learn more about how we grade and access grades for every player through each week of the NFL season by subscribing to Player Grades.