One is a 2018 first-round pick. The other, a 36-year-old journeyman. Perhaps the most intriguing quarterback battle of the 2019 offseason is between the most unlikely of players. Such distinct NFL journeys have led Josh Rosen and Ryan Fitzpatrick to a competition few would have expected them to be entrenched in. But here they are.
[Editor's Note: All of PFF's advanced stats and grades for every NFL player are made available in PFF's ELITE subscription. Subscribe today to gain access!]

The Arizona Cardinals gave up on Rosen after just one season at the helm, instead, putting their confidence in No. 1 overall pick Kyler Murray heading into 2019. For Fitzpatrick, it's his eighth team in 15 years, but his signature "FitzMagic" lives on. 
The Miami Dolphins have a decision to make — one that will ultimately shape the direction of their offense. Will it be the young signal-caller who graded out as second-worst quarterback in 2018 but has endless time to grow and mature as an NFL player? Or could new head coach Brian Flores opt for a veteran presence who had the best year of his career in 2018?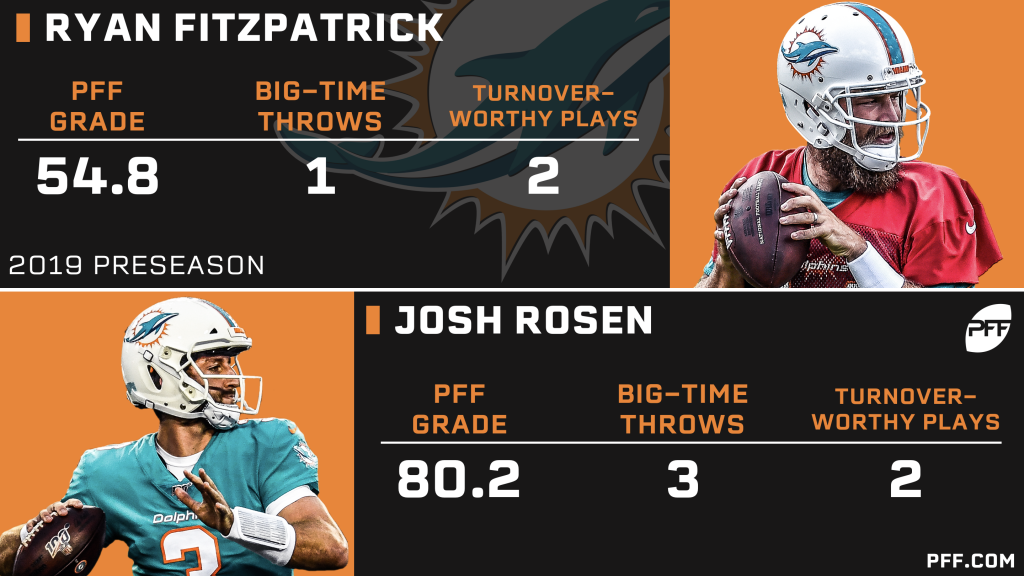 JOSH ROSEN
The preseason is meaningless by a number of standards, but it does serve as a strong tool to evaluate — even if it is first-stringers shredding third-teamers. There isn't a lot of NFL tape on Rosen that promotes his talents, but it would be unfair to characterize him as a bust after just one season. That's where the preseason can be helpful, at least for now.
Rosen has looked the part through three weeks, despite a stat line of no touchdowns and one interception that may imply otherwise. His 80.2 overall grade so far is good for 15th among the 72 quarterbacks who have dropped back at least 20 times this preseason.
In certain areas, he's looked more like the player the Cardinals expected him to miraculously be in just one year's time, rather than the one who struggled in his rookie campaign. On deep throws (20-plus yards downfield) this preseason, for instance, Rosen has an elite 94.6 grade — which ranks second among the 40 quarterbacks who have attempted four or more deep passes.
Rosen himself has completed 4-of-6 deep throws for 124 yards, an improvement from his 16-for-50 line during the 2018 regular season. He flashed his potential last year with the 15th-best adjusted completion percentage on deep throws, tossing four touchdowns in the process. 
The rookie quarterback growing pains are most evident when pressure exists, and Rosen was no exception in 2018. His 38.1 passer rating when facing heat from pass-rushers was the worst in the NFL and a clear facet in which improvement was necessary.
Early signs this preseason point to Rosen making a big leap there, as he's completed nine of his 15 pressured attempts — the fifth-best completion rate among signal-callers with at least 10 pressured attempts.
It's fine to remain cautious about gaudy preseason numbers, but Rosen's certainly stood out due to his improvement from the 2018 regular season.
RYAN FITZPATRICK
Through 2017, Ryan Fitzpatrick hadn't achieved an overall grade higher than 80.0 in 11 seasons where he played at least 200 snaps. In the same span, he had just two games where he earned a 90.0-plus grade. So when the opened the 2018 campaign for the Tampa Bay Buccaneers with two straight 90.0-plus performances en route to an 84.4 overall mark, he drew some deserved attention.
How could a then-35-year-old quarterback who had played for so many seasons be hitting his stride so late into his career? Does the answer really matter?
Fitzpatrick has played himself into a quarterback battle alongside Rosen, albeit one that Rosen appears to be winning. Still, Brian Flores hasn't decided on who he'll go with for Week 1 against the Baltimore Ravens, leaving the door open for Fitzpatrick.
If Fitzpatrick continues on his current trajectory, he undoubtedly belongs at the helm. Since 2017, he ranks 11th in overall grade (82.3) among the 38 quarterbacks who have 150-plus attempts. And he makes the most of his throws, too.
In that two-year span, Fitzpatrick has 20 Big-Time Throws on just 246 attempts. For comparison, Dak Prescott has 20 on 526 attempts, Matt Ryan has 22 on 609 attempts and Tom Brady has 26 on 596 attempts. There's no question: Fitzpatrick can sling it.
But for all of Fitzpatrick's recent success, he still tends to go through stretches of poor play. In his final two starts of 2018 — Weeks 10 and 11 — Fitzpatrick ranked 26th in overall grade and tied for the most turnover-worthy plays (6). It's hard to tell which version of the Harvard product you'll get on Sunday.
This preseason, he's had similar inconsistencies, completing just 2-of-5 and 3-of-9 attempts in his first two outings, respectively, before bettering his stat line with a 12-of-18 showing in Week 3. He has one big-time throw to two turnover-worthy plays this August.
ROSEN OR FITZPATRICK?
Simply put, all signs say Josh Rosen deserves his shot. The Dolphins can't ignore who he is: a top-10 draft pick who has hardly had a chance to prove himself. If things continue to go poorly, Fitzpatrick will always be there to step in, as he often has in his career.
Rosen is far from the proven quarterback that Fitzpatrick has demonstrated he can be at times.  The preseason, for what it's worth, doesn't give him any tangible edge, either. But Rosen has looked better this August than at any point in 2018, and his youth combined with a former first-round billing makes it likely he sees the field ahead of the veteran Fitzpatrick in 2019.