For years, the Green Bay Packers' wide receiving corps was a source of continuity. Over the past five seasons — since drafting Davante Adams — the Packers have had 14 instances of a wide receiver logging at least 650 offensive snaps in a season, 13 of those were either by Adams, Jordy Nelson, Randall Cobb or James Jones. Heading into 2019 though, the only member of that group of four who remains on the roster is Adams. So with plenty of snaps to be had, today we examine the players who will be competing for them throughout the offseason.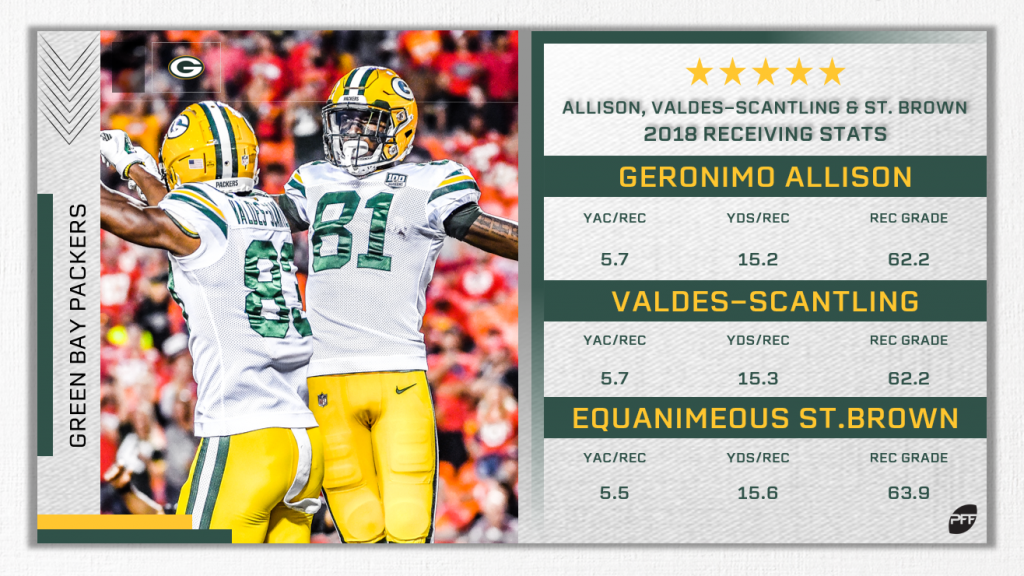 Clearly the number one receiver in Green Bay, Adams ranked ninth out of 116 receivers who logged at least 200 offensive snaps last season with an 87.5 receiving grade. Adams was the fourth-most targeted receiver in football last season with 172 targets, and he turned 64 of those into either a first down or touchdown (eighth-most among receivers). The sixth-year receiver ranked 13th among the group with an average of 2.11 yards per route run, and his quarterback had a 118.4 passer rating when targeting him last season which ranked 11th among qualified receivers.
Drafted in the fifth round of the 2018 NFL Draft, Valdes-Scantling ranked second among Green Bay's receivers in 2018 with 691 offensive snaps. The rookie pass-catcher endured his share of (typical) rookie struggles — he finished the season ranked 83rd out of 116 receivers who logged at least 200 receiving snaps with a 62.2 receiving grade — but there were plenty of positive takeaways from his first year as a pro. From Weeks 5 through 10, the lowest receiving grade he posted in a game was 64.9, surpassing the 70.0 threshold three times in that five-game stretch while hauling in 21-of-30 targets for 361 yards to go with two touchdowns, 12 additional first downs and no drops.
Valdes-Scantling split time fairly evenly last season between the slot (312 snaps) and out wide (374 snaps) but was a bit more productive out of the slot (65.1 receiving grade and 1.21 yards per route run, compared to a 59.2 receiving grade and 1.12 yards per route run when out wide). Early indications out of training camp are that the second-year pro is in line for a starting job out wide.
Per ESPN's Rob Demovsky, Allison is the early favorite to win the Packers' starting slot receiver job. Standing at 6'3", Allison fits the bill height-wise when it comes to the slot receiver in Matt LaFleur's offense (Mohamed Sanu, Cooper Kupp and Tajae Sharpe are all 6'2"), and despite spending just 13.1%  of his offensive snaps in the slot last season, in the first two seasons of his NFL career he lined up in the slot on 46.4% of his snaps. Since entering the league, Allison has earned a 70.4 receiving grade from the slot, which ranks 48th out of the 160 wide receivers who've lined up in the slot at least 100 times over that stretch.
Before hamstring and groin injuries derailed his season, Allison was a big factor in Green Bay's offense through their first four games, as he tied for second on the team up to that point with 27 targets. He and quarterback Aaron Rodgers certainly had something clicking between them, as Rodgers earned a 130.5 passer rating when targeting Allison a season ago.
St. Brown — a rookie in 2018 — ranked fourth among the team's receivers with 358 offensive snaps last season, spending 28.5% of those snaps lined up in the slot. St. Brown ranked 73rd out of 116 qualifying receivers with a 63.9 receiving grade, and he ranked 72nd among the same group with an average of 1.24 yards per route run. St. Brown's combination of size, speed and the big-play ability he demonstrated as a rookie make him a near lock to make the 53-man roster as of now — 12 of his 21 catches went for at least 15 yards last season, and he displayed good hands as well, not dropping a single pass all year.
A fifth-round pick back in 2016, when healthy, Davis' biggest roles so far for the Packers have come on special teams. He's been a buzz-worthy name in training camp though thus far, with Packers.com staff writer Wes Hodklewicz reporting that both Matt LaFleur and Aaron Rodgers have spoken highly of his performance during these early weeks of camp.
Davis was limited to just 31 special teams a year ago, not making it onto the field for a single offensive snap as he battled a hamstring injury. The largest workload he's seen as a receiver during his first three NFL seasons came back in 2017. He logged 103 offensive snaps that season, hauling in six catches on seven targets for a total of 70 yards, turning two of those catches into a first down.
During Davis' final season at UCLA, the speedy receiver — he ran a 4.42s 40-yard dash — ranked ninth out of 85 draft eligible Power-5 receivers by turning 28.6% of his targets into an explosive play (15+ yards). The fourth-year receiver is now reportedly back to full health and has a chance to carve out a niche for himself among the Packers' receiving corps in 2019.
Kumerow has also drawn rave reviews from his quarterback this season. Per USA Today's Zach Kruse, Rodgers spoke about the connection he's developed with Kumerow and the increasing trust he's gaining in the fifth-year receiver.
Kumerow signed on with the Cincinnati Bengals as an undrafted free agent back in 2015 but didn't get his first taste of regular season action until he made his debut in Week 13 this past season with the Packers. Between Weeks 13-17, Kumerow logged 138 offensive snaps for Green Bay, hauling in eight catches on ten targets for a total of 103 yards, a touchdown and three additional first downs.
As an undrafted rookie (originally signing with the Jacksonville Jaguars), Lazard found his way onto the Packers' active roster by the end of the season, seeing one offensive snap in Week 17 when he hauled in one target for seven yards.
Lazard ranked 12th out of the 86 qualifying draft-eligible Power-5 receivers during his final season at Iowa State with a 79.6 receiving grade, and his 18 contested catches led that group. The second-year pro didn't see any time on special teams last season, but he did get some experience during his final season in college both returning punts and as a blocker on the kick return unit.
Drafted ahead of both St. Brown and Valdes-Scantling by the Packers in the 2018 draft, Moore was very candid earlier this offseason when speaking to Mike Spofford of Packers.com as to how his struggles to adjust to the mental speed of the game cost him opportunities to see the field.
The fourth-round draft pick saw just 75 offensive snaps and finished the season with a 53.5 receiving grade, the lowest among Green Bay's receivers.
If Moore can overcome those struggles in Year 2, he showed the ability to produce during his final season at Missouri. In 2017 he ranked 13th out of 86 qualifying Power-5 receivers with a 79.5 receiving grade, he ranked 10th with 27 explosive plays, and his average of 2.71 yards per route run also ranked 10th.
Redding is yet to appear in an NFL regular season game after initially signing with the Detroit Lions as an undrafted free agent in 2018. Redding's 80.9 receiving grade ranked 10th among of 87 draft-eligible Group of Five receivers in his final season at Bowling Green.
Ento, an undrafted free agent out of the University of Colorado, ranked 68th among the 97 qualifying draft-eligible Power-5 wide receivers with a 59.4 receiving grade last year. Ento was on the field for just 145 offensive snaps last season, hauling in 12-of-30 targets for 161 yards and no touchdowns.
Shepherd, an undrafted free agent out of North Dakota State, earned a 90.6 receiving grade a season ago — first among the 29 FCS receivers we graded last season. Shepherd caught 64 balls on 95 targets for 1,098 yards and nine touchdowns. He also led those 29 receivers with an average of 4.01 yards per route run, and he was one of just two receivers in the group who averaged more than 2.70 yards per route run.