It's a tough life for quarterbacks and receivers in the NFC's Wild, Wild West. In a division that is home to cornerbacks like Patrick Peterson, Aqib Talib, Richard Sherman and more, signal-callers and pass-catchers in the NFC West have to be on top of their game at all times if they want to survive.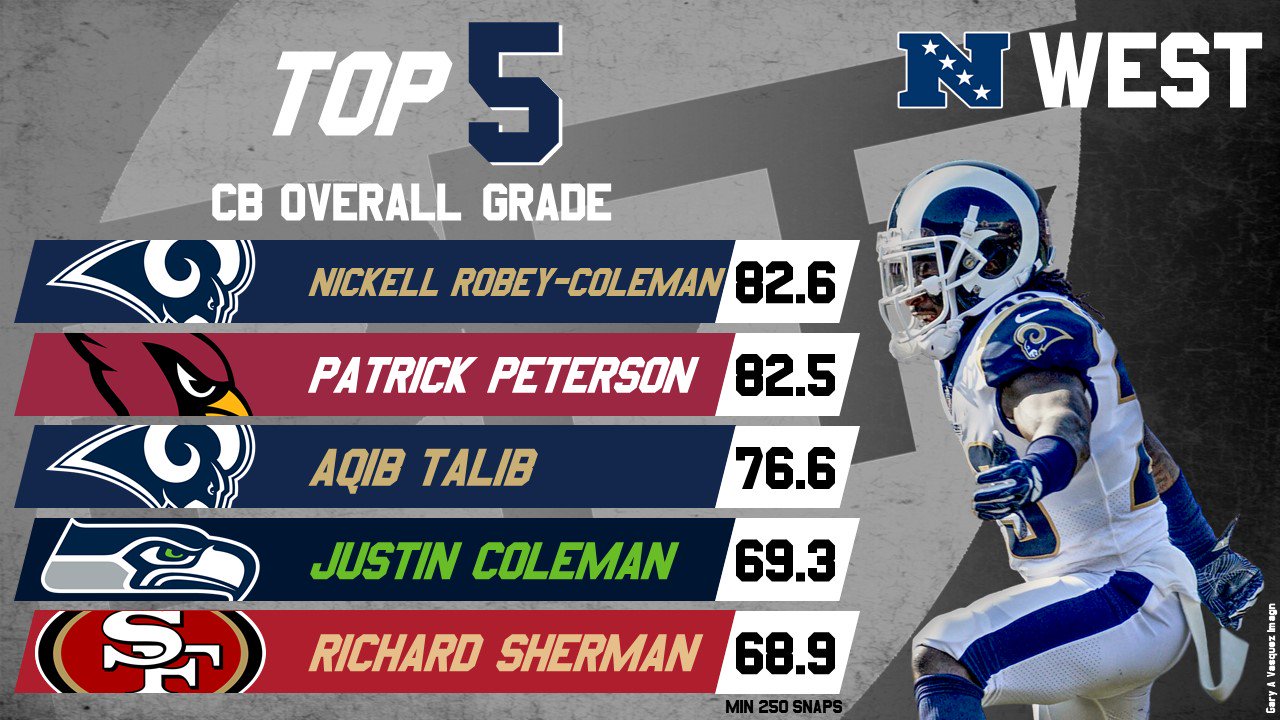 Of course, the super talented Rams have arguably the best set of cornerbacks in the division. Nickell Robey-Coleman's coverage grade of 81.3 led all Rams' cornerbacks a season ago, followed by Aqib Talib's mark of 76.9 and then Marcus Peters' grade of 58.1. As the Rams' nickel corner, Robey-Coleman allowed just 0.71 yards per cover snap in the slot, ranking third among 50 qualifying slot cornerbacks in the NFL. Aqib Talib, who has been a nightmare for quarterbacks for a long time, allowed a passer rating of just 81.8 last season, ranking 31st out of 131 qualifying cornerbacks.
Marcus Peters' tendency to be overly aggressive led to him having some awful games, which caused his overall grade to equal out to only 58.1 last season, but he did finish the second half of the season on a good note; from weeks 10 to 17, Peters' overall grade of 76.4 ranked 13th out of 115 qualifying corners.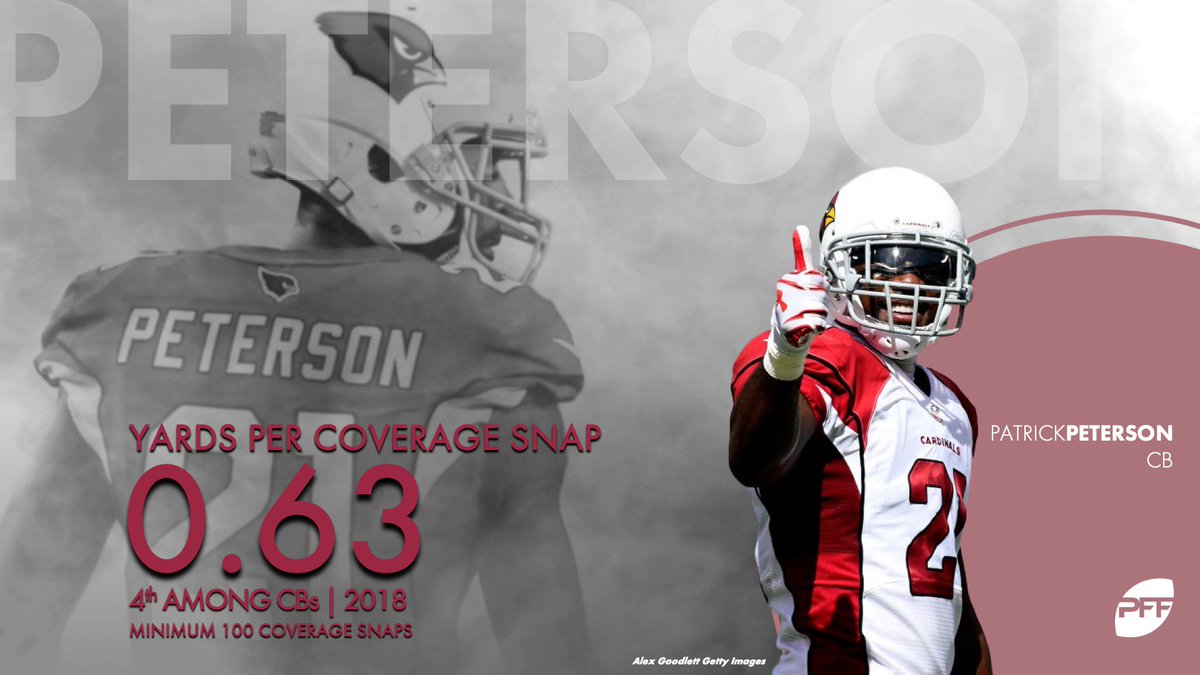 In Arizona, Patrick Peterson's greatness will always make life hard for opposing receivers. Peterson's coverage grade of 83.7 ranked seventh out of 131 cornerbacks last season, and his overall grade of 82.5 ranked 10th. As a testament to Peterson's stingy coverage, he allowed a reception just once every 19.2 coverage snaps, ranking fourth at the position. He was also one of the most avoided corners in the league, as he was targeted just once every 11.1 coverage snaps, making him the third-most avoided cornerback in the NFL last season. Entering his ninth season as a pro, Peterson is at the top of his game, and he should continue to wreak havoc on the division's receivers in 2019.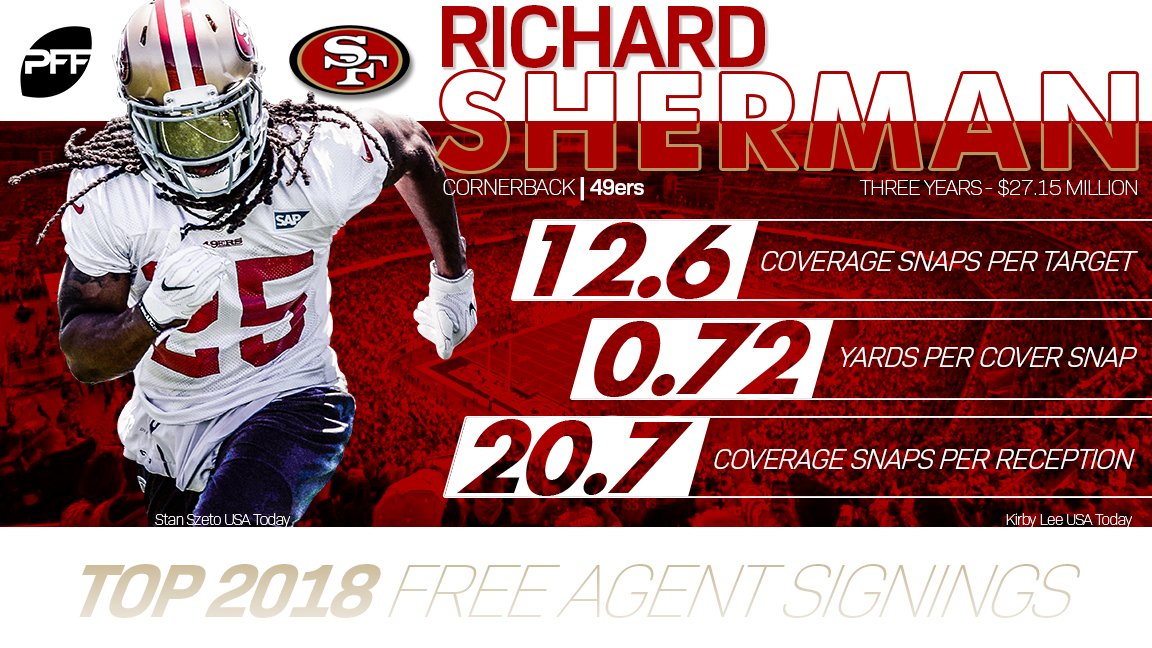 Richard Sherman is approaching his 31st birthday, but he still played at an above-average level in 2018. His overall grade of 68.9 ranked 50th out of 131 corners last season, and while he is a few years removed from being arguably the best cornerback in the league, the numbers still show that opposing offenses still fear him as he was targeted just once every 12.6 coverage snaps, making him the most avoided corner in the NFL last season. The former Legion of Boom corner allowed just 0.72 yards per cover snap in 2018, tying for seventh at the position.
In the Pacific Northwest, Justin Coleman led Seahawks' cornerbacks with a coverage grade of 77.8, which ranked 19th among all qualifying cornerbacks in the NFL last season. He allowed 0.94 yards per cover snap in the slot, ranking ninth out of 50 qualifying slot cornerbacks, and he also allowed a passer rating of just 82.5, tying for 13th. Shaquill Griffin, who had a solid rookie season in 2017, took a bit of a slip last season, as he went from a 65.3 overall grade in 2017 to a mark of 50.7 in 2018.
Going into the 2019 season, offenses in the NFC West have a lot of talented cornerbacks to worry about. Russell Wilson is more than capable of dealing with any secondary, and Jared Goff made a huge improvement last season, but Arizona and San Francisco's quarterbacks still have much to prove, especially if Arizona rolls with a rookie quarterback next season. One thing remains true – only the best gun-slingers will survive in the NFC West in 2019.