The 2018 NFL season was one of innovation on the offensive side of the ball. In Baltimore, the Ravens used the zone read more often than we have ever seen in the NFL with Lamar Jackson at the helm, while teams league-wide continued to implement RPOs after watching the Eagles use them en route to a Super Bowl victory just a season before.
Arguably the most significant change in NFL offenses last season came by way of the jet sweep. Teams like the Chargers and Patriots helped change the jet sweep from a gimmick that was used once in a blue moon to a play that took the league by storm last season, but the team that was at the forefront of the jet-sweep revolution was the Los Angeles Rams.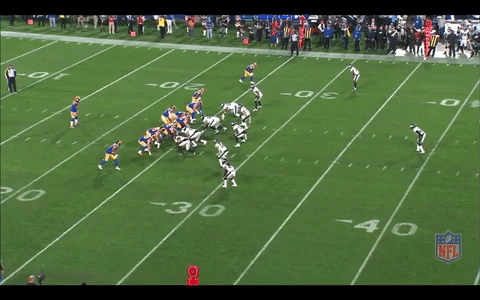 The jet sweep used to be something that you would see only on Saturdays, but the Rams, in particular, led the way in changing that. Under Sean McVay, the Rams took jet motion and made a whole scheme around it. If you tuned into a Rams game last season, chances are you saw Robert Woods or Brandin Cooks break free for a big gain off of a jet sweep at some point, or even a successful play-action pass that included jet motion as a decoy.
The jet sweep started to pick up some steam in the NFL in 2017, with teams like the Patriots and Rams using them here and there. In the entire NFL in 2017, teams ran 174 jet sweeps (including both handoffs and touch passes) and gained 882 total yards and nine touchdowns on such plays.
Fast forward to last season, and the total number of jet sweep attempts jumped up to 309, while the total yards gained on such plays jumped from just 882 in 2017 up to 1,883 in 2018. In addition, touchdowns scored on jet sweeps jumped from nine in 2017 to 16 last season. But not only did teams start to use jet sweeps more often in 2018, but they also became more productive when using it. In 2017, jet sweeps gained an average of 5.1 yards per attempt – in 2018, that number increased by a whole yard up to an average of 6.1 yards per attempt.
The NFC Champion Rams had a whopping 48 jet sweep attempts last season (including playoffs), or about 2.3 attempts per game. The next closest teams – Patriots and Chargers – had 24 jet sweep attempts each. The Rams gained 324 total yards on jet sweeps and averaged 6.8 yards per attempt, which was 0.7 yards more than the NFL average last season. The Patriots averaged 7.4 yards, which led all teams with at least 15 jet sweeps, while the Rams and Chiefs tied for the most touchdowns (3).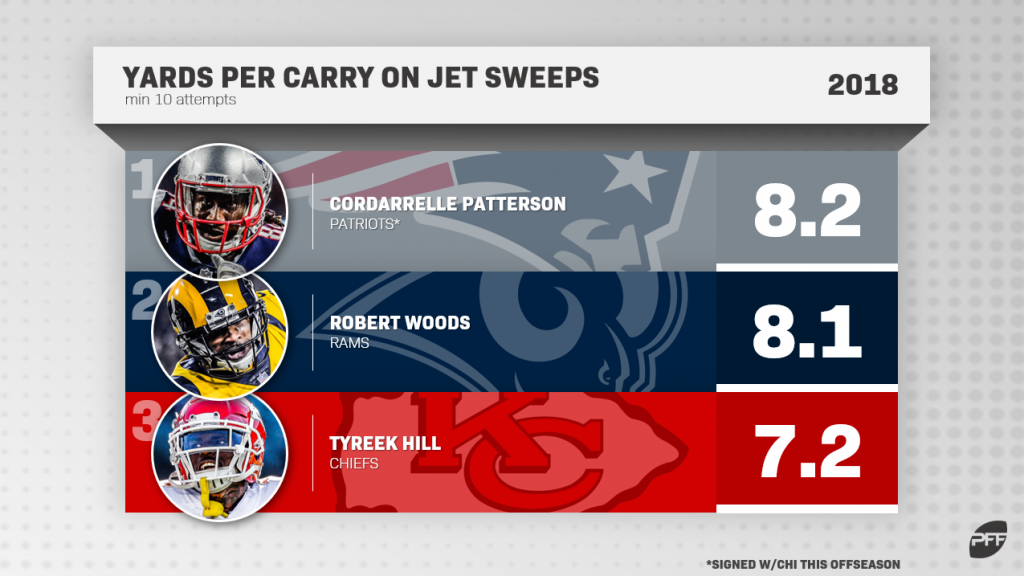 Five players had 10 or more jet sweep attempts last season: Robert Woods (16), Brandin Cooks (15), Cordarrelle Patterson (13), Tyler Lockett (11), and Tyreek Hill (10). Patterson gained 8.2 yards per attempt, ranking first among the group; he also ran for a first down or touchdown on 55% of his jet sweeps, tying for first with Cooks. Unsurprisingly, Tyreek Hill scored the most touchdowns on jet sweeps with a total of two, and he gained 72 yards on 10 attempts (7.2 average).
Other notable players who ran the jet sweep include Alvin Kamara, who had eight attempts for 56 yards and one touchdown, and Keenan Allen, who had six attempts for 70 yards. Sammy Watkins was productive on the jet sweep as well, totaling eight attempts for 60 yards.
Interestingly, among the 11 teams that had at least 10 jet sweep attempts last season, only two of them missed the playoffs (Vikings and Bills). Among the 12 playoff teams, only three of them (Cowboys, Texans, and Eagles) had less than 10 jet sweep attempts. All ten teams who had five or less jet sweep attempts missed the playoffs, including the Steelers, who were the only team without such an attempt last season. And of course, the team with the most jet sweep attempts lost the Super Bowl to the team tied for the second-most.
What that tells us about the modern day game, is that those who are more creative and willing to stay on top of trends in order to gain an edge are more likely to win. The Los Angeles Rams using the jet sweep twice more than anyone else and going all the way to the Super Bowl is just one example of that. With things like jet sweeps and RPOs taking over the pros, the lines are increasingly blurring between college football and the NFL, and the coaches who are embracing it are enjoying the wins that come with it.