Despite the NFL's overall turn to more passing-based offenses, the running back position is still very important in today's game. Having a talented back can help balance an offense out and take it to the next level. While there are plenty of great all-around running backs, there are some who are very talented at certain facets of the game.
Earlier this week we looked at the top offensive linemen from the 2016 based off our of PFF signature stat, pass-blocking efficiency. Today, the following list looks at some of those talented running backs, specifically the leaders in each of PFF's signature stats for running backs from the 2016 season.
(Sign up for PFF Elite to view all of PFF's signature stats.)
Elusive Rating (min. 100 carries, rec.): Ty Montgomery, Green Bay Packers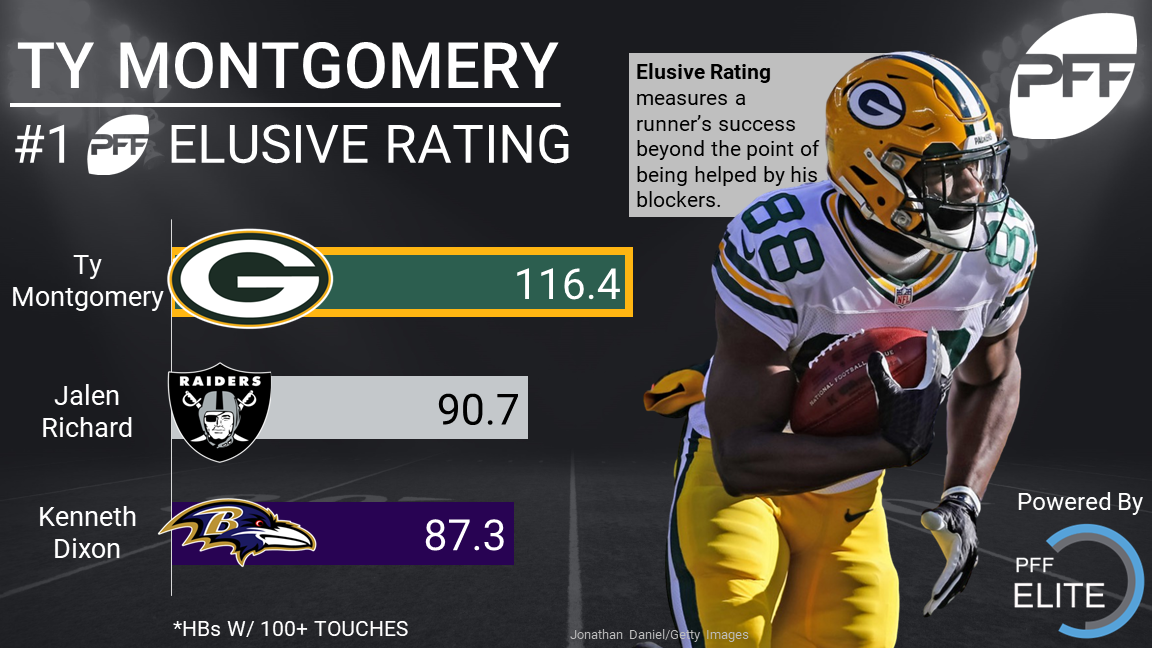 The Elusive Rating boils down to a runner's success beyond the point of being helped out by his blockers, and nobody did it better than Montgomery last season. Montgomery had a rating of 116.4, which ranked first by a wide margin thanks largely to 24 missed tackles forced on 106 total touches. Only three backs forced a missed tackle more frequently than Montgomery's one missed tackle per 4.42 touches rate.
What's more is that Montgomery led the entire league with a ridiculous 5.14 yards after contact per carry average. The disclaimer here is that Montgomery only carried the ball 72 times out of the backfield last season and that's a very high YAC/carry number to sustain for the long-term. But with Montgomery being locked in as the official starter at running back for the Packers this season, it's not crazy to think he could sustain a very high-level elusiveness for the entire 2017 season.
Breakaway Percentage (min. 100 carries): Isaiah Crowell, Cleveland Browns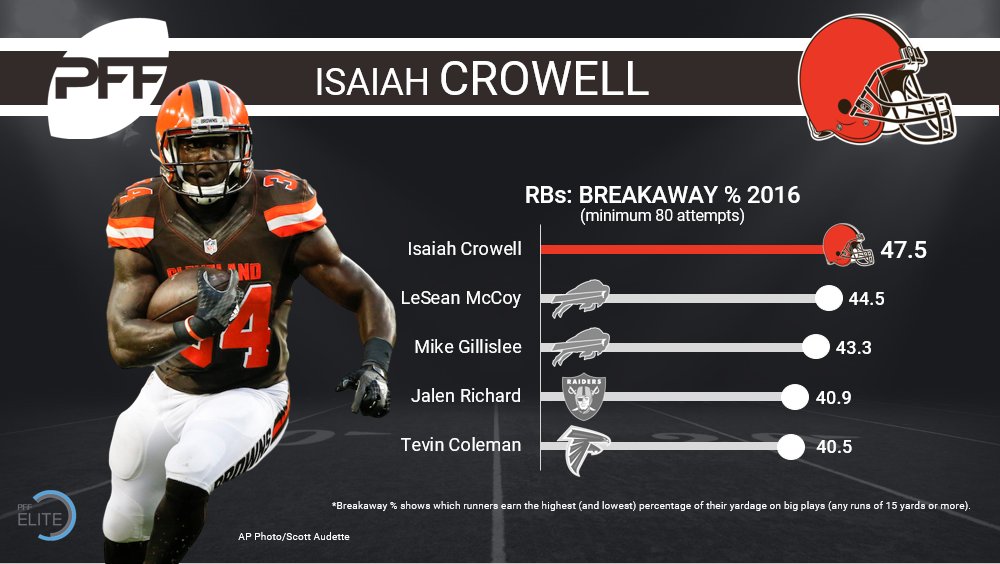 PFF's breakaway percentage tells us which running backs earned the highest percentage of their yards on runs that went for more than 15 yards. Crowell led the league there with 47.5 percent of his 952 total rushing yards coming on runs of 15-plus yards. He had a total of 16 breakaway runs last season, the fourth-most in the league and averaged over 28 yards per carry on those 16 runs (seventh in NFL). More impressively, of the 19 running backs that had more carries than Crowell last season, he had more breakaway runs than 14 of them.
Last season wasn't a complete outlier for Crowell either, as he ranked fourth and 10th in breakaway percentage in 2014 and 2015, respectively. There's no back in football right now that's more likely to burst through for a big play than Crowell. The Browns will certainly lean on him again this coming season and there's no reason to think he won't deliver, especially with Cleveland's offensive line strengthened dramatically over the offseason.
Yards per Pass Route Run (min. 20 receptions): Tevin Coleman, Atlanta Falcons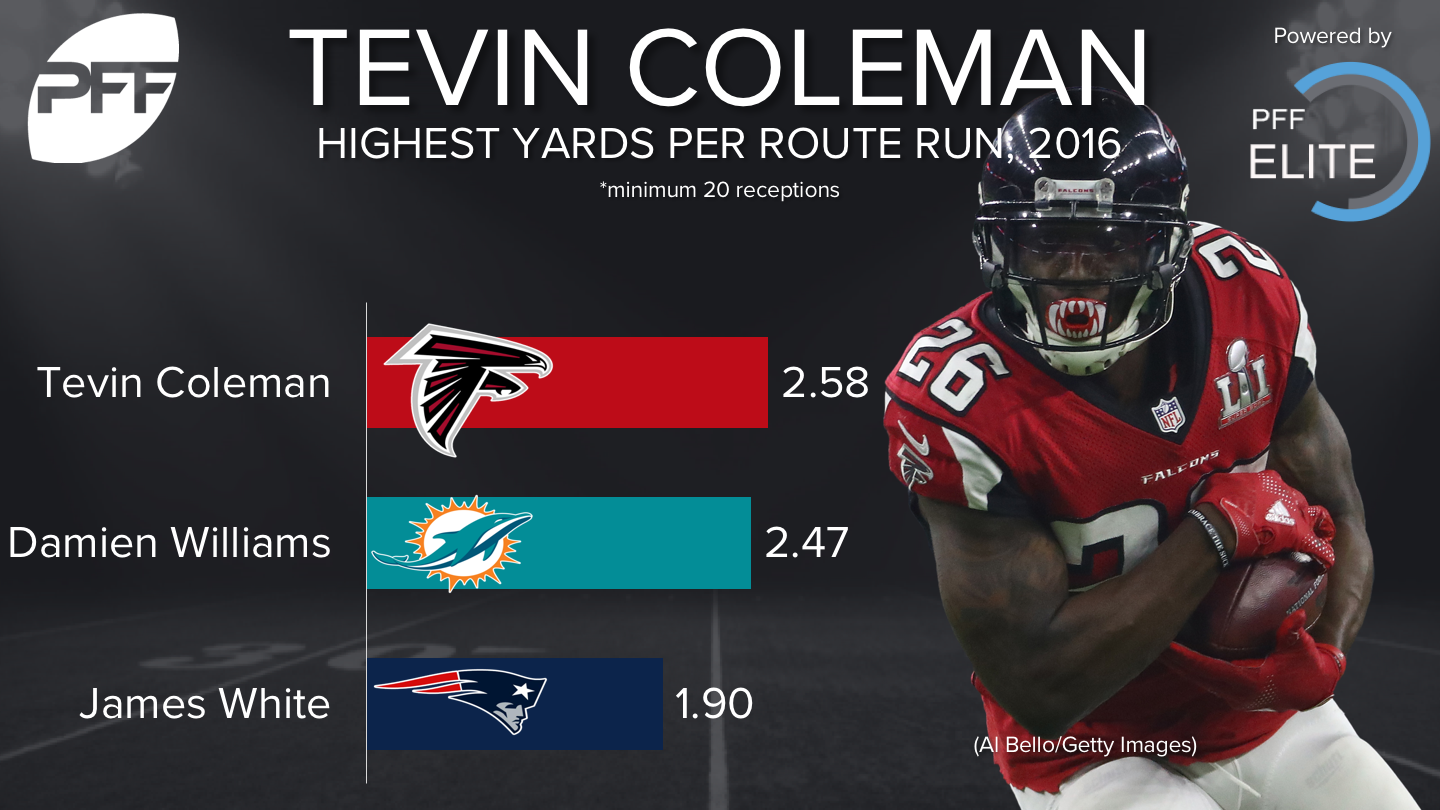 The yards per route run metric shows how many yards a player averaged per pass pattern run, which gives us a more useful number than a player who may gain 20 yards per catch but only gets thrown to once a game. While Devonta Freeman is the Falcons running back that most think of first, it was actually his partner-in-crime, Coleman, who did the most damage in the pass game.
Coleman averaged 2.58 yards per route run, which led the league among backs and ranked third even among wide receivers. Despite running the 36th most passing routes among running backs (166 routes) he had the seventh-most yards at 428 receiving yards. Much of that can be attributed to his league-high 12.3 yards after the catch per reception, which means he averaged a first down every single time he caught the ball. He was also one of just ten backs to average catching the ball at least one yard downfield. While Freeman may get the notoriety, Coleman deserves credit as one of the best receiving running backs in football.
Pass-Blocking Efficiency (min. 30 pass-blocking snaps): Mike Tolbert, Buffalo Bills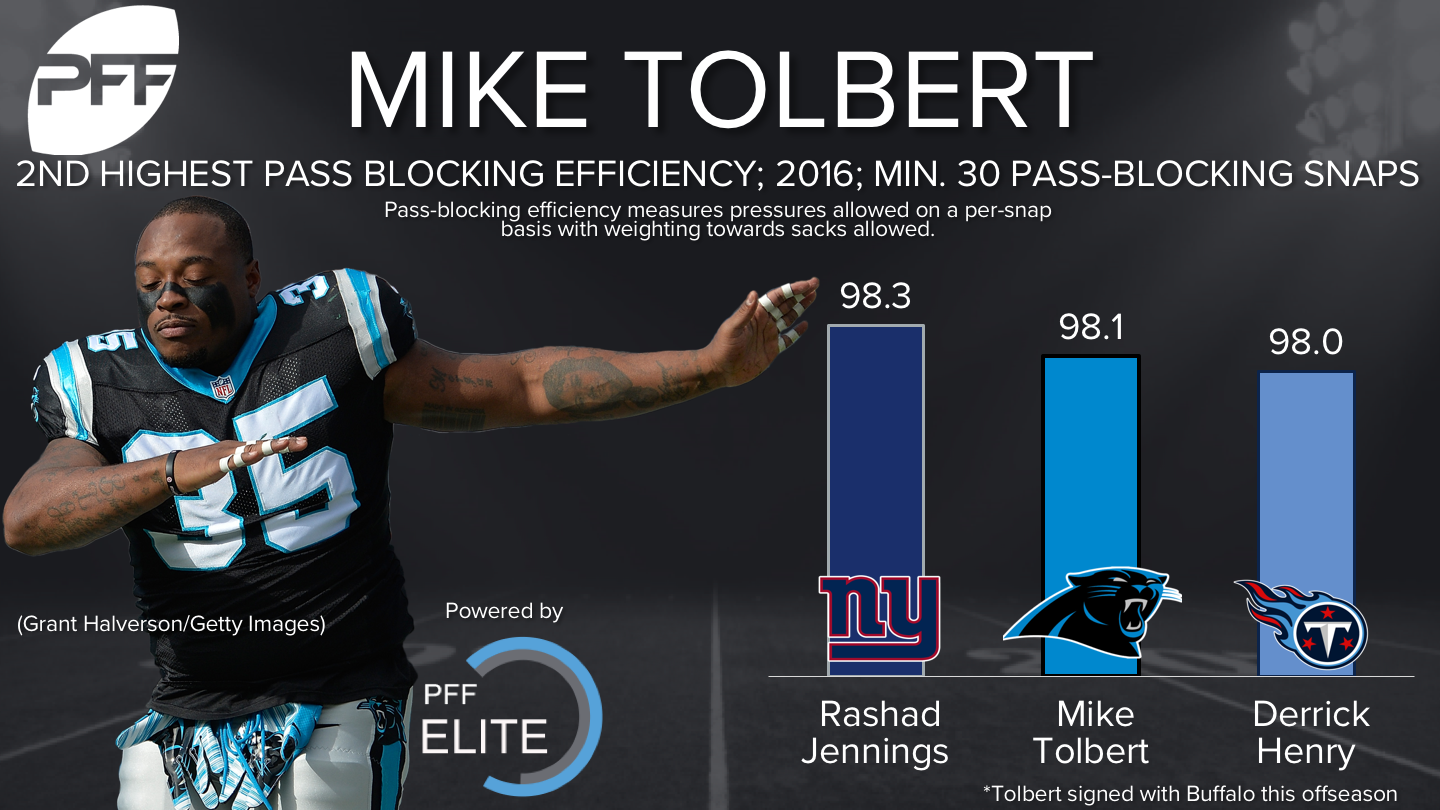 The pass-blocking efficiency metric measures pressures allowed on a per snap basis with more weight going towards sacks. While running backs are becoming more of a receiving threat in today's NFL, there's still a need for them to pass-protect. Almost nobody did it better than Tolbert did last season with the Carolina Panthers with his 98.1 pass blocking efficiency rating (Rashad Jennings had a 98.3, but he remains an unsigned free agent and may not play in the NFL next year).
Tolbert spent 39 snaps in a pass-blocking role, and allowed just one single quarterback hurry. Last year was Tolbert's first season since 2010 in which he didn't allow a sack all year. Tolbert's signing this offseason by the Bills filled a clear need, as starter LeSean McCoy was one of the worst pass-blocking running backs in the NFL last year. He allowed 13 total pressures for a pass-blocking efficiency of 88.6 (57th). Tolbert figures to take some of that pressure off of him and allow McCoy to focus on just being a playmaker.
Yards After Contact per Carry (min. 100 carries): Jay Ajayi, Miami Dolphins
While not a specific PFF signature stat, how many yards a running back averages after contact per carry is still a vital statistic in determining how good a running back is. Last season, Ajayi enjoyed an incredible breakout year that was due largely in part to his ability to gain yards after contact. Ajayi averaged 3.46 yards after contact per carry, which ranked first among running backs with 100 or more carries. His 58 missed tackles forced were the most in the league, and 11 more than second place.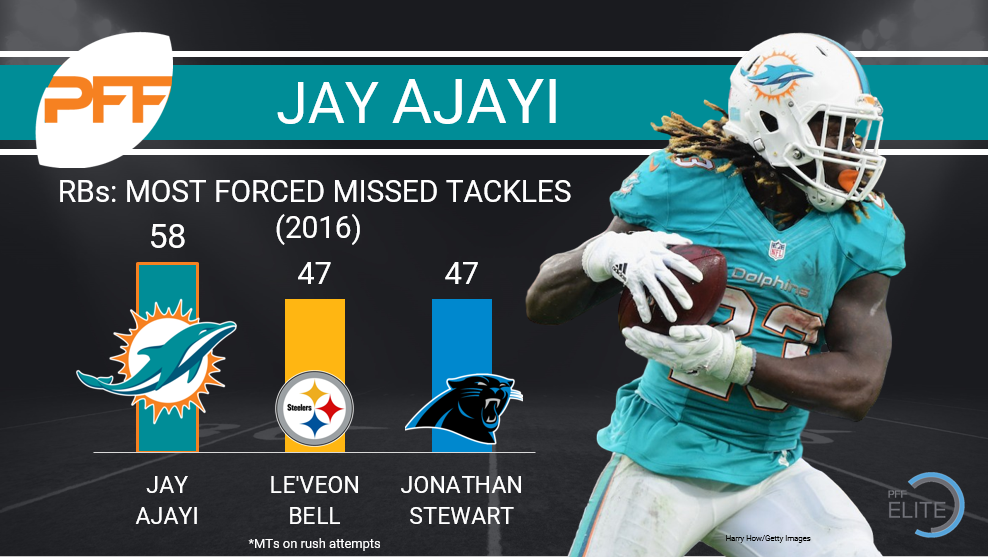 Ajayi's 1272 total yards ranked fourth in the NFL and his 900 yards after contact ranked second. He did all this despite carrying the ball just 18 times for 75 yards combined over the first four games of the year. He was also running behind one of the worst run-blocking offensive lines in the NFL. As the clear full-time starter from day one for the Dolphins, Ajayi could have an even better season in 2017.