Dee Ford's 2018 season will probably be remembered for one play late in the AFC Championship Game where he lined up a couple of inches offsides. Nevertheless, a couple of years down the road we might look back at Ford's fifth year in the NFL as the season where he put it all together and established himself as one of the top edge defenders in the league.
One year ago, the news of the San Francisco 49ers acquiring Dee Ford in a trade would have been an afterthought and described as a former first-round bust trying to revitalize his career in the Bay Area. However, the narrative around Ford has now changed, and it seems like he has a lot to offer to San Francisco's defense.
The first four seasons of Ford's career did not go as the former Auburn Tiger would have wanted. He was frequently slowed down by injuries as he played more than 600 snaps in just one of the four seasons. Furthermore, even when he was on the field, he failed to make a significant impact as he earned overall grades under 64.0 in every single season. Although he recorded a career-high 11 sacks in 2016, his pressure percentage, which is more predictive and more indicative of a player's performance, was actually lower than that of his 2015 season. In fact, his pressure percentage remained below 13.0% in all but one of his seasons as he had failed to justify the Chiefs' decision to select him in the first round of the 2014 NFL Draft.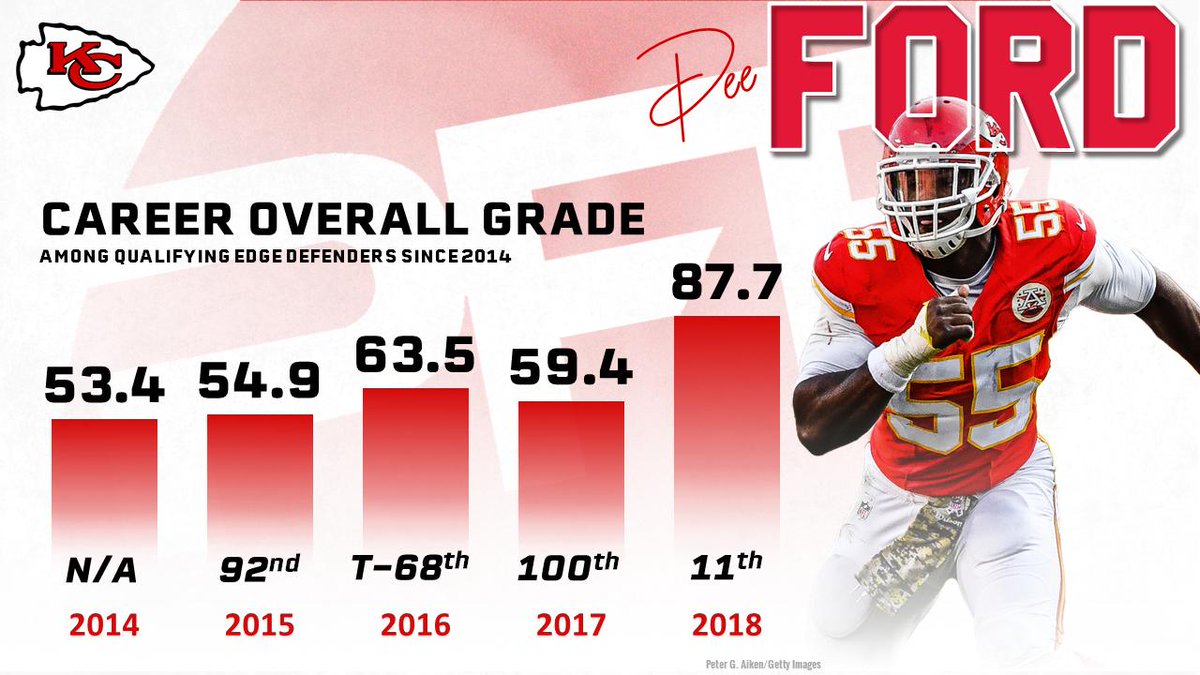 So what changed in 2018, when Ford led all edge defenders with 78 total pressures? Actually, while the total number is impressive, it is also slightly deceiving since Ford had more opportunity to rush the passer than most edge defenders, with opposing teams often trailing against the Chiefs and being forced to pass the ball.
Nevertheless, he also ranked sixth among edge defenders with a pressure rate of 15.1%. The most impressive part of Ford's season was that his pressures and sacks came from all places and in all forms. He had relatively the same success both from the right and the left side, and he had his fair share of plays beating offensive linemen to the outside as well as to the inside. He also had a knack for knocking out the ball and making big plays by not only bringing quarterbacks down but forcing fumbles as well.
While he made strides in his pass-rushing production, he also earned a career-high grade of 67.6 for his run-defense play. He recorded more tackles and run stops than ever before, and he also managed to produce these further upfield as his average depth of tackle at 1.85 yards was a career-best. Admittedly, this is still the area where there is the most room for improvement for Ford going forward.
What could this all mean for the 49ers defense in 2019 as they hope to have one of the best edge-rushing duos in the league with rookie Nick Bosa and Ford? First of all, there might be a transitioning period for Ford as he is asked to put his hands on the ground in San Francisco's defense, which he has done on fewer than 5% of his plays so far. Furthermore, the fact that Ford had just one better than average season in his five-year career can be a cause for concern. However, Ford showing the ability to win in numerous ways and from multiple alignments in the 2018 season is more than encouraging and could mean that the 49ers — with Bosa and Ford — are set at the edge defender position for the next couple of seasons.