What you talking about Willis?
That was what Detroit Lions wide receiver Golden Tate tweeted in response to a tweet from NFL Network's Ian Rapoport yesterday that said Tate's name was being discussed as a target prior to the trade deadline by the New England Patriots. It wasn't the Patriots, but rather the team that beat them in last year's Super Bowl, the Philadelphia Eagles, that ended up pushing their chips in and making a run at the 30-year-old playmaker out of Notre Dame. Tate indeed found himself at the center of a trade on Tuesday afternoon, as the Eagles sent the Lions a third-round pick for his services.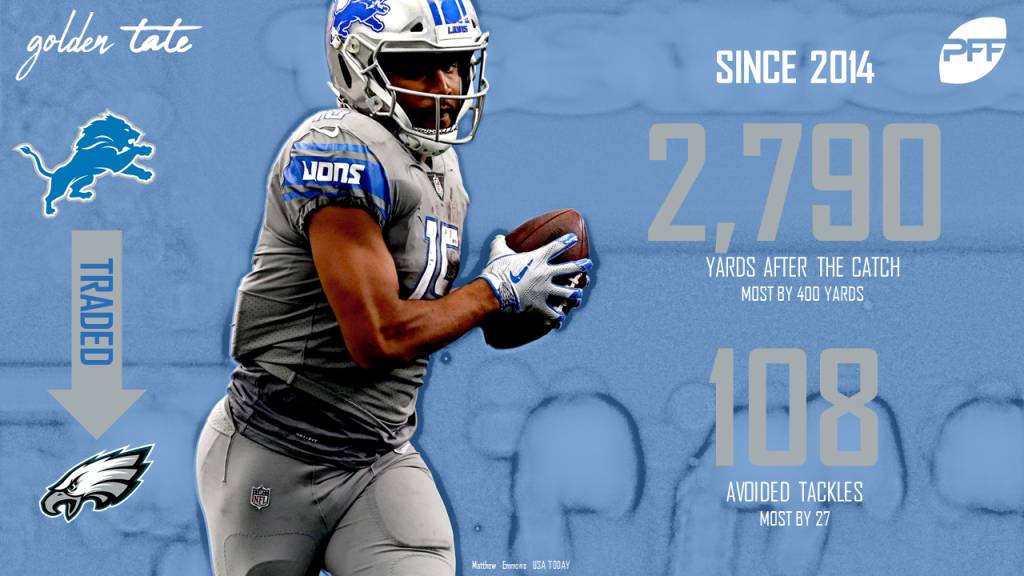 This isn't the first time Tate has changed teams, as he started his career with the Seattle Seahawks before his stint with the Lions. Since he arrived in Detroit in 2014, though, he has been one of the best wideouts in the NFL. Out of 106 wide receivers with 1,000 snaps played since 2014, Tate ranks tied for 21st in overall grade at 84.6.
His calling card has been his shiftiness in the open field and yards-after-catch ability. Since 2014, no wide receiver has more yards after the catch than Tate with 2,790 yards. It isn't particularly close either, as the next closest player is Antonio Brown with 400 fewer yards after the catch on 102 more receptions.
During that period, over half of Tate's yardage has come after the catch. 49 wide receivers have received at last 300 regular-season targets since 2014; Tate is one of only three, along with Randall Cobb and Jarvis Landry, who has more yards after the catch than yards before the catch. His ability to create extra yardage in the open field is second to none.
Part of what makes Tate so special after the catch is his ability to make potential tacklers miss. Who is the leader in avoided tackles by wide receivers since 2014? No surprises – it's Golden Tate by a healthy margin. Tate has made 108 potential tacklers miss in the last four-plus seasons. Not only is that the most by any wide receiver, but it is over 25 more than the next closest player.
Tate may be in his ninth season, but he's showing no signs of slowing down, particularly in the areas he has excelled throughout his career. In 2018, he ranks second among receivers in avoided tackles with 13 behind only Odell Beckham Jr. To go along with that, Tate's 6.4 yards after the catch per reception rank ninth out of 67 wide receivers with 30 or more targets. He is still very good at what he does best – making defenders miss and making them pay for missing. The rich get richer for the Eagles, who already rank in the top half of the league in yards after catch per reception and missed tackles forced per reception by their wide receivers.
Tate enters a wide receiver group led by Alshon Jeffery and Nelson Agholor. There will be some shifting required, as Agholor and Tate have both played over 60 percent of their receiving snaps inside at a slot position. Additionally, tight end Zach Ertz has run over 50 percent of his routes from the slot. Both Tate and Agholor have shown themselves to be capable on the outside, though, and both have actually graded better as outside receivers this season.
Regardless, the trade for Tate gives the Eagles a proven offensive weapon that makes life easier on their franchise quarterback, Carson Wentz. Tate's ability to turn short passes into big gains will be welcomed in the City of Brotherly Love.