Due $137 million over the next five years, quarterback Jimmy Garappolo has been handed the keys to the car that is the San Francisco 49ers' franchise for at least the foreseeable future. And, as such, general manager John Lynch & Co. prioritized Garappolo and his offense early in the draft.
Our top-ranked offensive tackle in the class, Notre Dame's Mike McGlinchey adds instant value as a Week 1 starter at right tackle as he earned a career-high 90.6 overall grade in 2017, and was fifth in the class in run-block success percentage at 94.9.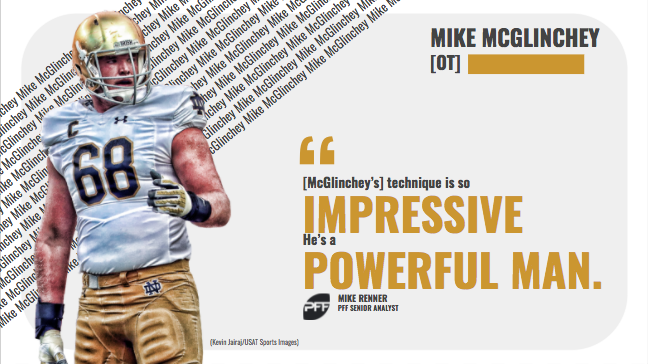 Former Washington wide receiver Dante Pettis, San Francisco's second-round pick and our 100th-ranked overall player, is a skilled route-runner with reliable hands that can develop into quite the security blanket for Garappolo. He dropped just seven of his 169 catchable targets in his Huskies career and adds even more value with his special teams prowess as a returner.
In addition to Pettis, San Francisco added another receiver in Middle Tennessee State's Richie James, a smaller pass-catcher with slot receiver potential, in the seventh round. James earned 89.6-plus overall grades in each of his first two collegiate seasons, but he earned just 70.4 overall grade in his injury-plagued 2017 campaign.
Defensively, Lynch made key additions at off-ball linebacker and safety with his two third-round picks, selecting former BYU linebacker Fred Warner and Southern Mississippi's Tarvarius Moore.
The 6-foot-3, 236-pound Warner adds great size and versatility to the 49ers' defense. He held his own covering slot receivers on 41.7 percent of his defensive snaps a season ago, and his run defense followed suit. He also earned 81.2-plus overall grades in each of the past three seasons.
Our third-ranked safety, Moore earned a career-high 87.0 overall grade in 2017, performing well in both man and zone coverage in the process.
Of the four defenders Lynch added on Day 3, former Kansas State cornerback D.J. Reed stands out as potential contributor in Year 1. The 5-foot-9, 188-pound Reed's game should translate well over to the NFL as he earned 86.1-plus overall grades in each of the past two seasons, capping his Kansas State career off with an 89.5 overall grade and a 55.5 passer rating when targeted.
For more on the 49ers draft as well, check out PFF Data Scientist George Chahrouri's take from earlier this offseason.
Subscribe to our PFF YouTube channel for more content including other draft recaps for all 32 teams and much, much more.