This week, we've debuted our 2018 NFL Draft Quotable series and taken a look at both the NFC and AFC East and the AFC South, a series derived from watching hours of post-draft press conferences that alluded to bits of insight the coaches and executives unwittingly let slip about their drafted players.
With that, here are some of the most insightful quotes on the offensive skill position players drafted during the 2018 NFL Draft from the NFC South with the added context of PFF's data.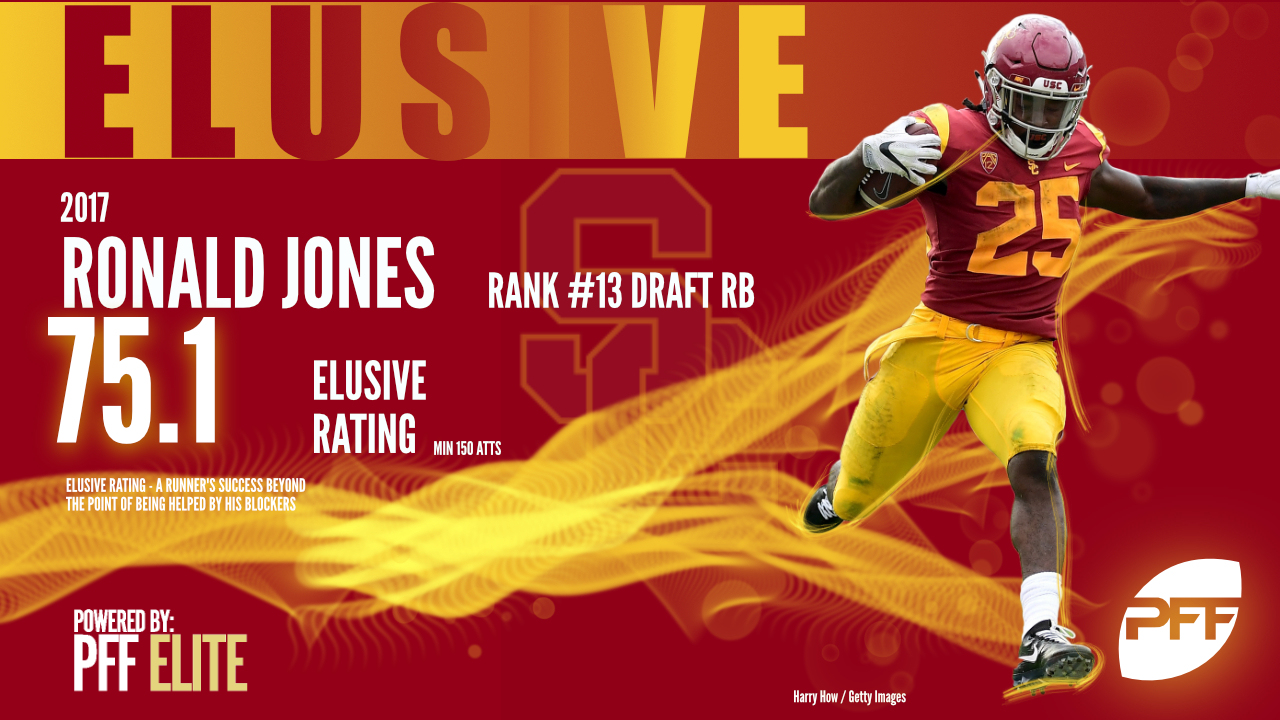 General manager Jason Licht: "Ronald's a guy that's a real explosive runner … He makes a lot of plays with his speed, burst and quickness. He's just a violent runner."
Licht: (Do you see him as a guy who can be kind of a feature back and carry 20-25 times a game?) "Yeah, well, fortunately, we have Peyton (Barber) too. This has nothing to do with Peyton. He can be a good compliment to begin with and we'll see where it goes."
Head coach Dirk Koetter: "He's gonna bring something to our group … They didn't throw him the ball much. I think that's a part of his game he's going to need to improve on. But I think with maybe 1-2 exceptions that was across the board in this draft class."
PFF's Take:
Jones saw only 40 targets in his college career, but it's hard to argue with his production as a runner. He had the highest rushing grade in college football this past year.

General manager Thomas Dimitroff: "We were in the market for a guy who could really fly … He's a versatile receiver who can play inside and out."
Head coach Dan Quinn: "His ability to create separation from the defender was really powerful, quick, explosive and shows you the things that jumped out on the tape so clearly … That's nice as a coach because you have a clear understanding of how to feature a player in the system."
PFF's Take:
We called Ridley an 'explosive route-runner' in the draft guide and he was the top wide receiver prospect on our board.

General manager Marty Hurney: "He's got speed, good play strength, excellent RAC. He's a weapon. We wanted to add speed, athleticism, and we wanted to add weapons … We really didn't think he was going to get to us, but we were glad he did."
Head coach Ron Rivera: "Has the ability to play all three of our wide receiver positions. Has an opportunity to come in and contribute right away. We traditionally have found ways to play our No. 1 picks. He will get every opportunity … Value as a special teamer. Strong returner."

Hurney: "He can play all three wide receiver positions."
Rivera: (When asked if he'll get his first shot at playing time in the slot) "Not necessarily. We can see him in the 'Z' most certainly and do most certainly see him in the slot as the 'F' … His position flexibility is going to really add to what we want to do. And really be a big part of it."
PFF's Take:
While Moore's skillset seems tailor made for the slot, he only lined up there on 119 snaps last year at Maryland. His ability after the catch though is backed up by the data as his 20 broken tackles were the fifth-most in the FBS.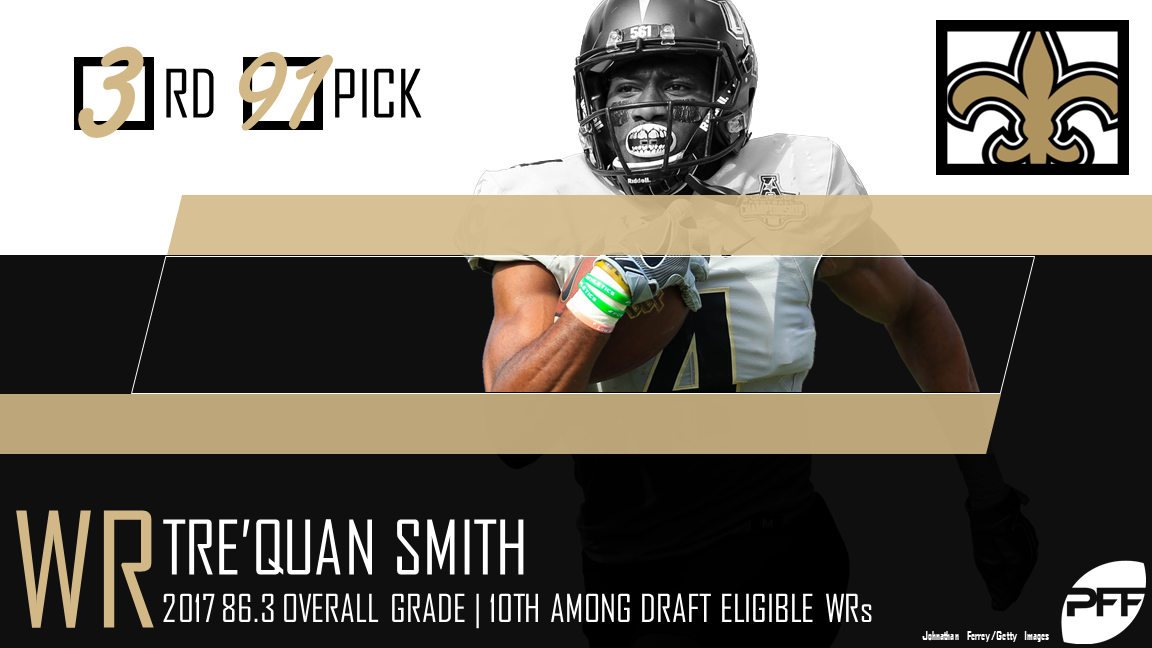 General manager Mickey Loomis: "He's got good size. Decent speed. He's really a smart player. He's really tough, really productive. Good run after the catch guy. He's going to fit in well with our group. He's a good blocker, that's something that's important to us."
Loomis: "This is a player we had graded the highest … We weren't concerned about [need]. This was a player that we liked a lot, and we're glad to have him … We're going to find out where we play him … He's a smart player who can fill a lot of roles for us … He's got a pretty large skillset."
PFF's Take:
Smith's 649 deep receiving yards were the third-most in the country last year while his nine deep touchdowns were the most.