Last week, we debuted our 2018 NFL Draft Quotable series and have taken a look at both the NFC and AFC East, the AFC and NFC South and the AFC and NFC North, a series derived from watching hours of post-draft press conferences that alluded to bits of insight the coaches and executives unwittingly let slip about their drafted players.
Today we have the AFC West: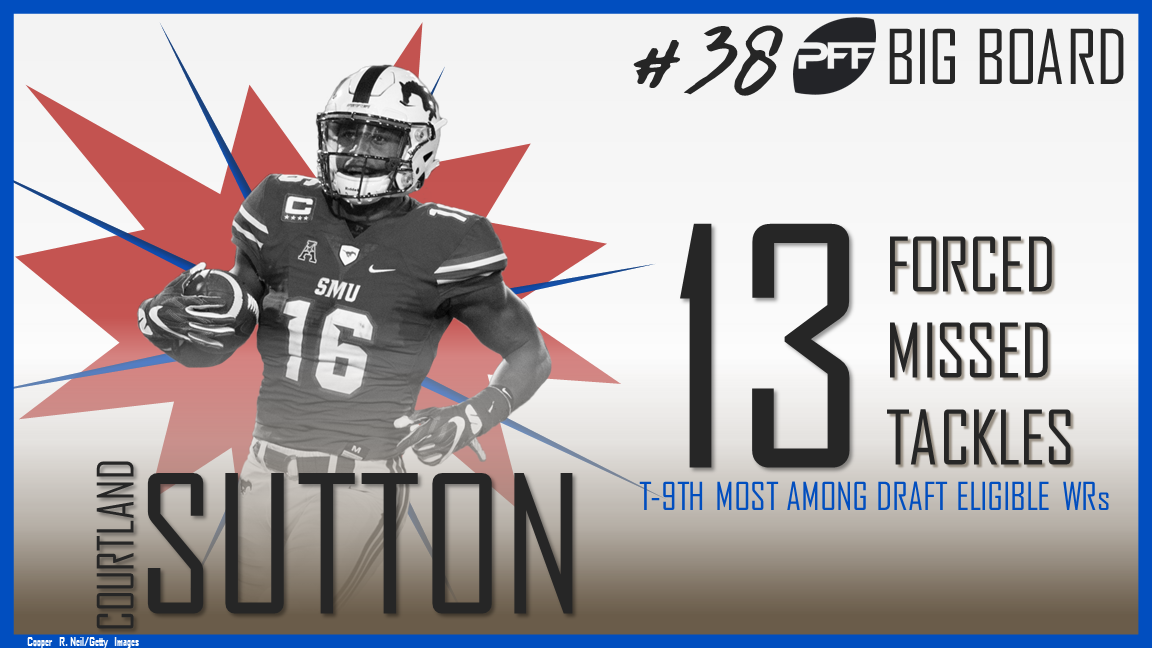 General manager John Elway: "He's big and fast. Really raw. Really feel he has a tremendous ceiling and upside … But he's also going to be able to help us right away … Top receiver we had still available … We're excited he was still there. Third wide receiver was important to us, and a guy that you can develop and eventually, maybe, become a No. 1."
Head coach Vance Joseph: "Getting our WR coach to sharpen his route running ability is going to be big for him … As far as where he's going to play, I mean, the third receiver is like a third corner. Everyone's in sub, everyone's in three-wide, so it's like being a starter … I mean he can play X, he can play in the slot. But I mean his skillset is special, he can play in all three spots."
Joseph: "You know, 6-foot-4 frame, that's key in the red zone. But his skillset translates to being the No. 1 guy, he's got No. 1 traits as a receiver. Obviously, he'll come in and compete for the third spot, but John [Elway] said it, in the future he can be our No. 1 guy."
PFF's Take:
Sutton was PFF's fourth-ranked receiver in the draft, and his red-zone ability is evident. 12 of his 68 catches last season resulted in touchdowns, the ninth-most in the country.

The Los Angeles Chargers selected defense with their first four picks of the 2018 NFL Draft and did not select their first offensive skill player until they grabbed former Texas Tech WR Dylan Cantrell in the sixth round.
PFF's Take: 
Cantrell is a big-body receiver who shined in the Texas Tech Air Raid offense as a high-volume receiver. Despite his size at 6-foot-3, Cantrell displayed an ability to force defenders miss, racking up 21 missed tackles after the catch on his 149 career receptions.

With each of their six picks in the 2018 NFL Draft, the Kansas City Chiefs took defensive players. Obviously, nothing has been learned about drafted offensive skill players in KC.

With their final selection of the 2018 NFL Draft, the Oakland Raiders took their first offensive skill player, wide receiver Marcell Ateman from Oklahoma State.
PFF's Take:
Ateman was an incredibly solid receiver for Mason Rudolph and the Cowboys' offense during his final season in Stillwater. He recorded the nation's 17th-best and draft class' fourth-highest passer rating when targeted at 134.7, hauling in 60 of his 90 targets for 1,160 yards and eight touchdowns. Ateman's big frame may fill the void of recent departures in the Raiders receiving room, while he also has the time to learn from veteran Jordy Nelson and Amari Cooper in the Bay Are.
And for the NFC West:

General manager John Lynch: "We moved up to get a dynamic player, tremendous flexibility. He's a finisher. He scored touchdowns."
Head coach Kyle Shanahan: "It starts with the tape. He's extremely talented. A very good route runner. He can separate. Has extremely good hands. Very quick. Fast enough to run all the routes … Smart, hard-working."
Shanahan: "He fills a lot of spots for us. We're happy with our group. We can use them all differently. We think Pettis does a little bit of everything. I think we can use him similar to how we use Marquise [Goodwin] if need be. I think we can use him inside similar to how we use Trent [Taylor] if need be. I think he's got the hands and toughness, we can use him similar to Pierre Garcon. And he's a good punt returner."
Shanahan: "One of the best receivers versus bump and run. I think that's one of the things he did better than anyone in the draft."
Lynch: "He can play all four downs … We came into the draft really saying if we can come away with him we'd be doing very well."
PFF's Take:
Pettis certainly was one of the more sure-handed receivers in the draft with only seven drops on 169 catchable passes in his career. As far as his return ability, Pettis was the highest graded punt returner in the country this past season and took four of his 22 returns to the house.

General manager Steve Keim: "One of the most mechanically-sound quarterbacks to come out in some time."
Head coach Steve Wilks: "He's the best passer in the draft this year."
Wilks: "The best 11 guys are going to go out and play… We got Sam to be our starting quarterback, and I will stay that is the case. When [Bradford]'s heathy he's one of the best we've seen around… Every position is open to competition."
PFF's Take:
Rosen posted three straight seasons of 84+ grades at UCLA and was the third ranked QB on PFF's draft board. Bradford has graded above 83 his last two full seasons.
Notes: Oddly, both Wilks and Keim spent little time praising Kirk's talents as a receiver, choosing instead to harp on his off-the-field intangibles (personality, intelligence) and value in the return game.
PFF's Take:
Kirk had seven career return touchdowns at Texas A&M and peaked as the 37th–highest graded returner in 2016.

As the first, and only, offensive skill position player they drafted, former Tennessee RB John Kelly enters the talented running back room with the Los Angeles Rams. Kelly was selected in the sixth round after an up and down career with the Volunteers.
PFF's Take:
Kelly adds immediate value as a pass-catcher out of the backfield as he forced 14 missed tackles on his 37 receptions in 2017. Those 14 missed tackles after catches were fifth-most in the nation.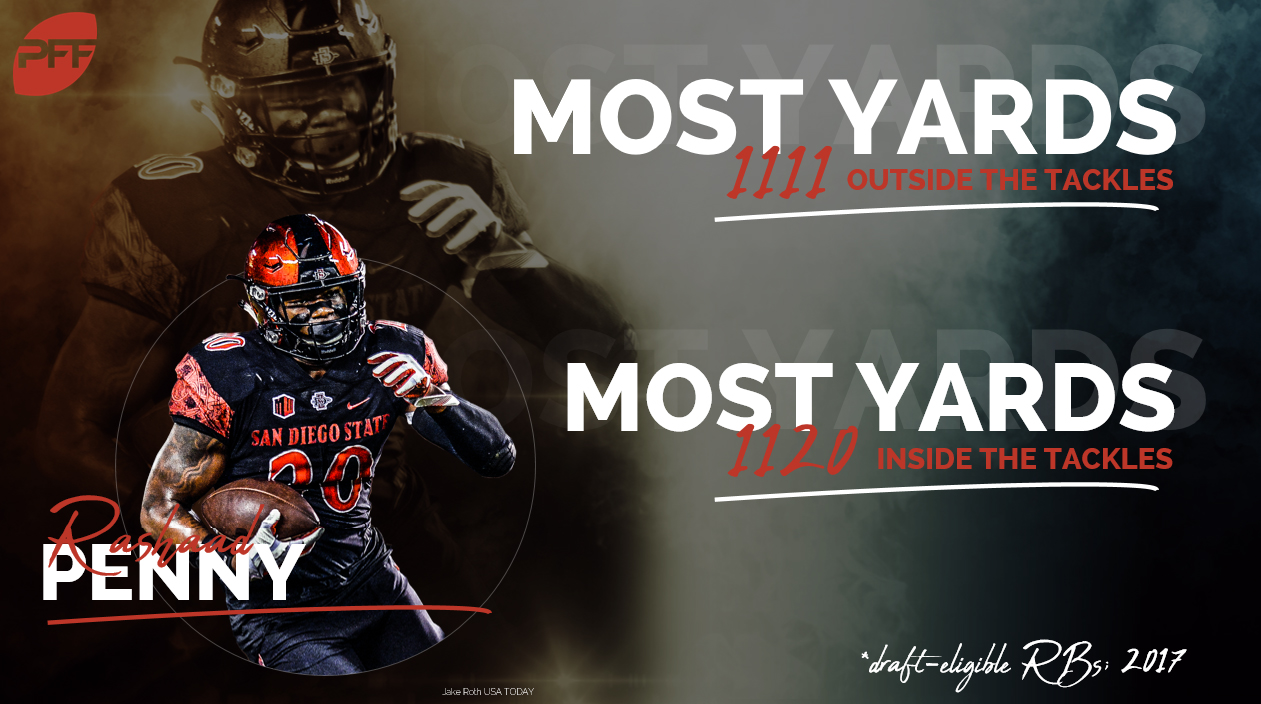 Head coach Pete Carroll: "I am jacked about this pick."
General manager John Schneider: "We're not just going to hand him the job, he's gotta come in here and battle, which he's willing to do."
Carroll: "He also (can be) a three-down back for us. He can do everything. He needs to work on his pass protection, which he was not asked to do a lot of. But he will give us the ability to play him on all downs. And that versatility is really special too."
Carroll: "He has run a lot of the stuff that we want to run with him … No limitation."
Schneider: "He knows there's a lot of work he needs to do in pass protection … It is going to be a nice fit. And we're really excited about having a three-down guy."
Schneider: "Well we would have taken him (pick) 18 … We had a team call us and try to acquire him after we selected him. I've never had that before."
PFF's Take:
Penny does figure to be one of the most pro-ready running backs coming from a pro-style run scheme at San Diego State that used a full back to lead block on over 300 carries this past year. His pass protection is definitely a work in progress though as he allowed nine pressures on 66 pass-blocking snaps last year.