It's time to introduce you to the league's top cornerback tandem: Jalen Ramsey and A.J. Bouye of the Jacksonville Jaguars.
Expectations were already high for the duo based on the investment made into each of them, Ramsey being the fifth overall pick in the 2016 draft and Bouye signing a five-year $67.5M dollar contract. 10 weeks into the 2017 NFL season, and these two have not only met expectations they have surpassed them. Using our PFF Grades along with PFF Elite signature stats and various other data points, all signs point to these two being the best duo at their position.
Overview
From a size-speed combo, these two are the prototype when it comes to what the NFL is looking for in a cornerback. Ramsey stands at 6-foot-2, 208-pounds, while Bouye 6-foot-1 and 195-pounds with both possessing elite athletic profiles. Ramsey and Bouye both have physicality at the line of scrimmage, incredible ball skills, the explosion to break on underneath routes in zone coverage, and have learned to use their body and athleticism to mirror any wide receiver routes.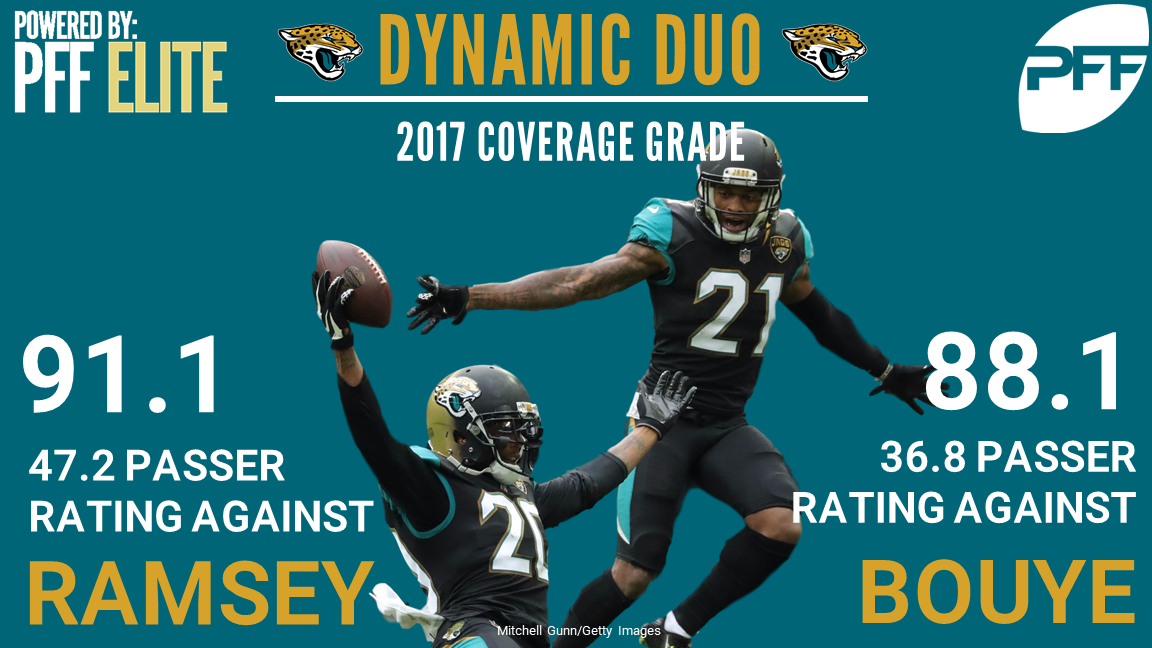 Taking a dive into our grades its easy to see how we view the tandem on a per snap basis this season. Ramsey has earned the fourth-highest cornerback grade at 90.7 overall and Bouye the seventh at 88.7. Going to the next level of the data the two sit near the top in almost every cornerback data point.
Catch rate allowed – Bouye ranks second in the NFL with a catch rate allowed of just 41.7 percent while Ramsey ranks 10th at 48.1 percent. This is very impressive at face value alone but even more considering the Jaguars play 42 percent of pass plays in cover-3. Cover-3 can typically lend to higher completion percentages against the defense with the back seven trying to keep everything in front of them.
Passer rating against – Spiking the ball into the ground on every play yields a passer rating of 39.6 and targeting A.J. Bouye this year yields a lower number, as he is giving up the second-lowest rating against of just 36.8 into his coverage. Ramsey's numbers are comparable as he ranks sixth in the category, allowing a passer rating into his coverage of just 47.2. Both players excel at getting their hands on the ball, evidenced by their combined 14 pass breakups and five interceptions with both guys producing a playmaker index over 18.0 percent. Neither player has allowed a single touchdown this season.

Shadowing
The ideal situation for any defense is possessing a cornerback that can go one-on-one with the opposing teams No. 1 receiver, but how about having two? Last year as a rookie, Ramsey did that the fourth-most of any cornerback, shadowing No. 1 WRs on 271 snaps. This year, he is on pace to rank even higher as he currently sits third, shadowing on 150 pass plays so far. The difference this year, is the Jaguars now have Bouye. When Ramsey isn't lining up with the other team's top guy, there is a pretty good chance it's Bouye, who also ranks in the top-20, shadowing on 97 coverage snaps. Considering how often these two are asked to go against the best of the best, the numbers these two have put up is even more impressive.
Third Downs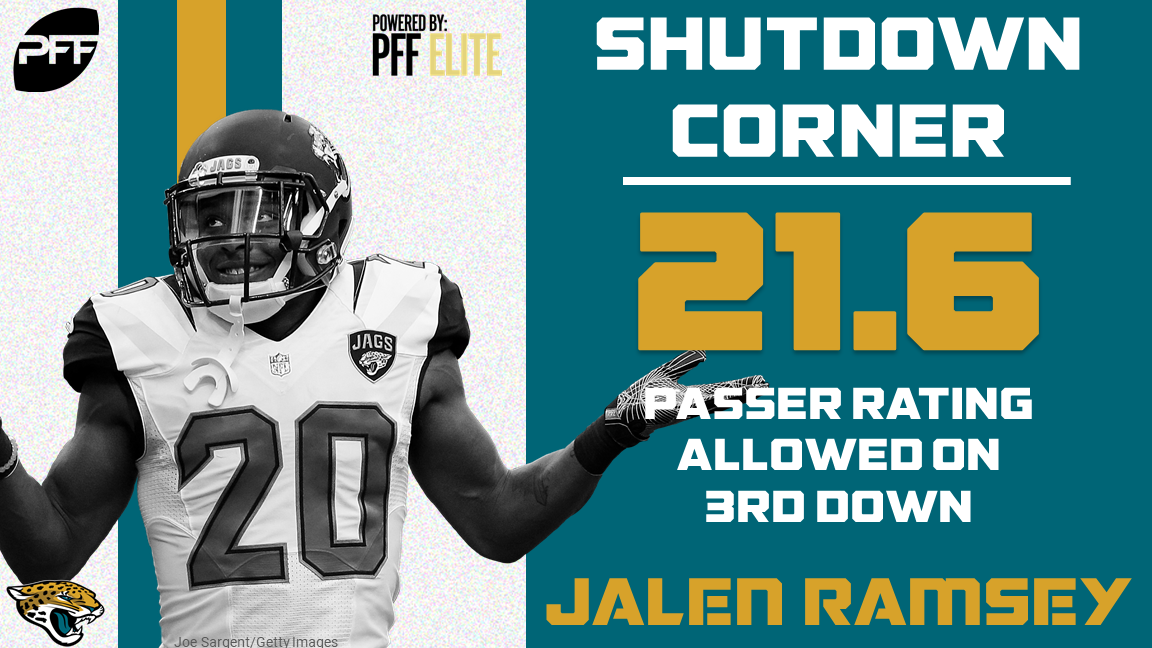 The mark of an elite corner is how they perform on the NFL's big money down, third down. In predictable fashion, both Ramsey and Bouye get even stingier on third down effectively erasing their man from the equation. Ramsey has been targeted 19 times on third downs, and on those targets he has allowed just seven receptions for 49 yards while picking off a pass. In all, that makes for a passer rating against of just 21.6. Bouye has been targeted 14 times and has given up five receptions for 101 yards but has also picked off two passes, securing a passer rating against of just 2.4 on third down.
For the league, perhaps the scariest thing about these two is they are both so young. Bouye being the older of the two, just turned 26 at the beginning of August.
Ramsey and Bouye could be the top cornerback tandem for the better part of half a decade, or more.