Detroit Lions 39, Indianapolis Colts 35
Here are the top takeaways and highest-graded players from the Lions' win over the Colts:

Quarterback grade: Matthew Stafford, 77.5
It was a solid opening game for QB Matthew Stafford, who didn't really need to make many tough throws on his way to victory. He spent most of the afternoon working the short game, as he went just 4-of-7 for 94 yards on passes that traveled over 10 yards in the air. He went 27-of-30 for 247 yards and all three touchdowns while throwing short. Stafford's offensive line held up well, as he was only pressured on 19.5 percent of his dropbacks. It wasn't a phenomenal day of quarterbacking for Stafford, but he made enough throws when he had to to come away with a victory.
Top offensive grades:
C Travis Swanson, 84.2
FB Michael Burton, 84.0
RG Larry Warford, 80.4
LT Taylor Decker, 80.3
RT Riley Reiff, 79.9
Lions' offensive line shows up strong in opening game
There's no doubt that the Lions will be happy with how their offensive line played against the Colts, as they were the unsung heroes of this victory. They were solid at pass blocking, allowing just one sack and eight total pressures all game. C Travis Swanson didn't allow a single pressure. As good as they were pass blocking, however, they were even better opening up holes for the run. Only G Laken Tomlinson graded below 78.0 in run blocking, as the unit helped a rushing offense that finished with 116 yards and two touchdowns on 24 carries.
Top defensive grades:
LB DeAndre Levy, 76.7
S Tavon Wilson, 76.0
LB Kyle Van Noy, 75.2
S Rafael Bush, 74.2
NT Haloti Ngata, 69.8
Pass coverage is a big question mark for the Lions after subpar performance
While there were definitely some good moments, it was an overall disappointing day for the Lions' pass coverage. Star corner Darius Slay had an average game, allowing 4-of-9 targets to be caught for 75 yards, and that sort of set the tone for the rest of the defense. LB Tahir Whitehead was picked on often, as he saw nine targets as well, but allowed seven catches for 71 yards and touchdown. They were playing a really good passing offense in the Colts, but the Lions will not be able to allow 385 passing yards and four passing touchdowns every week and still expect to win.

Quarterback grade: Andrew Luck, 96.0
Luck shows no sign of last year's struggles as he finishes as this week's highest-graded QB
What a performance by Andrew Luck that was wasted in a loss. Luck was executing high-level throws all afternoon, picking apart the Lions' pass coverage with ease. Luck was incredibly effective when throwing deep down the middle of the field, where he completed 11-of-13 passes for 203 yards and three touchdowns on passes at least 10 yards downfield. Luck didn't force any passes or make any real poor decisions all game. He was making every throw he needed to, and was able to march his team down the field consistently. After a tough season last year for Luck, this incredible performance bodes well for the Colts going forward.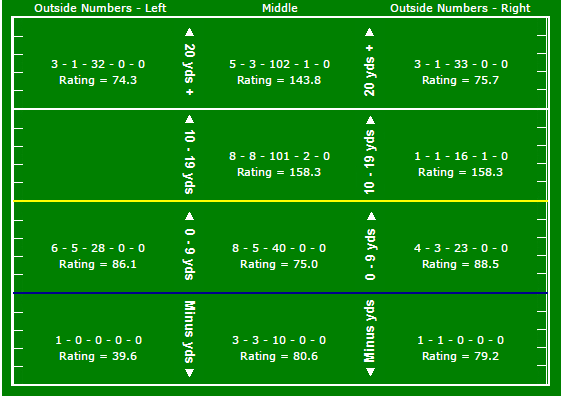 Top offensive grades:
QB Andrew Luck, 96.0
C Ryan Kelly, 79.3
WR T.Y. Hilton, 78.6
LT Anthony Castonzo, 78.0
RG Denzelle Good, 75.6
Strong offensive line play allows Luck to go to work
One of the reasons for Luck's struggles last season could have been poor offensive line play, which caused him to constantly worry about pressure and affect his play. That wasn't the case today, as the unit played very strong against a very good Lions' defensive line. The Colts offensive line allowed just one sack and seven total pressures on 51 passing plays. That pass-blocking efficiency of 89.2 ranks fourth among all teams that have played so far this week. The left side duo of LT Anthony Castonzo and LG Jack Mewhort was particularly strong, allowing just one hit and one hurry combined.
Top defensive grades:
CB Antonio Cromartie, 81.2
S Mike C. Adams, 81.0
ED Trent Cole, 77.8
S T.J. Green, 72.8
LB Sio Moore, 72.6
Colts front seven disappoints, as they fail to do much of anything against Lions' offense
Aside from OLB Trent Cole, who impressed with a QB hit and three other hurries in a strong pass-rushing effort, this was a less-than-ideal performance from the Colts' front seven. Aside from Cole, the unit combined for a mere one sack, three hits and two hurries. They let Stafford sit in the pocket with time, which forced their secondary to cover for much longer than they should've had to. Against the run they fared no better, as the Lions were able to open up big holes all game long and run through them at will. With such a strong offensive unit, the Colts just need their front seven to improve a little bit, as just one big stop would have been enough to come up with a win today.