The Dallas Cowboys came into the 2019 NFL Draft without a first-round pick, as that selection was traded to Oakland as part of the Amari Cooper trade last season. As Cowboys CEO Stephen Jones put it: "When the Raiders pick with our pick, we'll be watching Amari highlight tape." Those words underscore a team that is very comfortable with trading their first-round selection for the 24-year-old wide receiver out of Alabama – a player that recorded a 79.9 overall grade after joining the Cowboys in Week 9 which ranked 14th out of 112 qualifiers over that stretch.
That being said, it did leave the Cowboys short-handed in draft capital this past weekend. Their Day 2 selections addressed areas of need and depth with big interior defender Trysten Hill and guard Connor McGovern, and both will get the chance to try and make an impact for the Dallas Cowboys in September. 
McGovern was solid value, taken at the back end of the third round with a rank of 76 on the PFF Big Board, but he will likely just provide depth in Year 1 unless he is able to edge out last year's second-round pick and fellow Connor – Connor Williams – at the starting left guard position. Meanwhile, Hill, who was taken with the 58th overall pick of the draft, will get an opportunity to play right away in a Rod Marinelli defense that is known for putting athletic defensive linemen in a position to succeed.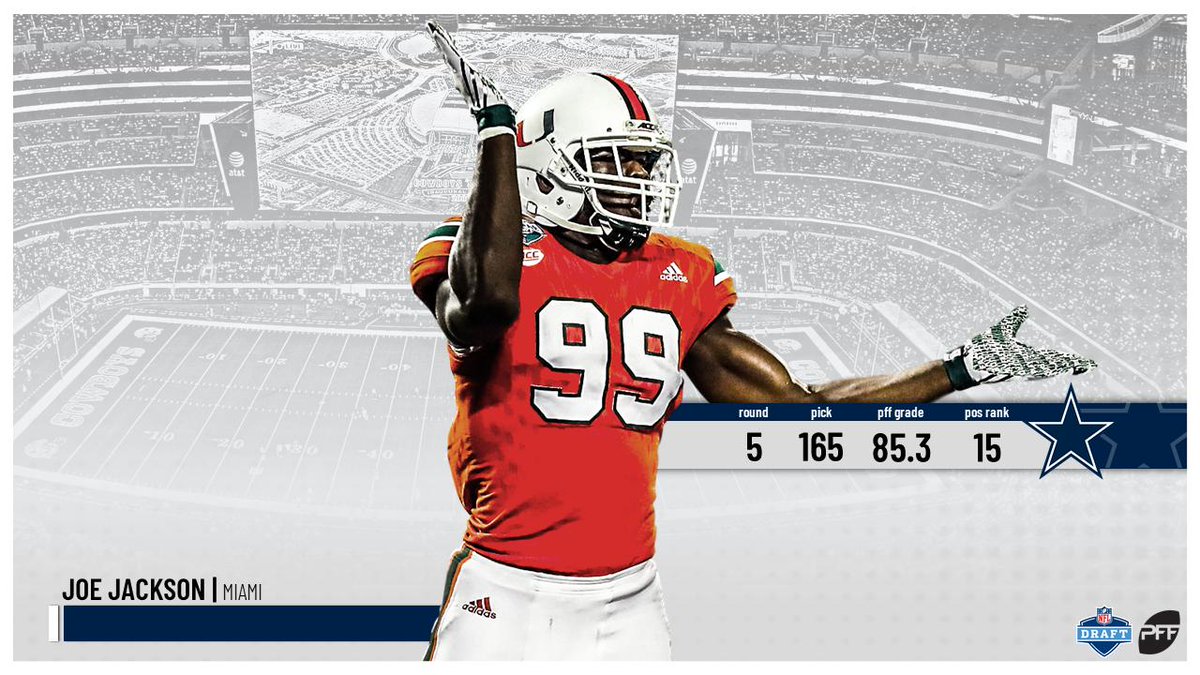 With no first-round pick and uncertain roles for the players taken by the Cowboys on Day 2, the door is opened for a later selection to make the biggest impact in his rookie season. Taken with the 158th pick in the 2019 NFL Draft, Miami edge defender Joe Jackson fits that bill.
Jackson showed significant improvement in his final season at Miami – his overall grade jumped from 74.7 in 2017 to 85.3 in 2018, bolstered by a pass-rushing grade of 85.5. Looking at draft-eligible edge defenders out of the ACC, that pass-rush grade finished behind just Brian Burns, Zach Allen, and Clelin Ferrell, and those players were all drafted over 90 spots higher than Jackson. When it comes to pressuring the quarterback, there were few edge defenders more prolific than the Miami product. Jackson's 18.9% pressure rate and 21.7% pass-rush win rate both led all draft-eligible edge defenders in the ACC while finishing seventh among all FBS draft-eligible edge prospects.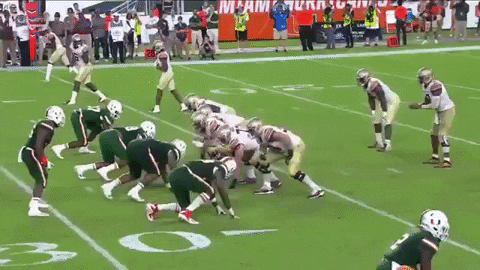 On this play against Florida State, Jackson is able to use his length and speed to rip through and turn the corner on the tackle with ease, resulting in the disrupted play. As his pressure numbers and pass-rushing grade would suggest, plays like that were not an uncommon occurrence.
Impact results from talent and opportunity; if the play from Jackson last season is anything to go off, the talent is there to work with. If the Cowboys' depth at edge defender is anything to go off, the opportunity at edge defender should present itself. Demarcus Lawrence is the clear alpha of the group and will demand plenty of attention from opposing offensive lines, but outside of Lawrence, the Cowboys have the indefinitely suspended Randy Gregory, Dorance Armstrong (53.7 overall grade in 2018), the thus-far disappointing Taco Charlton (yet to record a grade higher than 65.0 in either of his first two seasons), and free-agent signing Robert Quinn (hasn't graded above 70.0 since 2015). Quinn will likely draw the early opportunity along with Charlton, but Jackson has the opportunity to carve out a role opposite Lawrence. He just may find himself with the largest role of any rookie on the team as the season progresses.