The number of teams in the NFL that couldn't use an upgrade at offensive tackle, you can count on one hand. The scarcity at the position is a real problem league-wide. It's the reason why the Giants made a middling tackle like Nate Solder the highest paid one in the league last offseason. Starting-caliber tackles rarely make it to free agency, which makes this upcoming free agency period all the more interesting. The Patriots' left tackle Trent Brown will grab all the headlines as he's almost assuredly going to hit the open market with last year's first-rounder Isaiah Wynn waiting in the wings. However, another name brings a similar skill set to the table, yet will command far less on the open market.
Carolina Panthers' right tackle Daryl Williams looked on his way to becoming one of the best at his position in the NFL before a knee injury in Week 1 sidelined him for the rest of the 2018 season. His spot was usurped admirably by Taylor Moton who almost single-handedly saved the injury-plagued line. The Panthers still have too much money invested in Matt Kalil to cut him and the odds of Carolina dropping that much cash into one position means Williams is almost a lock to hit free agency. That makes him somewhat of a unicorn from a value perspective – a starting caliber tackle who won't break the bank.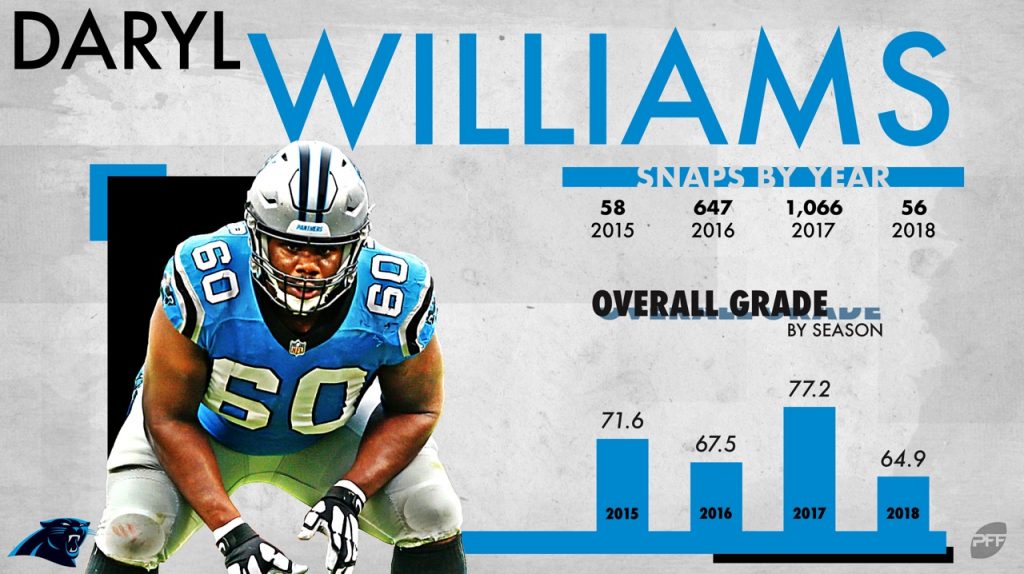 Williams, of course, comes with some caveats. One 79.0 pass-blocking grade in year three is still a fairly small sample size with NFL offensive linemen. He was helped out to a degree in Carolina with a lot of defenses contain rushing to try and keep Cam Newton in the pocket. As impressive as his pass protection was, Williams' 67.1 run-blocking grade didn't keep pace.
Then there's the college eval.  The fact of the matter is, almost no one was high on him – arguably even the Panthers themselves who took him in the fourth round. Williams' athletic testing numbers were unsightly with a 5.15-second shuttle at the combine and 8.18 3-cone at his pro day. That fits the profile of a tackle who can hold up against bull-rushing edges trying to contain Newton but would struggle against quicker rushers with two-way goes.
All those question marks only serve to drive Williams' price down. While some team with more cap space than they know what to do with can puff their chest out when they sign Trent Brown, knowing they got their left tackle of the future, a more cap-strapped team with a need on the right side like the Broncos, Giants, or Chargers can roll the dice with Williams and get as big a payout.