Editor's note: Every day in "Daily Focus," PFF analysts take the latest NFL news and translate what it really means for each team involved.
Is Jay Cutler the NFL's worst QB? In an interview with ESPN, former Bears TE Martellus Bennett (now with the Patriots) and brother Michael Bennett of the Seahawks were critical of Bears QB Jay Cutler, calling him the "worst quarterback in the NFL." Cutler certainly has both his good and bad moments, but where does he actually rank among the league's passers?
Earlier this offseason, we ranked Chicago's QB situation 22nd out of the 32 teams—hardly the worst, but with plenty of room for improvement. Each season, Cutler is a QB many are waiting on to take the next step forward, to prove that he's among the upper-echelon of the position. After nine years as a starter, however, he remains the same quarterback nearly year-in and year-out. Cutler still makes some impressive throws, but is far too inconsistent to be anything more than an average quarterback. His accuracy has always been an issue, as he's never finished among the top 10 quarterbacks in adjusted completion percentage for a season. In fact, he's finished in the top half just twice, with one of those seasons being 2014, when his average depth of target was the lowest of his career, completing over 100 passes to RB Matt Forte that year.
There's a chance that Cutler can improve, but at age 33, he likely is what he has been during his tenure with the Bears, which is a quarterback whose average rank in overall grade is around 20th over that span.
Bears might not miss Bennett much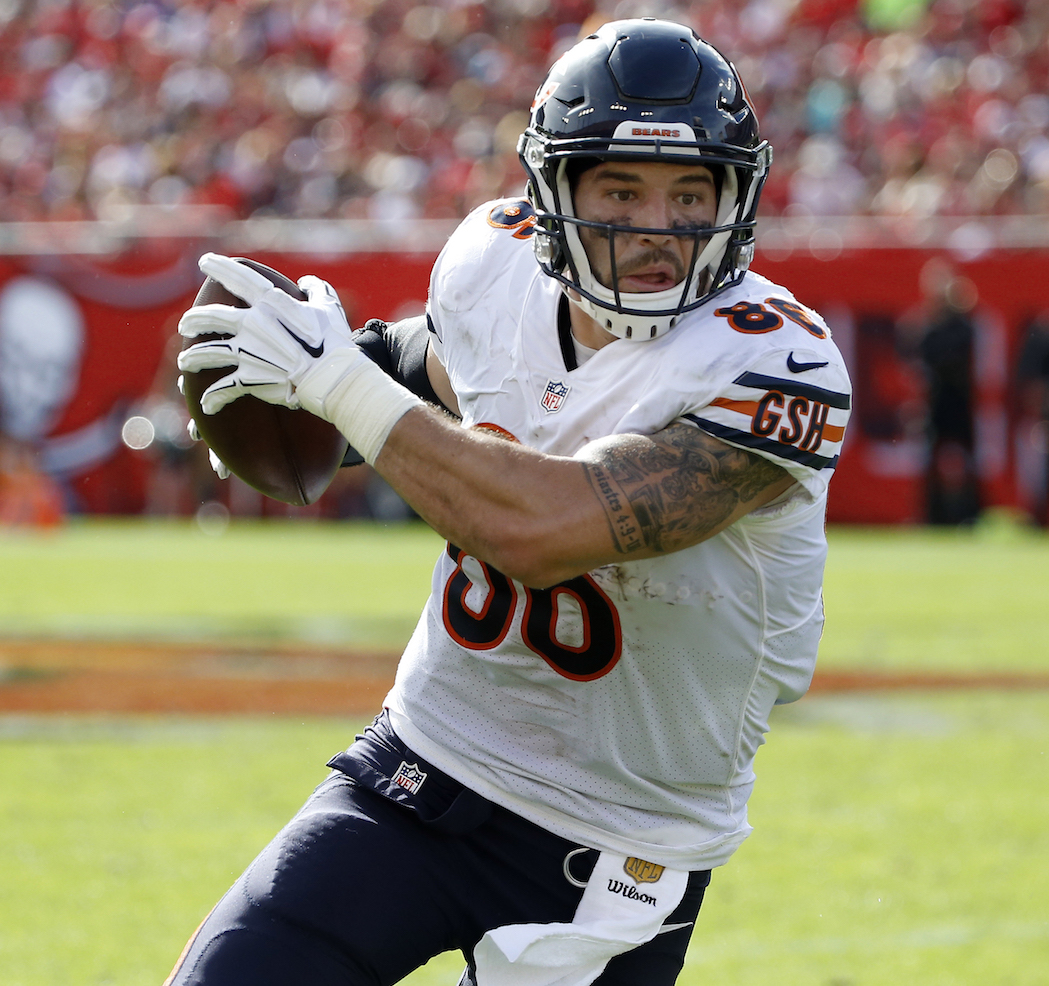 Bennett was a force in Chicago, but now that he's gone, Zach Miller is a breakout candidate.
Check our full fantasy look at the Bears depth chart.

NaVorro Bowman extension a surprising move by 49ers: Even though 49ers LB NaVorro Bowman has three years left on his current contract, the team has reportedly signed him to a four-year extension worth up to $44 million. It's somewhat of a surprising move because of the time left on his current contract, and the fact that Bowman was already among the top-five players at the position in average money per year. Prior to his knee injury at the end of the 2013 season, Bowman was among the best inside linebackers in the league (along with former teammate Patrick Willis). From 2011 to 2013, Bowman's overall grade ranked first, fourth, and first in the league, respectively. He had one below-average game out of 19 in the 2013 season. After the late knee injury, though, he was forced to miss the entire 2014 season. In his first season back last year, he didn't perform like the same player. He had six below-average games compared to four above-average games. He was still stout against the run, but was less-effective as a pass-rusher, and was among the lowest-graded inside linebackers in coverage. His 65 receptions allowed were second-most for the position.
That's not to say the 28-year-old cannot be the player he used to be. It's certainly possible that last year's decline stemmed from being his first season back after injury, or that the defensive coordinator switch from Vic Fangio to Eric Mangini also was a significant factor. Ultimately, if Bowman gets back to the level of play from a few years ago, he is worth being one of the league's highest paid inside linebackers. If he continues to play like last season, though, they will be overpaying for that type of performance.
Impact of Ezekiel Elliott injury: Cowboys rookie running back Ezekiel Elliott (Ohio State) left practice yesterday with an injured hamstring and "may miss some time," according to the team. Obviously Dallas has high expectations for the first-year RB, and it is probably better that the injury occurred early in camp while we're still over a month away from the start of the regular season, and not closer to September. If Elliott does miss time, it is certainly less than ideal, but the Cowboys' running game can survive. With the league's best run-blocking offensive line back, the offense can still have an effective run game with about any running back that is capable of getting what the offensive line provides—as Darren McFadden showed last year. The Cowboys would miss out on the extra yardage that a player of Elliott's caliber is capable of manufacturing beyond what the offensive line provides. However, Darren McFadden and Lance Dunbar are also inactive right now, leaving the reins to free-agent signing Alfred Morris (Redskins).
Nick Foles signing a smart move for Chiefs: After being granted his release from the Rams last week, QB Nick Foles is reportedly signing with the Kansas City Chiefs. The addition is an obvious fit for the Chiefs, who lost backup QB Chase Daniel in free agency to the Eagles and needed a veteran backup option. With Daniel gone, they were left with three young players who have never seen a regular-season snap.
While Foles does have plenty of playing experience, it hasn't necessarily been good. He graded below-average in three of his four pro seasons, with the exception being a starter for part of Chip Kelly's first season in Philadelphia. Last year, he struggled with the Rams, and ranked as the 33rd quarterback in the league out of 38 qualifiers. Foles isn't someone one would want as a starter, but there are worse backup situations in the league, and maybe a reunion with Andy Reid can help him improve.