Editor's note: Every day in "Daily Focus," PFF analysts take the latest NFL news and translate what it really means for each team involved.
Geno Smith should start at quarterback for the Jets: The Jets and quarterback Ryan Fitzpatrick's impasse when it comes to a contract have stretched into July, continuing the weird holdout-type feeling of the QB's offseason. I say weird because it's not actually a holdout. Fitzpatrick can't be fined if he misses time in training camp because he isn't under contract, but despite the fact that he is free to sign with whomever he wants, the only team seemingly interested in him as a starter is New York. Conventional wisdom says that eventually he'll sign, but what if he doesn't? If the team and his agent can't work it out, who should be Jets' starting signal-caller?
The Jets selected Penn State's Christian Hackenberg in the second round of the 2016 NFL draft, in a move that likely means that they see him as their long-term option at quarterback. Based on what we saw in college, however, he is not ready to start in the NFL. Hackenberg struggled under pressure in his final season for the Nittany Lions, completing just 34.7 percent of the passes he attempted when the opposing defense got pressure, with his stats resulting in an NFL quarterback rating of 44.5 on those throws. Overall, he graded positively on throws between 10 and 19 yards downfield, and on deep passes 20 or more yards in the air, but his struggles against pressure would likely see him picked apart by opposing defenses as a rookie in the NFL.
Just a year ago, Bryce Petty was in Hackenberg's shoes: a rookie not expected to play in year one, but with the potential of being the team's franchise quarterback of the future down the line. Perhaps it was his struggles in the 2015 preseason, but the drafting of Hackenberg definitely suggests that Petty isn't likely to be starting long-term for the Jets. Given how he performed in the preseason, though, with the fourth-lowest grade of all quarterbacks in the NFL, it doesn't even make a lot of sense for him to be starting this year, unless his play has taken a big leap forward since 2015.
The third—and best—option, is former West Virginia quarterback Geno Smith. Continuing the theme of quarterbacks on the roster, Smith was drafted back in 2013 with hopes of becoming the team's signal-caller of the future. Earning strongly negative grades as a passer over the first three years of his career, that plan hasn't quite worked out for the Jets yet.
If there's some encouragement to take from Smith's play, though, his lone appearance in 2015 actually wasn't that bad. Coming in early against the Oakland Raiders in Week 8, he completed 27 of the 42 passes he attempted for 265 yards, two touchdowns, and an interception. When you consider that two of those passes were dropped and another was a throwaway, Smith's adjusted completion percentage in that game was a solid 70.7 percent, good for 16th among quarterbacks in the league that week. More impressive was the fact that he proved that he can still make big-time NFL throws.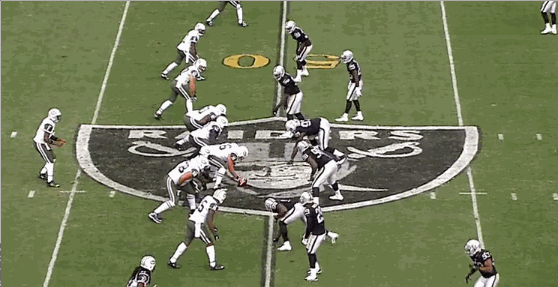 The above throw to WR Brandon Marshall came on 2nd-and-7 with 8:42 left in the third quarter, and while Smith hasn't made enough of those passes in his career, the fact that he has made them at all in the NFL gives him an edge over both Petty and Hackenberg. In fact, when you look at Fitzpatrick last year, the starter averaged a weekly grade of -0.8 as a passer; there's a case to be made that Smith wouldn't present a drop-off from that mark, provided he could at least maintain the level of play we saw against Oakland. Smith graded at -0.7 as a passer in that game—there were seven games last year where Fitzpatrick graded lower.
Ultimately, everyone expects Fitzpatrick to eventually sign, and to be the Jets' starting quarterback again as soon as he does, but if for whatever reason that's not the case, Smith should be the clear favorite to win the job against the current competition.
(PFF Fantasy Insight: Our rankers agree Smith should starter of the current options, but aren't high on him — he currently sits at QB No. 27 in our consensus rankings, between Teddy Bridgewater and Colin Kaepernick. More interesting for fantasy is the effect the Jets' quarterback situation will have on the team's receivers, which our Pat Thorman addressed Tuesday.)
Does Stephen Tulloch still have a place in the NFL? With the Lions finally releasing former starting middle linebacker Stephen Tulloch yesterday after informing him much earlier in the offseason that he wasn't part of their plans for 2016, we'll soon find out what teams around the league have interest in him. At 31 years old—and coming off surgery on his ankle this offseason—it's fair to question what he can contribute at this point, but based on his play in 2015, there absolutely is still a place for Tulloch in the NFL.
One of the most underrated linebackers of the PFF era, Tulloch has earned a cumulative overall grade of +46.0 since 2007. He has graded negatively in each of the past two seasons in coverage, but positive grades against the run mean that he can still help a number of teams on early downs. One team that could potentially have interest in Tulloch is Baltimore, who lost veteran linebacker Daryl Smith to Tampa Bay this offseason.
No pressure, but Vernon needs to replicate second half of 2015 to justify contract: The New York Giants added defensive end Olivier Vernon in the offseason, making him the highest-paid defensive end in the NFL with an $85 million contract. That might make some players feel the pressure, but Vernon apparently is more concerned with the pressure he plans to put on opposing quarterbacks.
That's great news for the Giants, who took somewhat of a gamble with the signing of him. Vernon was outstanding in the second half of 2015, with his +53.5 cumulative grade from Week 10 through the end of the season the highest of any edge defender in the NFL. (Yes, even higher than Von Miller and Khalil Mack.) In those eight games, he racked up eight sacks, 24 hits, and 25 hurries, good for a pass-rushing productivity mark of 15.9, the highest in the league. Our pass-rushing productivity stat measures pressure on a per-snap basis, with weighting towards sacks and hits, giving a better indication of production than sacks alone.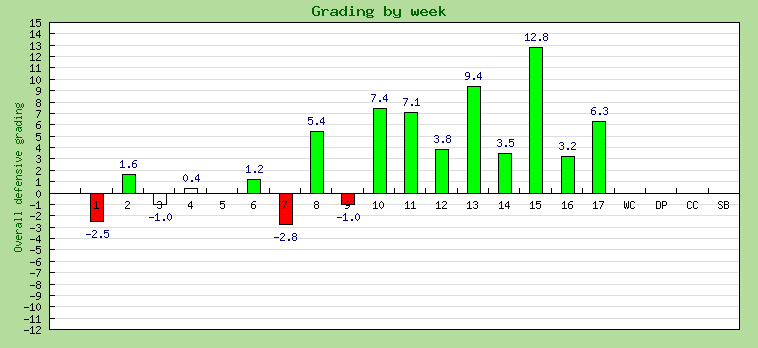 So, why the concern? Well, as good as Vernon was in the second half of the year, his grade of +1.3 in the first half of the 2015 season was just the 53rd-highest among NFL edge defenders. Regardless of whether or not he feels the pressure, the Giants paid $85 million for the second-half-version of Vernon, and that's the one they need to show up.