Editor's note: Every day in "Daily Focus," PFF analysts take the latest NFL news and translate what it really means for each team involved.
Should the Bears sign Jeffery to a long-term deal? The Chicago Bears drafted wide receiver Alshon Jeffery out of South Carolina with the 45th overall pick in the 2012 draft, and now have him as their franchise player for the 2016 season. After four years in the NFL, Jeffery has proven that he deserves a long-term deal with the Bears. He shared the spotlight with Brandon Marshall for a few years, but when he was healthy in 2015, he was playing at the highest level we have seen from him in his career, finally as the Bears' primary target at wide receiver.
He had the seventh-highest receiving grade of all receivers in the NFL last year, despite playing just 516 snaps, dropping just two of the 56 catchable passes thrown his way. That was good for the 10th-best drop rate at the position (among players with at least 48 targets). It's a trait he has become known for, dropping just 14 passes since entering the league in 2012, and never more than five in a single season. Considering Tampa Bay's Mike Evans and Oakland's Amari Cooper dropped 15 and 18 passes, respectively, last season, the fact that Jeffrey hasn't dropped that many over the past four seasons shouldn't be overlooked.
Provided he's healthy, Jeffrey is set up for a huge year in 2016 if the time he spent on the field last season is anything to go by. Our yards per route run signature stat takes into account the number of times a wide receiver went into a pattern, giving a better indication of production on a per-snap basis than yards alone. In 2015, only three wide receivers in the NFL, Atlanta's Julio Jones, Baltimore's Steve Smith, and Pittsburgh's Antonio Brown, had a higher yards per route run average than the Bears' receiver. If he can be that productive over a full season in 2016, his value is only going to go up.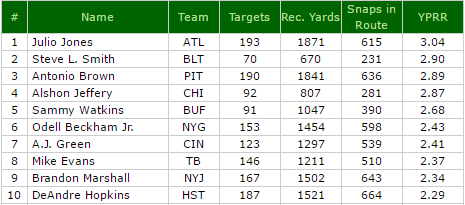 Will it really be tougher on defenses with Calvin Johnson retired? That's what Detroit Lions quarterback Matthew Stafford claims, but is he correct? Well, it's not quite a simple yes or no answer. What the Lions are losing with Johnson gone is our fifth-highest-graded receiver from the 2015 season, and a player who graded among the top-10 wide receivers in football in each of the past six seasons. "Megatron" is also not the type of player you replace easily, a physical freak at at 6-foot-5, 235 pounds, with the speed to burn past defenders as well as out-leap them to grab the ball downfield; cornerbacks will be glad to not have to face him during the 2016 season.
That being said, with him out of the picture, the Lions' offense will likely need to change slightly, and we can see the beginnings of that this offseason. They signed Marvin Jones from the Bengals in free agency, and he will be considered the replacement to Johnson this offseason, but it's highly unlikely that he'll be used as such. Jones forced 12 missed tackles on 65 receptions in 2015, with only 13 wide receivers forcing more. One of those players was Lions wide receiver Golden Tate, who lead the league with 30 missed tackles forced from 90 receptions. Tate has forced at least 20 missed tackles in each of the past four seasons, so clearly getting the ball to him in space is a good idea.
Factor in that the Lions also have our highest-graded receiving running back on the roster in Theo Riddick, who forced 36 missed tackles from 80 receptions, and the offense is stacked with players who can make you miss in space. Considering they have lost one of the best downfield talents in the game in Johnson, don't be surprised if we see them even more reliant on short passes to playmakers in space in 2016.
Ravens' Flacco not sure how he'll react mentally to a hit: It's a big part of any recovery from a serious injury, how a player handles being back on the field and taking a big hit. Baltimore Ravens signal-caller Joe Flacco missed significant snaps for the first time in his career last year, going down for the rest of the season with a torn ACL. While his level of play has been up and down throughout his career, it's clear how much the Ravens missed him on offense, so getting him back at 100 percent is key to their hopes of competing in the AFC North and beyond next year.
Putting pressure on Flacco for opposing defenses isn't just about making him uncomfortable as he comes back from injury, though—it's an area Flacco has significantly struggled with over the past three seasons. From 592 drop backs under pressure in that timespan, Flacco has earned a cumulative grade of -39.9, compared with +28.4 on 1,175 dropbacks with no pressure. That's a huge grade swing, with Flacco's adjusted accuracy percentage—which takes into account drops, spikes, hit as throws and throwaways—ranking in the bottom half of the league in two of the past three seasons. The 2014 season was a great example of how different of a quarterback Flacco is under pressure.

With a rookie starting at left tackle, and uncertainty at the left guard position too, Flacco likely won't have to wait long to see how he reacts to pressure and getting hit in his return to the field.