Editor's note: Every day in "Daily Focus," PFF analysts take the latest NFL news and translate what it really means for each team involved.
Carson Wentz move up Eagles' depth chart after preseason debut? Sam Bradford played just three snaps last night, with his limited outing a clear reinforcement that he is the Eagles' starting quarterback in 2016. The team has been clear about wanting to bring second-overall pick Carson Wentz (North Dakota State) along slowly, and with Bradford as the clear starter, it makes perfect sense. The big question will be whether or not Wentz is able to become the team's No. 2 QB at some point over Chase Daniel—perhaps even this preseason.
Daniel didn't have a great outing last night against the Bucs, completing just five of the 12 passes he attempted, with no completions traveling more than 10 yards downfield. He wasn't great under pressure, finishing the game with a quarterback rating of 39.6 on plays where the Tampa Bay defense got to him.
[More: Full TB-PHI preseason game recap available here.]
So the stage was set for Wentz to impress—and potentially put pressure on Daniel—as the No. 2 quarterback. The Eagles gave him plenty of work, with 21 passes attempted by the former North Dakota State signal-caller, but Wentz wasn't able to take advantage of the opportunity. He completed just one pass traveling 10 yards or more downfield, but it was under pressure where he really struggled. The Buccaneers got pressure on 11 of Wentz's dropbacks, with the QB scrambling on one; he completed just three passes on the other 10. Adding an interception, he had a quarterback rating of 0.0 on throws under pressure. Bradford is the starter, but at least for now, Wentz hasn't done anything to elevate himself to the primary backup job.
Sanchez, Siemian not separating themselves in preseason outing: If fans were hoping to get some indication of who the Denver Broncos should start at quarterback after last night's game against the Chicago Bears, they'll have come away disappointed. Mark Sanchez started the game and was largely efficient, completing 10 of the 13 passes he attempted for 99 yards, including a 32-yard touchdown to wide receiver Demaryius Thomas.

The Bears blitzed him six times, but he handled it well, producing an NFL quarterback rating of 142.4 on those plays. He did make a bad decision that saw his pass tipped, and then intercepted, by new Bears linebacker Jerrell Freeman on the Broncos' second possession, which took the shine off of his performance. Ultimately, though, it was a solid first outing as the Broncos' potential starting QB.
Trevor Siemian wasn't quite as efficient, but did complete seven of the 12 passes he attempted for 88 yards. He attempted four passes traveling 20 yards downfield, with just one resulting in a completion, but was more efficient on passes traveling between 0–9 yards from the line of scrimmage. Here he completed five of the six passes he attempted, and while Sanchez had the touchdown throw, Siemian didn't do anything to let Sanchez create any separation as they battle it out for the starting gig.
Rookie Paxton Lynch (Memphis) had a nice outing, completing all six of the aimed passes he attempted. His lone incompletion came on a throwaway, so while he did it against a lesser level of opponent in the second half, Lynch definitely made something of a statement during his time on the field. Only one of his completions came on a throw of 20 yards or more downfield, but it was the only such pass he attempted during what was a solid debut for Denver.
Could Christine Michael finally shine? Running back Christine Michael has long been an enigma in the football world, both real and fantasy, with fans waiting for him to realize his potential. He failed to make an impact after being drafted in the second round of the 2013 NFL draft, but after being traded from the Seattle Seahawks to the Dallas Cowboys, cut from the Cowboys, and failing to be elevated from the Washington Redskins' practice squad, Michael found himself back in Seattle late last year thanks to Marshawn Lynch's injury. Over the next four games, he would force nine missed tackles on 60 carries and rush for 262 yards.
It's going to be a tough backfield to crack in Seattle this year, with Thomas Rawls impressing as a rookie in 2015, and the Seahawks selecting C.J. Prosise (Notre Dame), Alex Collins (Arkansas), and Zac Brooks (Clemson) in this year's NFL draft; Michael is not just competing for playing time this offseason, but once again for his roster spot.
Rawls should be considered the top option in the backfield considering how well he played last season, forcing 26 missed tackles on 147 carries and averaging 3.1 yards per carry after contact, but the Seahawks were wise to not put all their faith in him after such a small sample size as a rookie. Should Rawls not impress as much in year two, more carries will open up for other running backs on the roster; and at the very least, the No. 2 RB role is wide open right now.
Don't start drafting Michael yet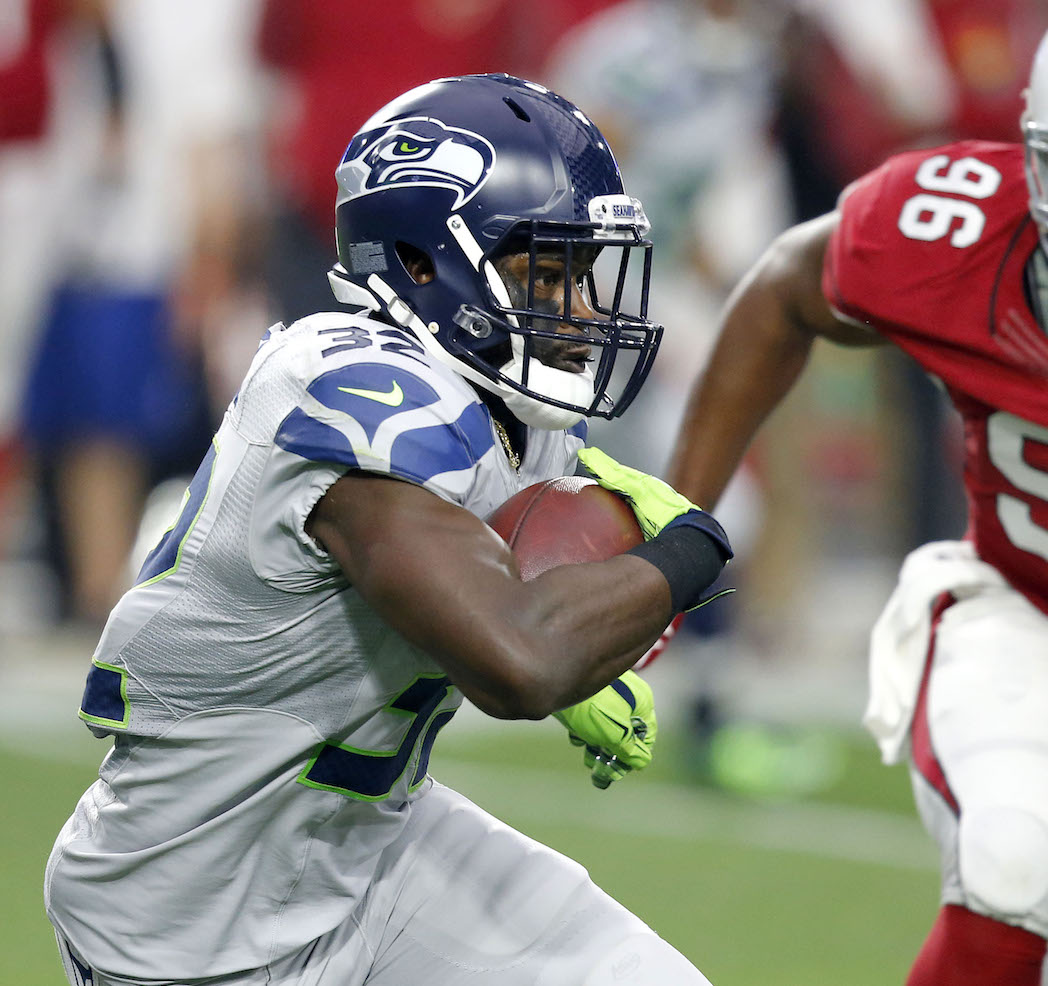 He's back on the radar, but until we see how the Seahawks use Rawls and the rookies, Michael isn't yet a fantasy option.
Check the full Seahawks' depth chart here.