As the NFL continues to transition into as pass-happy of a league as ever before seen, quarterback play should be analyzed, rightfully, down to the most minuscule of tendencies. It's a big-play environment, and quarterbacks who can't, or simply haven't adjusted have and will continue to see poor results.
Dallas Cowboys quarterback Dak Prescott, now in his third year, has wavered in throwing deep in 2018 — evident in his average depth of target and yards through the air.
Quarterbacks' average depth of throw has hovered around 7.6 yards each year since 2006 (after removing spikes and throwaways). Prescott's 7.42 yards average depth in 2016 and his 7.45 yards average depth in 2017 ranked 21st and 25th among 37 and 40 quarterbacks, respectively.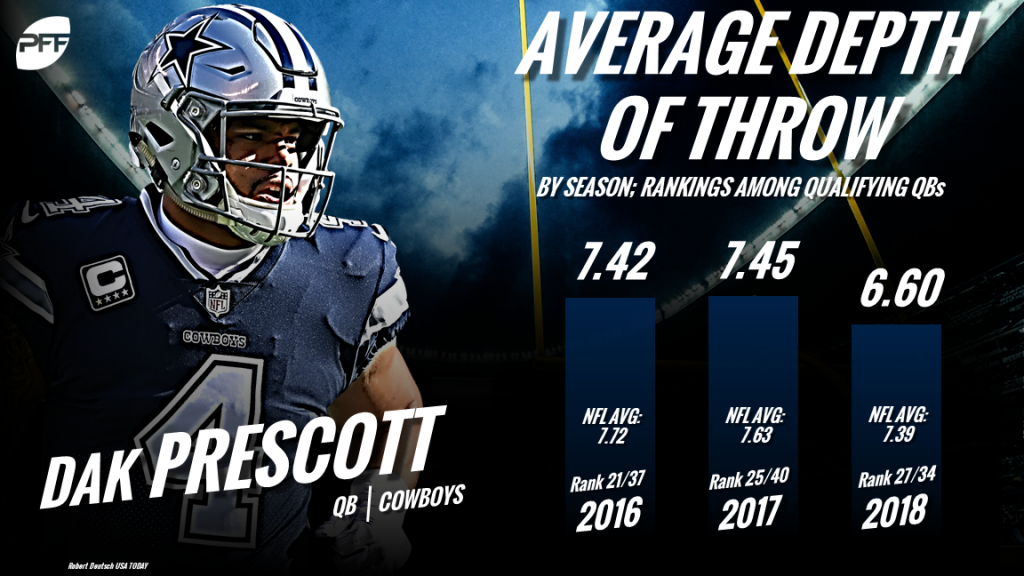 While those numbers were respectably average, this year has been quite a different story. Prescott's average depth of throw is 6.60 yards, 27th of 34 quarterbacks, and nearly a yard below last year. Among the quarterbacks at or below that threshold last season: Drew Brees, Brett Hundley, Joe Flacco, Jacoby Brissett, C.J. Beathard and Aaron Rodgers.
Not exactly the greatest six signal-callers in the league, but two names on that list obviously jump out in Brees and Rodgers. However, it's necessary to look at their weapons and why throwing short wasn't nearly as big of a deal for them as it currently is for Prescott. Brees had Michael Thomas, who finished sixth in yards after the catch in 2017. Rodgers had Randall Cobb and Davante Adams — both finished top-15 in yards after the catch. Prescott's best option in that category thus far has been Cole Beasley, who sits at 57th through four games.
In other words, Prescott can't afford to throw short like Brees and Rodgers could last year because he lacks receiving threats. That's also evident in his percentage of yards that have come through the air (as opposed to through the air in combination with yards gained after the catch). He sits in ninth, with 57.5 percent of his yards coming through the air, another indication that his receivers aren't gaining as much after the catch as other teams' corps.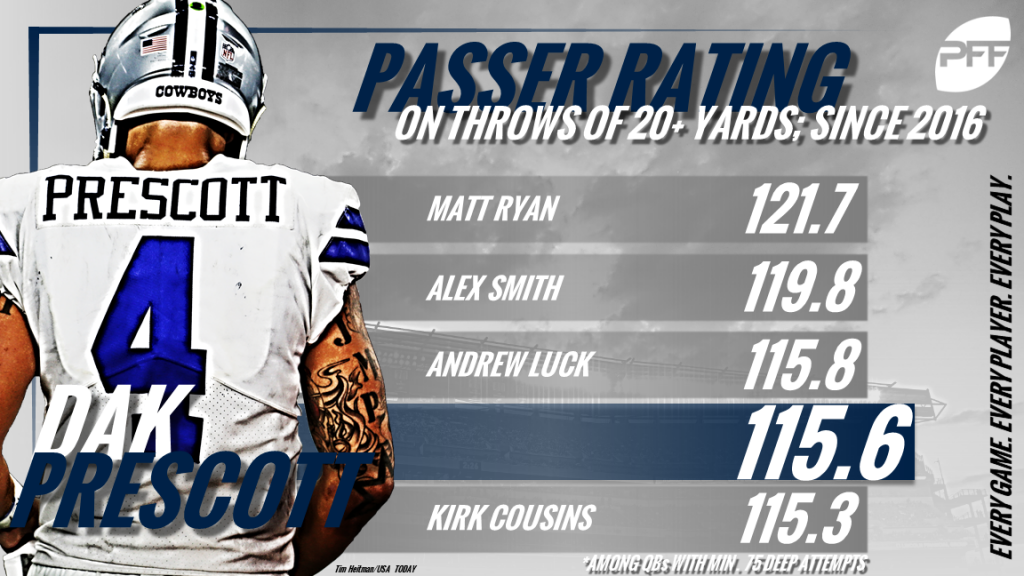 It's then easy to figure out that Prescott's deep ball has been non-existent — but only in terms of not throwing it at all. Carson Wentz has thrown 11 passes of 20 or more yards in two games compared to Prescott's nine in four games. It's not just a problem because Prescott isn't throwing it — it's a problem because his deep ball has been routinely above-average in his career. Among quarterbacks with 75 or more attempts of 20 or more yards in the air since 2015, Prescott is fourth in passer rating (115.6) and has 11 touchdowns to just two interceptions.
The expected question that should follow after seeing the immense success he's had: What's causing Prescott's reluctance to throw deep this year? It could be the stout secondaries he's faced so far. His first four opponents have combined on deep throws to allow just three touchdowns with eight interceptions. But in the NFL, testing a secondary often yields a big play eventually, no matter how sturdy that secondary may be.
At 2-2, the Cowboys may not be worried about Prescott's mysterious hesitancy to throw it long. After all, it's been an expected tendency so far in his career. However, the problem has reared its ugly head in an eight-point outing against the Carolina Panthers and 13 points against the Seattle Seahawks. In wins, the problem has been shadowed in large part because of running back Ezekiel Elliott, but the lack of deep receiving options combined with Prescott's much lower average depth of throw could spell more visible trouble as the season progresses.