Starting in Week 10 of the 2018 season, Indianapolis Colts' CB Quincy Wilson played 27-plus defensive snaps at outside corner in 10 consecutive games (including the postseason), and his play in his increased role bodes well for his future in the NFL.
Wilson, a second-round pick in 2017, allowed just a 65.2 passer rating and 0.73 yards per coverage snap in the Colts' last 10 games of the season, ranking seventh in both respects among the 66 cornerbacks with 200-plus coverage snaps in said span. Also, when targeted 10 or more yards down the field, he allowed just a 9.3 passer rating and forced an incompletion on 27.3% of such targets, both marks ranking inside the top 10.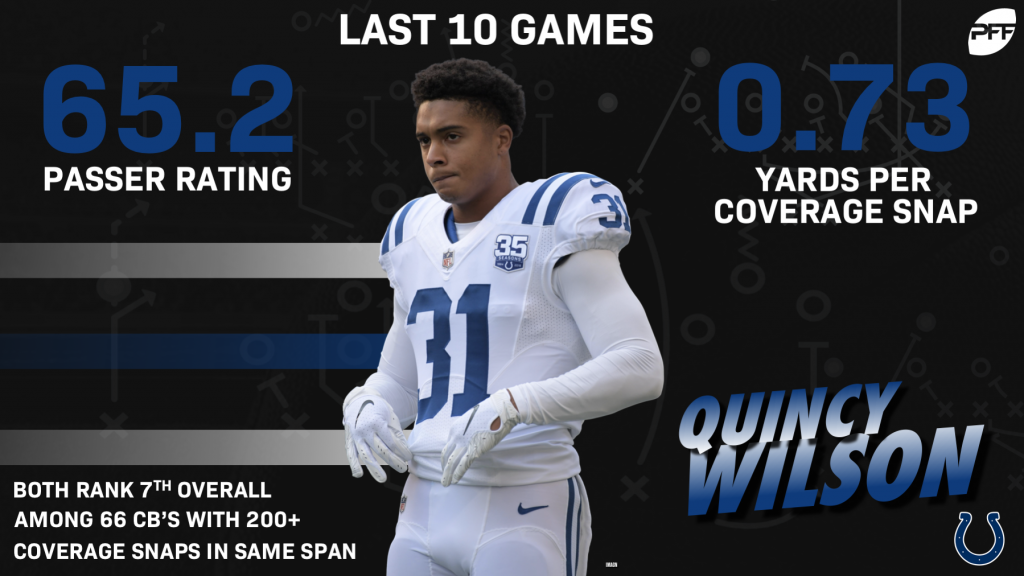 The positives in Wilson's 2018 season were weighed down by his five missed tackles and high overall completion percentage allowed (73.2%), dragging his overall grade down to just 70.4. However, the flashes Wilson put forth correspond well with what we saw from the former Florida product while in Gainesville, a sign that such flashes could be sustainable in the future.
Wilson's final three years with Florida were all very strong. His three-year coverage grade (90.6) ranked among the FBS' best, and he ranked seventh in completion percentage allowed (43.2%), sixth in passer rating allowed (46.1) and second in yards allowed per coverage snap (0.70) behind just Minkah Fitzpatrick.
In his final season with the Gators, Wilson allowed receptions on just 16-of-43 targets and ranked fourth that season in completion percentage allowed (32.6%) among qualifiers. He also ranked third in passer rating allowed (29.9) that season, ranking just two spots behind Gareon Conley and a spot ahead on Marshon Lattimore.
Wilson should see his development continue at outside cornerback and chase his Florida stardom in Indy as a starter for the Colts' defense in 2019.