Pierre Desir was an oft-injured NFL journeyman before the Indianapolis Colts took a chance on the Haitian-born, Division II Lindenwood product in March of last year. He has since turned the Colts' $1.75M investment into a high-performing starter on an up-and-coming defense that is two wins away from a Super Bowl berth.
Desir played 375 defensive snaps in Indy in 2017 before injury (shoulder) struck and forced him to the Injured Reserve in December. Another injury combined with the firing of head coach Chuck Pagano late last year had the odds stacked against Desir for a return to Indianapolis with health concerns and a new regime to question them en route. However, general manager Chris Ballard bet on Desir in the form of a one-year, $1.75M contract with $750,000 guaranteed in March, setting the stage for Desir to prove his worth to new head coach Frank Reich and prove Ballard right.
And Desir has failed to disappoint.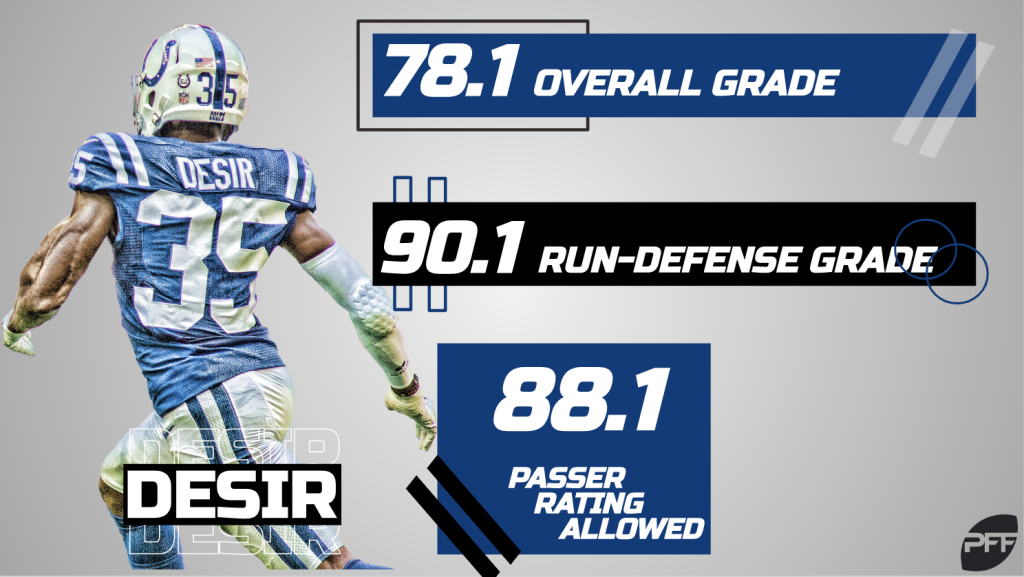 Now 973 healthy defensive snaps (includes Wild Card round) into his one-year deal, Desir has earned a 78.1 overall grade, 90.1 run-defense grade and a 73.9 coverage grade, ranking 17th, second and 22nd, respectively. Though he only has two game grades above 75.0 on the year, he doesn't have a single game grade under 56.0 – high-floor consistency goes a long way in the NFL, especially at the cornerback position.
Epitomizing his consistency, Desir hasn't allowed more than three first-down receptions or 85-plus yards in any game this season. He's also allowed just two touchdowns on the year and has forced at least one incompletion in each of the Colts' last five games. He's also allowed catches of 15-plus yards on just 14.1% of his targets so far this season, ranking 26th among the 98 cornerbacks with 40-plus targets.
Desir has also played above expectation defending underneath routes. He's allowed just 4.86 yards per target on passes of nine or fewer air yards thrown into his coverage, ranking 15th among the 100 cornerbacks with 20 or more targets of such depths on the year. He limits yards after the catch opportunities with secure tackling and close coverage with the best of them in the NFL.
As evidenced by his 90.7 run-defense grade, Desir is also an impact player where many cornerbacks fall way short of expectations. He's missed zero tackles, recorded seven run stops and three tackles for no gain or loss across his 334 run-defense snaps this season.
Most recently, Desir recorded one tackle in the run game, and limited Houston Texans star wide receiver DeAndre Hopkins to two receptions for 16 yards and two first downs from five targets in the Colts' Wild Card matchup with Hopkins & Co., an impressive feat by all measures. He also recorded a pass breakup on one of the five targets in his and Hopkins' direction.
Desir will be called on to have a similar outing against the Kansas City Chiefs and their slew of talented receivers (Tyreek Hill, Sammy Watkins, Chris Conley) on Saturday. Hill, specifically, can break any game wide open on one play with his elite speed and route-running ability. Desir has allowed just two catches over 30 yards so far this season and will need to keep it that way against Hill to avoid asking quarterback Andrew Luck to hang 50 on the Chiefs' defense.